The OrbView-4 satellite
ORBITAL SCIENCES FACTS
Posted: September 19, 2001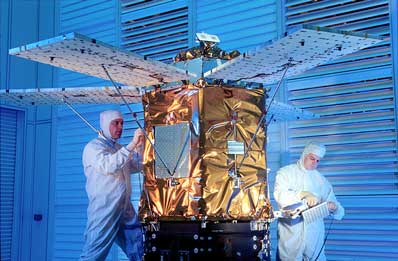 The OrbView-4 spacecraft in the factory being readied for launch. Photo: Orbital



Built for Orbital Imaging Corporation (ORBIMAGE), an Orbital affiliate, OrbView-4 will be one of the first commercial satellites to supply high-resolution imagery of the Earth. The OrbView-4 satellite carries a camera that will take one-meter resolution panchromatic (black-and-white) and four-meter resolution multispectral (color and infrared) images of the entire planet. The camera also includes a special component that will observe 200 channels of eight-meter hyperspectral data to identify material types on the Earth's surface. This hyperspectral sensor was developed for the U.S. Air Force Research Laboratory's Warfighter-1 program, an effort to provide military commanders in the field with quick-response surveillance information.

The OrbView-4 satellite will revisit locations in less than three days. Anchor customers will be able to downlink imagery directly from the satellite, order imagery from ORBIMAGE's online service www.orbimage.com or purchase products from regional distributors.

Spacecraft and Ground Station
OrbView-4 is a high-performance, next-generation spacecraft designed, built and launched by Orbital. Its unique hexagonal configuration optimizes its in-orbit agility and camera function. Electronics are attached to the inside of the six panels surrounding the camera, a compact "wrap" that allows the spacecraft to quickly slew to targets and collect requested images. Also, star trackers and fiber-optic gyro sensors are mounted directly to the camera body, increasing the precision of the imaging sensors.

ORBIMAGE's satellite control center in Dulles, Virginia, will provide full telemetry, tracking and command of the spacecraft, as well as data archiving and distribution services. Additional communications capability will be provided through the Warfighter mobile ground station, which was developed and integrated by Orbital.

Imagery Description
Imagery from the OrbView-4 satellite will complement existing geographic information system (GIS) data for commercial, environmental and national security customers. One-meter panchromatic imagery will clearly depict houses, automobiles and aircraft, and will make it possible to create precise digital maps and three-dimensional fly-through scenarios. Four-meter multispectral imagery will help to characterize cities, rural areas and undeveloped land. Eight-meter hyperspectral imagery will detect ground targets and conditions (e.g., camouflage) that will aid in U.S. military operations. It will also prove beneficial in agriculture, forestry, mineral exploration and environmental monitoring.

Imagery Applications
Commercial Benefits

More efficiently plan roads, parks, schools and other public facilities
Reduce time required for initial planning and permitting of new construction projects
Increase emergency response times by allowing teams to "visualize" locations in advance
Plan widely dispersed utility networks and reduce impacts on communities
Assess condition of crops and timber and manage allocation of water, fertilizer and pesticides
Detect specific geologic conditions to more efficiently explore for oil, gas and mineral resources
Environmental Benefits

Monitor land use and ecosystems
Analyze habitats
Assess damage from natural disasters
Monitor water pollution in remote regions
Evaluate impact of industrial activities and plan remediation efforts
National Security Benefits

Monitor borders for treaty verification
Gather intelligence on potential adversaries
Identify enemy troops and assets
Plan air, ground and naval missions
Assess battle damage




Flight data file
Vehicle: Taurus (Model 2110)
Payloads: OrbView-4 and QuikTOMS
Launch date: Sept. 21, 2001
Launch window: 1849-1907 GMT (2:49-3:07 p.m. EDT
Launch site: SLC-576E, Vandenberg AFB, Calif.
Satellite broadcast: GE-2, Trans. 11, Ku-band



Pre-launch briefing
Launch timeline - Chart with times and descriptions of events to occur during the launch.



Ground track - See the trajectory the rocket will follow during its flight.



Taurus vehicle data - Overview of the rocket to be used in this launch.



QuikTOMS - Learn more about NASA's newest ozone monitor.





The web's best space video service! Get additional video, audio, image and virtual reality content for a low-cost monthly or annual subscription fee. Subscriptions start at $5.95/£3.50. Click here to see what's currently available.


SUBSCRIBE (U.S. Dollars)


SUBSCRIBE (U.K. Pounds)

Hubble Posters

Stunning posters featuring images from the Hubble Space Telescope and world-renowned astrophotographer David Malin are now available from the Astronomy Now Store.


U.S. STORE

U.K. & WORLDWIDE STORE

Ride a rocket!

A 50-minute VHS video cassette from Spaceflight Now features spectacular "rocketcam" footage from April's launch of NASA's 2001 Mars Odyssey probe. Available from the Astronomy Now Store in NTSC format (North America and Japan) and PAL (UK, most of Europe, Australia and other countries).


Baseball caps

NEW! The NASA "Meatball" logo appears on a series of stylish baseball caps available now from the Astronomy Now Store.


U.S. STORE

U.K. & WORLDWIDE STORE


Get e-mail updates
Sign up for our NewsAlert service and have the latest news in astronomy and space e-mailed direct to your desktop (privacy note: your e-mail address will not be used for any other purpose).



Station Calendar
NEW! This beautiful 12" by 12" wall calendar features stunning images of the International Space Station and of the people, equipment, and space craft associated with it, as it takes shape day by day in orbit high above the Earth.


U.S. STORE

U.K. & WORLDWIDE STORE