Overview of Acrimsat
NASA FACT SHEET
Posted: Dec. 20, 1999


Launch of NASA's new Active Cavity Radiometer Irradiance Monitor (AcrimSat) on December 20 will continue the agency's multi-year effort to measure the total amount of sun-light which falls on Earth's atmosphere, oceans and land, and determine whether an increase in sunlight is contributing to a rise in global temperatures.

"Small, sustained changes in total solar output of as little as a quarter of one percent per century could become the primary cause of significant climate change on time scales of many decades," said Dr. Richard Willson, principal investigator for the instrument at Columbia University, New York, NY. "The information we receive will be critical to understanding Earth's present climate and the possibility of climatic changes and global warming in the long-term."

The Sun's 11-year solar cycle of maximum and minimum activity has been confirmed by previous space missions. However, the causes of these variations and their magnitudes are largely unknown. Small, sustained changes in the Sun's overall energy output may play a significant role in global warming and other climate changes, such as El Niņos and La Niņas.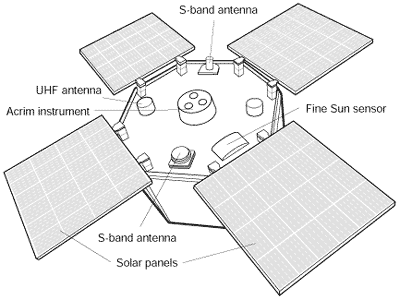 Drawing of NASA's Acrimsat spacecraft. Photo: NASA



The small, 253-pound (115-kilogram) satellite will measure the Sun's total energy output. It will be launched on a Taurus expendable launch vehicle from Space Launch Complex 576 East at Vandenberg Air Force Base, CA, during a 16-minute window opening at 11:07 p.m. Pacific Standard Time on December 20. The Taurus rocket will deploy its primary payload, the Korea Multi-Purpose Satellite, 14 minutes after launch. About 90 seconds later, the vehicle will release the second payload, AcrimSat, which will circle Earth from a polar orbit at an altitude of 425 miles (685 kilometers).

Scientists theorize that a significant fraction of the Earth's global warming may be solar in origin due to small increases in the Sun's total energy output since the last century. By measuring incoming solar radiation and adding measurements of ocean and atmosphere currents and temperatures, as well as surface temperatures, climatologists will be able to improve their predictions of climate change and global warming over the next century.

Changes in the total solar irradiance have caused major climate changes in the past, ranging from the creation of ice ages to global tropical climates in which all "permanent" ice on Earth disappeared, even at the poles. Sustained changes of as little as one-fourth of one percent may have been the cause of significant climate changes such as Earth's "little ice age," which caused worldwide temperatures to drop about 3 degrees F (1.5 degrees C) lower than today's temperatures.

Data from AcrimSat will help scientists gather information on a daily basis to build accurate mathematical models of Earth's climate system. The models, in turn, will help them understand and predict the response of the climate to natural events and human activities. Data will also aid them in understanding how Earth's atmosphere will respond to increasing amounts of inbound solar radiation and the accumulation of greenhouse gases in the next century.

The Active Cavity Radiometer Irradiance Monitor instrument, built by NASA's Jet Propulsion Laboratory, Pasadena, CA, is managed by JPL for NASA's Office of Earth Sciences, Washington, DC. Columbia University's facility at Coronado, CA, will oversee science operations. The primary ground station is located at JPL's Table Mountain Observatory in Wrightwood, CA. Orbital Sciences Corp., Dulles, MD, built the Taurus launch vehicle and AcrimSat satellite.

NASA's Earth Sciences Enterprise is a long-term research and technology program designed to examine Earth's land, oceans, atmosphere, ice and life as a total integrated system. JPL is a division of the California Institute of Technology, Pasadena, CA.




Flight data file
Vehicle: Taurus
Payload: Kompsat and Acrimsat
Launch date: Dec. 21, 1999
Launch window: 0711-0724 GMT (0211-0224 EST)
Launch site: Area 576-E, Vandenberg AFB, California



Pre-launch briefing
Learn more about the mission.



Taurus - description of Orbital Sciences' Taurus rocket.



Launch timeline - chart of events to occur during launch with brief description.



Ground track - map of the track Taurus will follow for launch.



Kompsat - overview of Korean Kompsat spacecraft and its objectives.



NewsAlert
Sign up for Astronomy Now's NewsAlert service and have the latest news in astronomy and space e-mailed directly to your desktop (free of charge).