Expedition 5 crew looking forward to busy stay in space
BY WILLIAM HARWOOD
STORY WRITTEN FOR CBS NEWS "SPACE PLACE" & USED WITH PERMISSION
Posted: May 28, 2002


The international space station has been continuously staffed since Nov. 2, 2000, when Expedition 1 commander William Shepherd, Sergei Krikalev and Yury Gidzenko arrived aboard a Russian Soyuz spacecraft. Since then, U.S. and Russian crew members have logged more than 570 days in orbit aboard the lab complex. Here's the breakdown:

CREW......DDD/HH:MM:SS.....LAUNCH DATE

ISS-1.....136/16:10:20.....10/31/00
ISS-2.....148/16:43:00.....03/08/01
ISS-3.....117/02:56:00.....08/10/01
ISS-4.....173.5 days*......12/05/01

*As of 1:30 p.m. EDT, May 28, 2002

The Expedition 4 crew - Onufrienko, Bursch and Walz - was launched to the station Dec. 5, 2001. Assuming an on-time landing aboard Endeavour June 11, they will have logged 187 days and 19-some-odd hours in space, just a few hours shy of Shannon Lucid's U.S. endurance mark of 188.4 days, a record set in 1996 aboard the Russian Mir space station.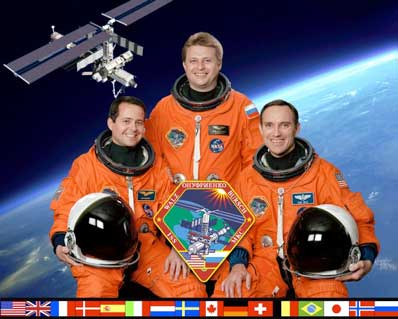 The Expedition 4 crew -- Bursch, Onufrienko and Walz. Photo: NASA



During the course of their time in space, Onufrienko, Bursch and Walz have accepted delivery of an automated Progress supply ship; worked with the crew of the shuttle Atlantis in early April to attach the central element of the station's solar power truss; and accepted delivery of a fresh Soyuz lifeboat from a visiting crew that included Mark Shuttleworth, the second space tourist to pay his way into orbit.

Within a few hours of Endeavour's docking, the Expedition 5 crew will begin moving into the station, transferring their custom-fitted Soyuz seat liners and Sokol entry suits from the shuttle to the lab complex.

Once the seat liners are in place, and after the Sokol suits are pressure tested, the crew transfer will be complete. That should occur on the second docked day of the mission, but an official change-of-command ceremony will not take place until flight day six.

In any case, Korzun's crew will begin sleeping aboard the station by the end of the second docked day. Whitson plans to bunk in a sleep station inside the U.S. Destiny module while Korzun and Treschev will occupy two staterooms in the Zvezda command module at the other end of the station.

It is the first station crew to have more rookies than veterans.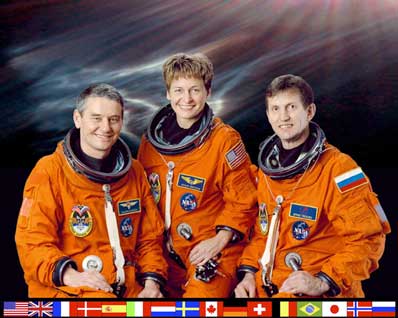 The Expedition 5 crew -- Korzun, Whitson and Treschev. Photo: NASA



"Sergei and Peggy, they are unflown astronauts but they have had very nice training and they're ready for flight," said Korzun. "I feel it's a little bit difficult for an unflown cosmonaut and astronaut to imagine the situation on the station. We've had good training on simulators in the laboratory here on the ground, but the real station is not the same as here on the land. This is true.

"But I think we have had enough time and the previous crew will familiarize us with situation on the station. We need a short time to understand exactly all configuration of all systems and equipment which is on the station."

Such "handover" sessions are scheduled throughout the docked phase of Endeavour's mission to give Onufrienko, Bursch and Walz time to brief their successors on the details of day-to-day life aboard the station.

What they will not be able to do is fully prepare Whitson and Treschev for the psychological challenges that await them during a long-duration stay in space, cut off from the support of friends and relatives.

"I think probably the most challenging thing after some period of time being in space is just going to be missing the Earth," Whitson said. "I'm an outdoors person, my hobby is working in the yard with my plants so I think I will miss just the planet, being close to the plants and the planet itself. But it's obviously a phenomenal view so that will give me a new perspective from which to look at it. So I'm looking forward to the experience."

Korzun agreed "we will miss our friends, land and family."

"But especially what Peggy said about her yard, she will think about it every time because on the station, this is just fabric, metal," he said. "During our flight on space station Mir, there was a greenhouse and everybody had a chance to look at these green plants in a greenhouse, it was very nice psychological support. I think we will grow something."

Korzun and his crewmates are scheduled to return to Earth Oct. 16 after a 137-day stay in space. And they will be very busy indeed.

First, they will assist Endeavour's crew with attachment of the SSRMS mobile base system and monitor the replacement of the arm's wrist-roll joint.

Equally important, if not moreso, they will help unload an Italian-built cargo module called Leonardo that is loaded with critical supplies and equipment. Leonardo will make the trip into orbit mounted in the rear of Endeavour's cargo bay. The day after docking, Cockrell will use the shuttle's robot arm to attach it to the Unity module's downward facing port.
| | |
| --- | --- |
| | Animation shows Leonardo being maneuvered out of Endeavour's payload bay for attachment to the station by the shuttle's robotic arm. Photo: NASA TV/Spaceflight Now |
The $150 million Leonardo, also known as a multi-purpose logistics module, is more fully loaded than any of the four previous MPLM flights to the station. Fifteen of 16 internal stowage racks are occupied with supplies, food, clothing, spare parts, new computers and other gear.

Leonardo also is carrying a science rack provided by the European Space Agency called the Microgravity Science Glovebox. The glovebox is a sealed enclosure with reach-in gloves that gives station scientists an isolated environment in which to safely manipulate fluids, flames and other toxic materials.

Here's a description from NASA's press kit:

"The glovebox, designed to stay in the Destiny laboratory for 10 years, will support the first two space station materials science experiments, also being delivered on STS-111. These experiments will study materials processes similar to those used to make semiconductors for electronic devices and components for jet engines. In exchange for building the glovebox, the European Space Agency will be able to perform experiments inside Destiny until that agency's space station laboratory - the Columbus Orbital Facility - is attached to the station in a couple of years.

"The Microgravity Science Glovebox provides vacuum, venting and gaseous nitrogen, as well as power and data interfaces for experiments. The MSG occupies an entire rack inside the Destiny lab and is more than twice as large as gloveboxes flown previously on the space shuttle. This enables the MSG to hold experiments about the size of an airline carry-on bag."

Some 1,500 pounds of science gear will be unloaded during Endeavour's visit, along with 2,500 pounds of science support hardware. All told, Leonardo is carrying some 5,600 pounds of cargo and supplies to the station.

Getting the module unloaded will be difficult enough. But the astronauts and cosmonauts also must repack it with no-longer-needed equipment, trash, packing foam and other gear that must be returned to Earth.

"We have a very full MPLM, with 15 of the 16 rack spots taken up and with hopes of filling it to 90 percent capacity for return, which will unload sort of a backlog of excess supplies and equipment on board space station that really needs to be removed," Cockrell said. "So we have a full plate in front of us."
| | |
| --- | --- |
| | The payload emblem for Endeavour's mission. Photo: NASA TV/Spaceflight Now |
Mike Rodriggs, launch package manager for STS-111, described loading Leonardo for return to Earth as part of "doing a spring cleaning, basically taking an assessment of all the items on board that really don't need to be there, they've served their usefulness or they have to come down for refurbishment or whatever.

"So we're just compiling them all, finding locations inside the MPLM and just having the crew repack them inside the MPLM," he said.

After Endeavour departs, Korzun, Whitson and Treschev will face a busy few weeks stowing the freshly delivered supplies and equipment and preparing for the arrival of another unmanned Progress supply ship at the end of June.

Then, in July 22, Korzun and Whitson, wearing Russian spacesuits, plan to carry out a spacewalk to deploy micrometeoroid debris shields on the hull of the Zvezda command module. The debris shields will be delivered by Endeavour's crew and temporarily mounted on the station's hull during the first of that mission's three planned spacewalks.

Korzun and Treschev plan another spacewalk Aug. 1 to install handrails, ham radio antennas and to replace sample plates used to expose a variety a materials to the space environment for extended periods.

Korzun and company will welcome another shuttle crew to the station in late August and participate in installation of the second solar array truss segment. Another Progress supply ship will arrive around Sept. 10 and the crew will return to Earth around Oct. 16 after assisting in the installation of a third truss element.

"We're really looking forward to our mission," Whitson said. "When we go up on STS-111, we'll be installing the mobile base system (and) we have a lot of responsibilities, all three of us, in emptying out the MPLM, which is going to carry up much of our logistics, not only for our expedition but for Expedition 6 as well. So we've got a lot to do in a very short period of time."

In between shuttle visits, "we'll also be doing a number of other tasks," Whitson said. "Valeri and I will be doing one EVA out of the docking compartment and then Sergei and Valeri will do another EVA. Then, of course, we've got a lot of science to entertain us along the way."

In fact, mission planners have budgeted 233 hours of in-flight crew time to carry out experiments for 25 scientific investigations. Much more research time will be logged by scientists on the ground working by remote control.

"Language is probably the hardest thing I've had to do in preparation for this flight, I'm not a natural at learning a language," Whitson said, reflecting on the challenges she expects. "I've come a long ways and I think the three of us communicate pretty well. We end up mixing and matching languages sometimes in order to communicate more effectively. Valeri's English is very good and Sergei has come a long way.

"I think we've trained well enough and long enough together that I don't anticipate we'll have any problems. We have a good mix of personalities. Valeri's pretty outgoing and quite the joke teller and story teller, so he entertains us quite a bit. Sergei and I, we can add our own entertainment at times, so we're looking forward to working together."

CONTINUE TO NEXT PAGE