Upgraded engines power launch to station
BY WILLIAM HARWOOD
STORY WRITTEN FOR CBS NEWS "SPACE PLACE" & USED WITH PERMISSION
Posted: April 3, 2002


When Young and pilot Robert Crippen blasted off on the first shuttle mission on April 12, 1981, they rode into orbit on the power of two solid-fuel boosters and a trio of hydrogen-fueled main engines built by Rocketdyne of Canoga Park, Calif.

In the wake of the 1986 Challenger disaster, NASA embarked on a $1 billion program to improve the safety and reliability of the main engines, a program that reaches fruition this week with launch of Atlantis on mission STS-110.

Atlantis is the first shuttle equipped with three upgraded block 2 main engines. NASA already had replaced the Rocketdyne-built high pressure oxygen pump with a more robust pump built by Pratt & Whitney. Other post-Challenger upgrades included addition of a wide-throat combustion chamber to reduce internal pressure. the elimination of hard-to-inspect welds and a new manifold to feed propellants to the combustion chamber.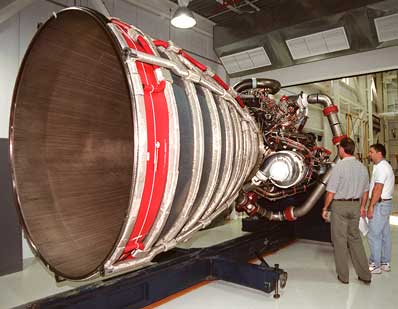 The upgraded Block 2 engine sits in the Space Shuttle Main Engine Processing Facility at Kennedy Space Center awaiting transfer to Atlantis' hangar. Photo: NASA-KSC



The block 2 engine includes the addition of a Pratt & Whitney high pressure hydrogen pump. While the new pumps weigh more than the Rocketdyne models originally developed for the main engines, they contain fewer welds and tougher turbine blades, reducing the amount of costly post-flight inspections and serving that is required.

Equipped with three block two engines, a shuttle's overall reliability increases by 10 percent, NASA managers say, while the odds of a catastrophic engine-related failure drop to 1-in-483. Prior to implementation of the new hydrogen pump, the odds were roughly 1-in-438.

"We put the high pressure oxidizer pump on some years ago and we've got two flights with the high pressure fuel turbopump," said shuttle program manager Ronald Dittemore. "This will be the first flight with a cluster of three.

"These pumps are fantastic. We've basically eliminated the welding inside the pump that we could not inspect. We've made the pump beefier, more robust. And because of that, we've accepted about a 300-pound weight increase per pump. But we wanted to do that, intentionally sacrificing some performance, to improve our safety.

"Some of the failures we have seen on this new pump (during testing) would have taken out a pump and an engine in the past," Dittemore said. "With this new pump, it just keeps on chugging. It'll run to MECO (main engine cutoff) or it'll have a graceful shutdown. So just subjectively, it's a tremendous improvement in our safety."

The high pressure hydrogen pump, a bit larger than a beer keg, generates nearly 70,000 horsepower during engine operation. The old pumps, Dittemore said, were so lightweight and finely tuned that the loss of a single turbine blade could lead to a catastrophic failure.

"In the old pump, if we had blade damage or lost a blade it was pretty much a catastrophic event, it just could not stand losing a single blade," he said. "That was because the pump was designed to be lightweight ... and high performance. And so if it got out of balance by losing a blade, it just kind of cored itself out and that became a catastrophic event.

With the new hydrogen pumps, "I can lose a blade or multiple blades and it does not send my pump out of balance," Dittemore said. "And so I'm able to withstand those types of failures and still have a graceful shutdown or make it to the (planned) main engine cutoff."

Assuming an on-time liftoff, Bloomfield and Frick will guide Atlantis through a standard rendezvous profile, firing the shuttle's maneuvering jets periodically to tweak the ship's orbit and set up a docking with the international space station around 12:30 p.m. April 6.
| | |
| --- | --- |
| | Illustration of Atlantis' final approach to the station. Photo: NASA TV/Spaceflight Now |
The shuttle will approach the station from below, passing about 600 feet beneath the outpost before slowly looping up to a point directly in front of the outpost. At that point, Atlantis will be oriented with its tail facing Earth and its payload bay facing the station.

The station will be oriented with its long axis in the direction of travel. A pressurized mating adapter mounted on the forward end of the Destiny laboratory module will face Atlantis. Destiny, in turn, is attached to the U.S. Unity module, a multi-hatch gateway linking the lab to the rest of the station.

Directly across Unity from Destiny is a pressurized mating adapter leading into the Russian Zarya propulsion and cargo module. Zarya, in turn, is attached to the Russian Zvezda command module at the aft end of the station's long axis.

A Progress supply ship currently is docked to Zvezda's aft port while the on-board crew's Soyuz lifeboat is docked to the downward-facing Zarya port module. Pirs is attached to the nadir docking port at the forward end of Zvezda.

Extending 90 feet up from the Unity module's zenith hatch is the Z1 truss and P6 solar array, which provides the bulk of the station's current power. The P6 array ultimately will be repositioned at the end of the station's main truss, the first element of which is being installed during Atlantis' mission.

The station's Quest airlock module, which will be used for all four of the upcoming STS-110 spacewalks, is attached to Unity's right-side, or starboard, hatch.

Positioned directly in front of the station's long axis, Bloomfield will manually guide Atlantis in so the docking system in the shuttle's cargo bay can mate with its counterpart on the pressurized mating adapter, or PMA.

"We call it a V-bar approach," Bloomfield said, referring to the station's velocity vector. "We'll fly below the international space station and then we'll fly all the way around out into the front, into what we call the V-bar, but we're flying now out in front of the station. And then finally, we'll fly in on that V-bar until we dock.

"It's been done before, it's proven, so there's not anything new on our flight and so you know if you do it right it's going to work," he said. "We're fairly confident it's going to work."

Once Atlantis is docked and hatches between the two craft are opened, Expedition 4 commander Yury Onufrienko and his two NASA crewmates - Daniel Bursch and Carl Walz - will welcome the shuttle crew aboard.

Launched Dec. 5, Onufrienko, Bursch and Walz are four months into a planned six-month stay aboard the space station. The Atlantis astronauts will be their first visitors since setting up shop aboard the outpost.

"They've been up there for more than 100 days now and I can only imagine what it would be like to be isolated up there for a hundred days and not have any other people to talk to," Ross said. "So I'm looking forward to sharing some experiences with them and hoping they can enjoy that time together before we depart."

The first spacewalk to attach the S0 truss is planned for the day after docking. The second and third spacewalks are targeted for April 9 and 10 with the fourth following on April 12, the 21st anniversary of the first shuttle flight.

If all goes well, Atlantis' crew will return to Earth just before 2 p.m. on April 15.

"The shuttle crew will return after having loosened and tightened approximately 250 bolts and after having mated or demated 110 electrical connectors," said Barclay. "They will have certainly done their part building our international space station."

CONTINUE TO NEXT PAGE