STS-102 Entry Timeline
COMPILED BY WILLIAM HARWOOD
Updated: March 20, 2001

The deorbit timeline on any space shuttle mission begins four hours before the rocket firing that drops the ship out of orbit. This is known as "TIG (time of ignition) minus four hours." The actual start of the deorbit timeline, however, can vary by several minutes depending on the crew's schedule. The start of deorbit operations as listed in the chart below may by out of synch with NASA's official timeline by a few minutes either way.

Change history:

03/03: Posting initial STS-102 entry timeline
03/19: Updating to include latest entry data
03/19: Updating wind speed, direction, crosswind component
03/20: Adding Edwards Air Force Base landing opportunities
03/20: Eliminating first KSC opportunity; expanding timeline for second opportunity


RELOAD this page to make sure you have the latest data!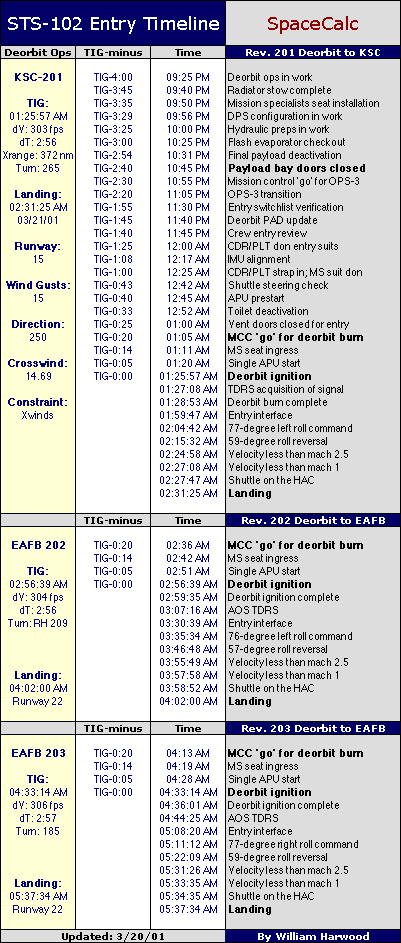 At a Glance
Mission: ISS-5A.1 (STS-102)
Vehicle: Shuttle Discovery
Crew: Wetherbee, Kelly, Thomas, Richards; (up:) Voss, Helms, Usachev; (down:) Shepherd, Gidzenko, Krikalev
Launch date: March 8, 2001
Launch time: 6:42 a.m. EST (1142 GMT)
Launch site: LC-39B, KSC
Landing date: March 21, 2001
Landing time: 2:32 a.m. EST (0732 GMT)
Landing site: SLF, KSC


Ride a rocket!

A 50-minute VHS video cassette from Spaceflight Now features spectacular "rocketcam" footage from April's launch of NASA's 2001 Mars Odyssey probe. Available from the Astronomy Now Store in NTSC format (North America and Japan) and PAL (UK, most of Europe, Australia and other countries).


Status Summary

Discovery touched down in Florida at 0731 GMT (2:31 a.m. EDT).



Low clouds and strong crosswinds forced NASA to wave off the first landing opportunity at KSC.



A fire alarm sounded aboard the space station early Monday. It turned out to be a false alarm but caused significant disruption.




See the Status Center for full play-by-play coverage.


Recent updates

WEDNESDAY
03:00 AM


Orbit ops snapshot



TUESDAY
10:25 PM


STS-102 entry timeline


11:45 AM


Satellite tracking elements



MONDAY
10:20 PM


STS-102 master flight plan


10:00 PM


STS-102 TV schedule (rev. O)


09:00 AM


STS-102 landing forecast