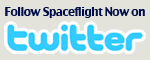 NewsAlert





Sign up for our NewsAlert service and have the latest space news e-mailed direct to your desktop.


Privacy note: your e-mail address will not be used for any other purpose.









Soyuz capsule docks to the International Space Station
BY WILLIAM HARWOOD
STORY WRITTEN FOR CBS NEWS "SPACE PLACE" & USED WITH PERMISSION
Posted: December 21, 2012


A Russian Soyuz spacecraft glided to a smooth holiday docking with the International Space Station Friday, bringing three fresh crew members to the lab complex after a two-day orbital chase.

Credit: NASA



Soyuz TMA-07M commander Roman Romanenko, assisted by Canadian flight engineer Chris Hadfield, monitored an automated approach to the station, ready to take over manual control if any problems developed.

But the computer-controlled rendezvous went off without a hitch and the docking system in the nose of the spacecraft engaged its counterpart on the Rassvet module at 9:09 a.m. EST (GMT-5) as the two spacecraft sailed 250 miles above Kazakhstan.

"Docking confirmed," said NASA commentator Rob Navias, relaying updates from the Russian mission control center near Moscow. "The Soyuz sleigh has pulled into port at the International Space Station with a holiday gift of three new crew members. ... A picture-perfect rendezvous, approach and docking for the Soyuz spacecraft."

Romanenko, a second-generation cosmonaut making his second trip to the space station, shuttle veteran Hadfield, making his third spaceflight, and NASA physician-astronaut Thomas Marshburn, making his second, blasted off from the Baikonur Cosmodrome in Kazakhstan on Wednesday, enjoying a problem-free climb to space to kick off a two-day rendezvous with the station.

During final approach Friday, television views from the space station showed the Soyuz on final approach against the blue-and-white backdrop of Earth while a camera in the TMA-07M spacecraft showed the sprawling station against the black of deep space.

There were no problems and about 10 minutes of docking, hooks and latches fully engaged to pull the Soyuz firmly into place. After extensive leak checks, Romanenko, Hadfield and Marshburn planned to open the forward hatch and float into the space station, welcomed by Expedition 34 commander Kevin Ford and Russian cosmonauts Evgeny Tarelkin and Oleg Novitskiy, who were launched to the lab complex Oct. 23.

Following a standard safety briefing, the crew will settle in for a relatively light schedule and a break for Christmas, complete with gifts and a holiday meal. A second break to celebrate the Russian Christmas holiday is planned for the first week in January.

But soon enough, the pace will pick up with a busy schedule of scientific research, routine station maintenance, preparations for a Russian spacewalk and the arrival of Russian and European Space Agency cargo ships. Two commercially developed U.S. supply craft also are expected in March and April.

Ford, Novitskiy and Tarelkin will return to Earth on March 15 aboard their Soyuz TMA-06M spacecraft. At that point, Hadfield will become commander of Expedition 35, the first Canadian to serve as leader of a space station expedition.


Additional coverage for subscribers:


VIDEO: SOYUZ DOCKS TO THE SPACE STATION PLAY



VIDEO: FULL LAUNCH EXPERIENCE PLAY | HI-DEF


VIDEO: CREW ARRIVES AT THE LAUNCH PAD PLAY | HI-DEF


VIDEO: DONNING THE SOKOL SPACESUITS PLAY | HI-DEF


VIDEO: LAUNCH MORNING TRADITIONS PLAY | HI-DEF



VIDEO: POST-ROLLOUT NASA INTERVIEWS PLAY | HI-DEF


VIDEO: SOYUZ ROCKET ROLLED TO THE LAUNCH PAD PLAY | HI-DEF


VIDEO: ASSEMBLY OF SOYUZ LAUNCHER COMPLETED PLAY | HI-DEF



VIDEO: ASTRONAUTS PLAY TOURIST AT BAIKONUR PLAY | HI-DEF


VIDEO: FINAL PRE-FLIGHT PREPS FOR THE CREW PLAY | HI-DEF


VIDEO: VERTICAL 'FIT CHECKS' IN THE SOYUZ PLAY | HI-DEF


VIDEO: DRESS REHEARSAL INSIDE THE CAPSULE PLAY | HI-DEF


VIDEO: CREW ARRIVES AT BAIKONUR COSMODROME PLAY | HI-DEF


VIDEO: ASTRONAUTS DEPART STAR CITY FOR LAUNCH PLAY | HI-DEF


SUBSCRIBE NOW





Final Shuttle Mission Patch

Free shipping to U.S. addresses!


The crew emblem for the final space shuttle mission is now available in our store. Get this piece of history!


U.S. STORE

WORLDWIDE STORE

STS-134 Patch

Free shipping to U.S. addresses!


The final planned flight of space shuttle Endeavour is symbolized in the official embroidered crew patch for STS-134. Available in our store!


U.S. STORE

WORLDWIDE STORE

Ares 1-X Patch

The official embroidered patch for the Ares 1-X rocket test flight, is available for purchase.


U.S. STORE

WORLDWIDE STORE

Apollo Collage

This beautiful one piece set features the Apollo program emblem surrounded by the individual mission logos.


U.S. STORE

WORLDWIDE STORE

Project Orion

The Orion crew exploration vehicle is NASA's first new human spacecraft developed since the space shuttle a quarter-century earlier. The capsule is one of the key elements of returning astronauts to the Moon.


U.S. STORE

Fallen Heroes Patch Collection

The official patches from Apollo 1, the shuttle Challenger and Columbia crews are available in the store.


U.S. STORE

WORLDWIDE STORE