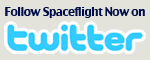 Astronauts giving Atlantis full post-launch inspection
BY WILLIAM HARWOOD
STORY WRITTEN FOR CBS NEWS "SPACE PLACE" & USED WITH PERMISSION
Posted: July 9, 2011


KENNEDY SPACE CENTER, FL--The Atlantis astronauts are working through a busy day of heat shield inspections, docking preparations and rendezvous rocket firings to fine tune the orbiter's approach to International Space Station. Docking is targeted for 11:07 a.m. EDT (GMT-4) Sunday.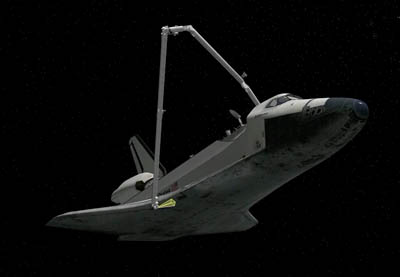 An artist's concept of Atlantis' heat shield inspections planned for today. Credit: NASA TV



Space shuttles normally fly with crews of six or seven, but just four are flying aboard Atlantis -- commander Christopher Ferguson, pilot Douglas Hurley, Sandra Magnus and Rex Walheim -- to minimize rescue scenarios in case of a major problem that might prevent a safe re-entry. But on the flip side, there are fewer hands available to do the same amount of work.

"It will be challenging to get through that inspection with a reduced crew complement," said Flight Director Kwatsi Alibaruho. "But this crew has practiced considerably to be able to develop a flow or a routine, if you will, to where even though they have fewer hands available in the shuttle they'll be able to get through these inspections in the timeframe that's been allotted."

The astronauts planned to spend most of their day Saturday inspecting the shuttle's heat-resistant nose cap and wing leading edge panels to make sure no damage was incurred during launch Friday. Using an instrumented boom attached to the end of Atlantis' 50-foot-long robot arm, the astronauts planned to inspect the right wing first, followed by the nose cap and then the left wing.

"The orbiter boom sensor system, the OBSS, will be maneuvered into position to start survey of the starboard wing," said Alibaruho. "There, the various sensor packages on the OBSS, which include a high-resolution still camera, a laser range imager as well as a video camera, will sweep over the critical surfaces of Atlantis' thermal protection system, looking for any imperfections, any damage that might have been caused by ascent debris or anything that might compromise Atlantis' capability to perform a safe re-entry.

"After inspecting the wing leading edge and also areas of the (right-side) payload bay door, the OBSS will inspect the nose cap, which is also made of the same reinforced carbon carbon material that's on the leading edge of the wings. Once that inspection is complete, the OBSS will move to the port wing and conduct similar inspections there, again, looking for imperfections, orbital debris damage, ascent debris damage and anything we might need to go address.

"We'll conclude by inspecting the port payload bay door as well as some of the areas where umbilicals were attached prior to launch."

Along with the heat shield inspections, Ferguson and Hurley planned to carry out two rendezvous rocket firings to refine Atlantis' orbit and approach to International Space Station. The astronauts also planned to check out laser range finders and other rendezvous tools that will be used during final approach to the station Sunday.

A mission status briefing is planned at 2 p.m., followed by a mission management team briefing at 4 p.m. to review launch and any issues that might be under discussion.

Here is an updated timeline of the crew's planned activities for flight day five (in EDT and mission elapsed time; includes revision B of the NASA television schedule; best viewed with fixed-width font):

DATE/EDT...DD...HH...MM...SS...EVENT

07/09
03:59 AM...00...16...30...00...Crew wakeup
06:11 AM...00...18...42...02...NC-2 rendezvous rocket firing
07:04 AM...00...19...35...00...OBSS unberth
07:29 AM...00...20...00...00...Ergometer setup
08:19 AM...00...20...50...00...OBSS starboard wing survey
10:14 AM...00...22...45...00...Crew meals begin
11:14 AM...00...23...45...00...OBSS nose cap survey
11:49 AM...01...00...20...00...Middeck transfer preps
12:04 PM...01...00...35...00...OBSS port wing survey
02:00 PM...01...02...31...00...Mission status briefing on NASA TV
02:19 PM...01...02...50...00...SRMS berths OBSS
02:34 PM...01...03...05...00...Laser scan data downlink
02:39 PM...01...03...10...00...Spacewalk equipment preps
03:24 PM...01...03...55...00...Rendezvous tools checkout
03:29 PM...01...04...00...00...Centerline camera install
03:59 PM...01...04...30...00...Orbiter docking system ring extension
04:00 PM...01...04...31...00...MMT briefing on NASA TV
04:39 PM...01...05...10...00...Airlock prep
05:27 PM...01...05...58...19...NC-3 rendezvous rocket firing
07:29 PM...01...08...00...00...Crew sleep begins
09:00 PM...01...09...31...00...Flight day 2 highlights on NASA TV
11:00 PM...01...11...31...00..."Launching Our Dreams" replay on NASA TV



Additional coverage for subscribers:


VIDEO: COUNTDOWN PREVIEW AND WEATHER FORECAST BRIEFING PLAY


VIDEO: ASTRONAUTS ARRIVE AT LAUNCH SITE PLAY


VIDEO: PRE-FLIGHT INTERVIEW WITH CHRIS FERGUSON PLAY


VIDEO: PRE-FLIGHT INTERVIEW WITH DOUG HURLEY PLAY


VIDEO: PRE-FLIGHT INTERVIEW WITH SANDY MAGNUS PLAY


VIDEO: PRE-FLIGHT INTERVIEW WITH REX WALHEIM PLAY



VIDEO: SHUTTLE AND STATION PROGRAM BRIEFING PLAY


VIDEO: THE STS-135 MISSION OVERVIEW PRESENTATIONS PLAY


VIDEO: PREVIEW BRIEFING ON MISSION'S SPACEWALK PLAY


VIDEO: THE ASTRONAUTS' PRE-FLIGHT NEWS BRIEFING PLAY



SUBSCRIBE NOW





Final Shuttle Mission Patch

Free shipping to U.S. addresses!


The crew emblem for the final space shuttle mission is now available in our store. Get this piece of history!


U.S. STORE

WORLDWIDE STORE

STS-134 Patch

Free shipping to U.S. addresses!


The final planned flight of space shuttle Endeavour is symbolized in the official embroidered crew patch for STS-134. Available in our store!


U.S. STORE

WORLDWIDE STORE

Ares 1-X Patch

The official embroidered patch for the Ares 1-X rocket test flight, is available for purchase.


U.S. STORE

WORLDWIDE STORE

Apollo Collage

This beautiful one piece set features the Apollo program emblem surrounded by the individual mission logos.


U.S. STORE

WORLDWIDE STORE

Project Orion

The Orion crew exploration vehicle is NASA's first new human spacecraft developed since the space shuttle a quarter-century earlier. The capsule is one of the key elements of returning astronauts to the Moon.


U.S. STORE

Fallen Heroes Patch Collection

The official patches from Apollo 1, the shuttle Challenger and Columbia crews are available in the store.


U.S. STORE

WORLDWIDE STORE