Endeavour's boosters to be stored to fly again someday
BY STEPHEN CLARK
SPACEFLIGHT NOW
Posted: May 19, 2011


The shuttle Endeavour's two spent solid rocket booster casings returned to a Cape Canaveral hangar Wednesday to undergo inspections and cleaning before being put into storage for potential future use on commercial or heavy-lift launchers.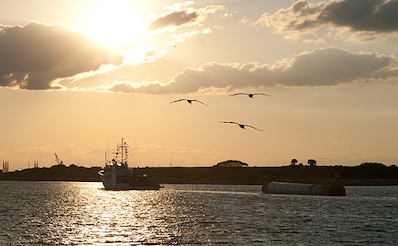 One of Endeavour's boosters is pulled into Port Canaveral late Tuesday. Credit: Ben Cooper/Spaceflight Now



Comprised of parts that flew on 59 previous shuttle flights, the boosters were towed into Port Canaveral late Tuesday to spend the night. NASA's two solid rocket booster recovery ships moved the booster casings to Hangar AF at Cape Canaveral Air Force Station on Wednesday, according to an agency spokesperson.

The boosters separated about two minutes into Endeavour's launch Monday, reaching a peak altitude of nearly 45 miles before parachuting into the Atlantic Ocean about 140 miles off the coast of Florida.

Recovery teams fished the boosters out of the water and towed them back to shore.

Engineers will inspect the empty casings and wash them out before loading the booster segments on a train for a ride back to Clearfield, Utah. After further checks and cleaning, the boosters will be put into storage, according to Jim Halsell, vice president of space exploration systems for ATK, the solid rocket motor contractor.

At the height of the shuttle program, ATK washed out and disassembled the boosters before pouring fresh solid propellant into the casings for another launch. With just one blastoff left to go, there are no more shuttle boosters to prepare for flight.

Instead of immediately filling the segments with more fuel, ATK plans to store the empty casings in hopes of using the hardware again on a new kind of rocket. Other shuttle boosters are getting the same treatment.

ATK is developing the commercial Liberty rocket to transport astronaut crews to low Earth orbit. The company is also favored to win a contract to supply the solid rocket boosters for a NASA heavy-lift launcher called the Space Launch System.

Both of the new rockets would use extended and upgraded five-segment solid rocket motors -- on the first stage of Liberty and as twin shuttle-like boosters on the SLS heavy-lifter.

"We certainly hope to use those casings and a lot of the other flight heritage hardware for future use either on Liberty or on SLS," Halsell said in an interview Monday.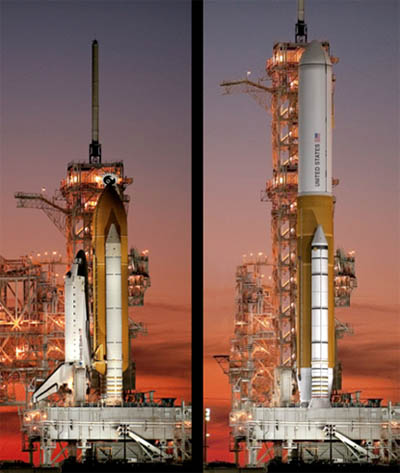 A side-by-side comparison of the space shuttle and a heavy-lift rocket concept. Credit: NASA



The shuttle's four-segment booster and the next-generation motor have the same 12.2-foot diameter, making shuttle era hardware a logical choice to employ on future rockets, according to Halsell, a former shuttle astronaut.

"It's kind of neat," Halsell said. "I saw on a quick glance that on two of my flights I had flown some of the casings that (launched Endeavour this week). It would just be continuing that same heritage."

Trina Patterson, an ATK spokesperson, said the last new machined booster casing was delivered in 2007. There are no plans to restart production, she said.

"It became obvious we had an inventory that would support any reasonable flight rate we could expect, so we just keep flying the ones we have over and over again," Halsell said.

Booster casings are certified to fly up to 28 times, according to ATK. The company has no plans to restart case production.

NASA is also retaining the space shuttle's liquid-fueled main engines in case they are needed on a future rocket. Manufactured and maintained by Pratt & Whitney Rocketdyne, the newest and most capable engines will be stored to possibly help launch the SLS heavy-lift rocket.

The space agency is finishing trade studies to settle on a design for the SLS, which Congress mandated must be able to lift up to 130 metric tons of payload into low Earth orbit. If officials follow the results of preliminary reports, the SLS vehicle will likely use shuttle main engines and ATK's five-segment solid rocket boosters.

ATK is continuing development of a five-segment motor under a NASA contract for the Ares 1 rocket, the agency's canceled launch vehicle originally designed to carry astronaut crews into space after the shuttle's retirement.

While Congress, the White House and NASA negotiated a path forward following last year's termination of the Constellation moon program, which included the Ares rocket family, the agency kept existing contracts in place.

"We fully anticipate when (NASA) is ready, they will alter the current contract in a manner which allows us to move forward with the solid rocket boosters for the Space Launch System that takes full advantage of everything that we're spending money on right now on Ares 1," Halsell said. "All these tests, all this data, all this flight heritage would simply be moved over for the benefit of a different kind of rocket."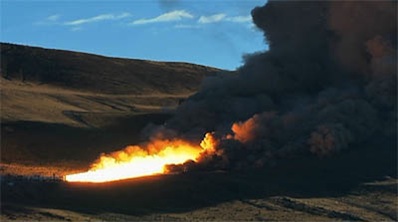 The five-segment rocket motor's second ground test firing was successful in August 2010. Credit: NASA



ATK is preparing for the third full-scale ground test firing of the Ares five-segment motor scheduled for October. Two of the five segments are already on the company's test stand in Promontory, Utah.

Halsell said a fourth ground development firing, named DM-4, could follow in the fall of 2012, but ATK could use that rocket motor for a flight test some time in 2013.

"If you wanted go sooner and accept a slightly higher level of risk, with the emphasis on slightly, it could be possible to utilize DM-4 as a flight vehicle," Halsell said.

If managers decide to use the motor on a flight test, the most likely scenario would be to use ATK's Liberty launcher, a commercial rocket being developed with internal funding in hopes of winning contracts to haul astronaut crews to the International Space Station.

The Liberty uses a single five-segment motor first stage and a European Vulcain 2 engine for the second stage. It could be ready for a bare-bones test flight by 2013, ATK says.

A demonstration for NASA's Space Launch System would take more time because it would be powered by two solid rocket boosters. And the design and construction of the heavy-lifter's core first stage has not yet begun.