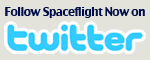 NewsAlert





Sign up for our NewsAlert service and have the latest news in astronomy and space e-mailed direct to your desktop.


Privacy note: your e-mail address will not be used for any other purpose.





Endeavour sits ready for launch
BY SPACEFLIGHT NOW
Posted: May 15, 2011


These images from Sunday afternoon show the shuttle Endeavour poised for blastoff on its 25th and final flight. The photos were captured a few hours after the launch pad's rotating service gantry retracted to reveal the black and white spaceship.
Photo credit: Stephen Clark/Spaceflight Now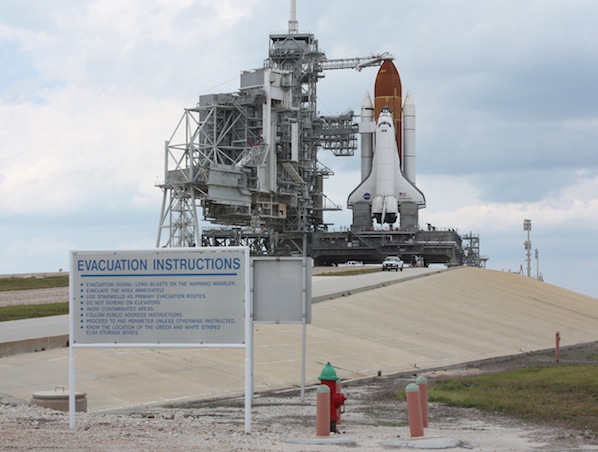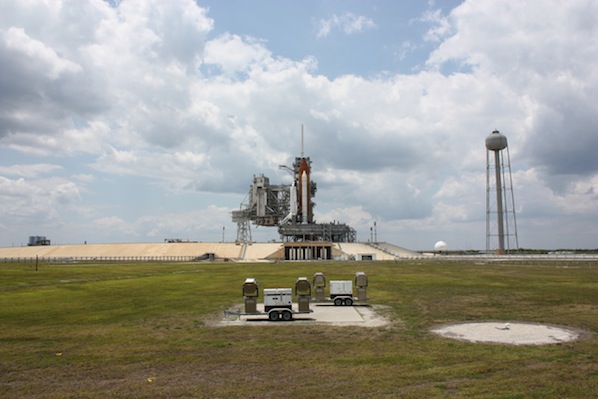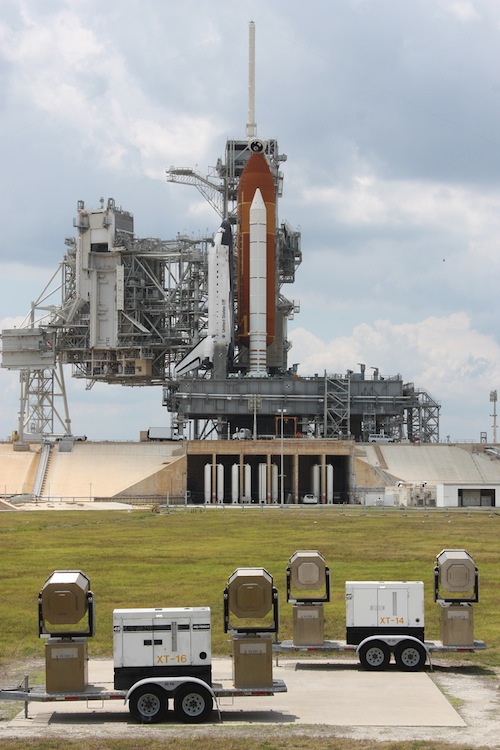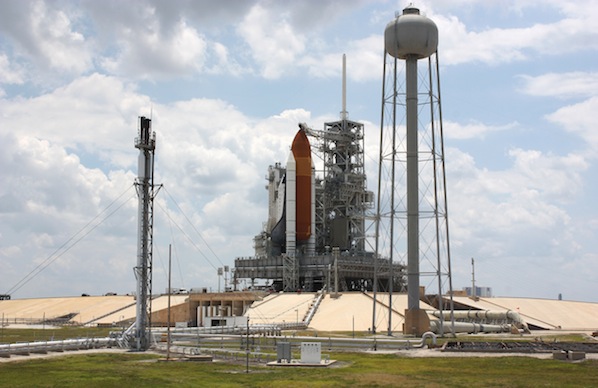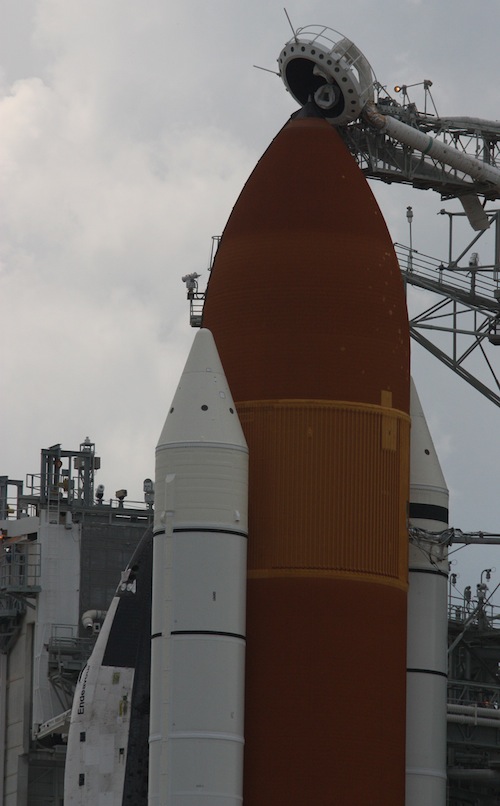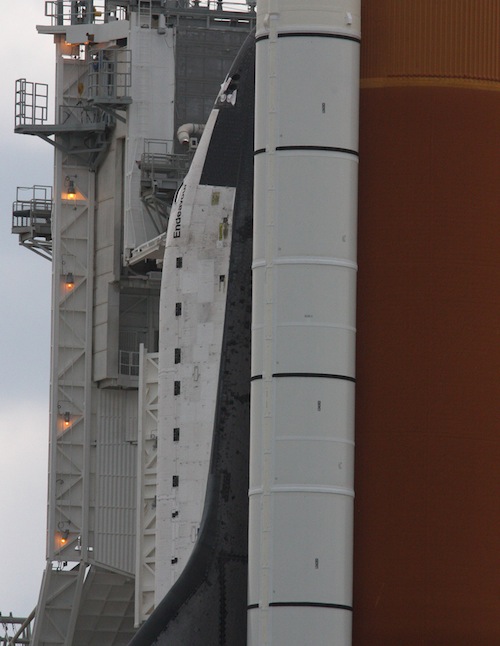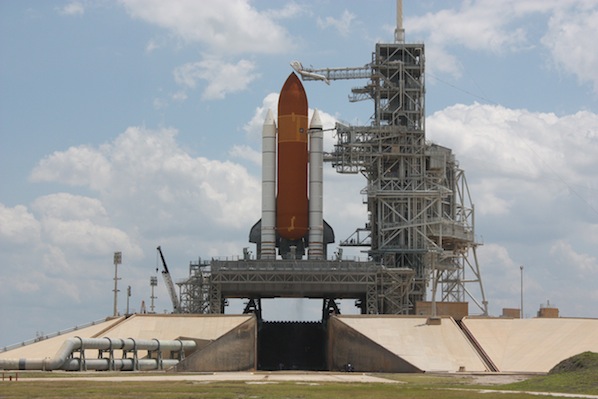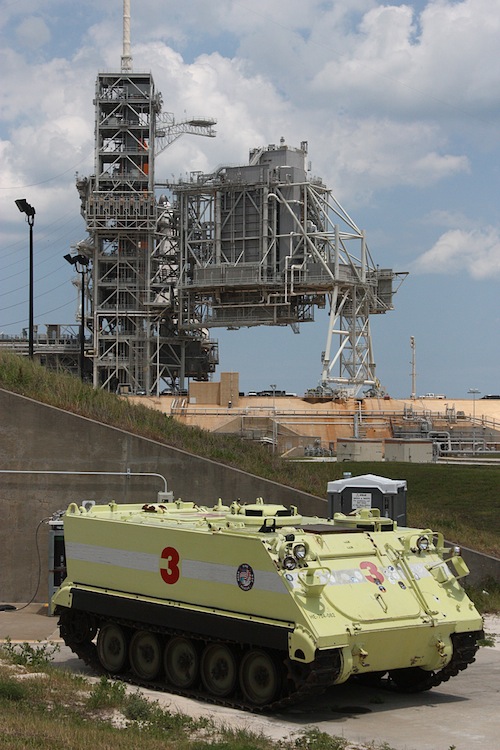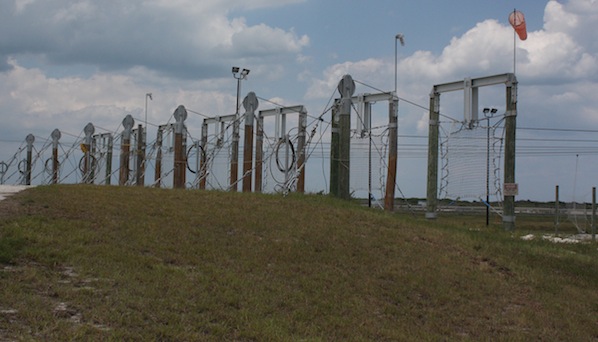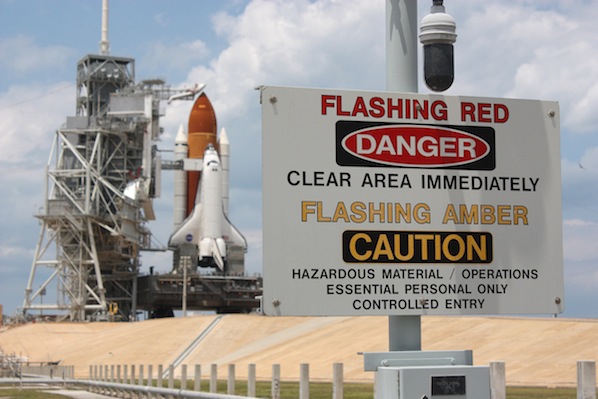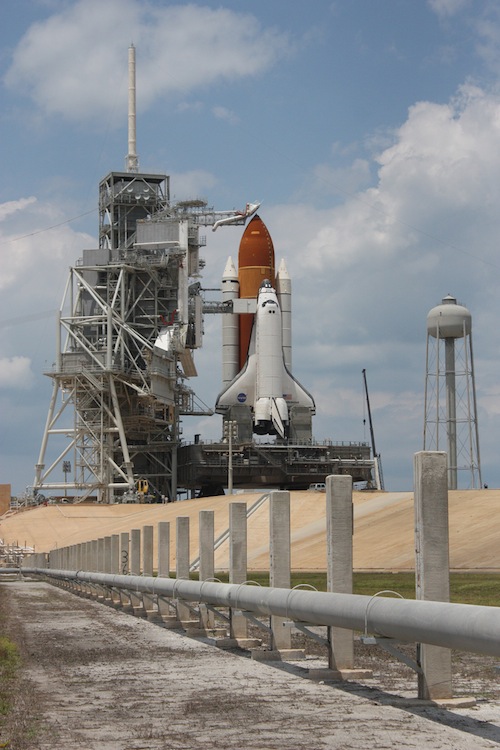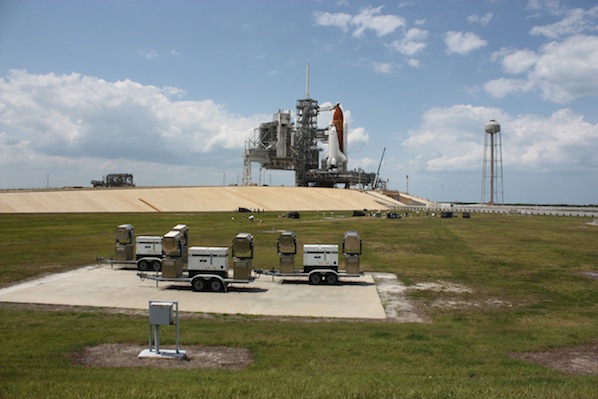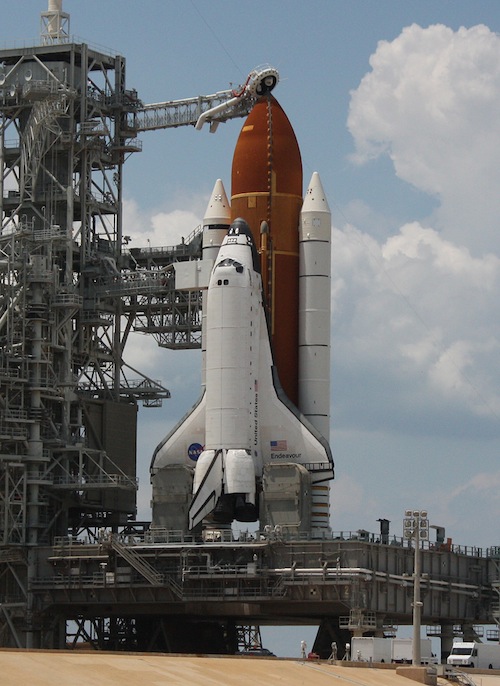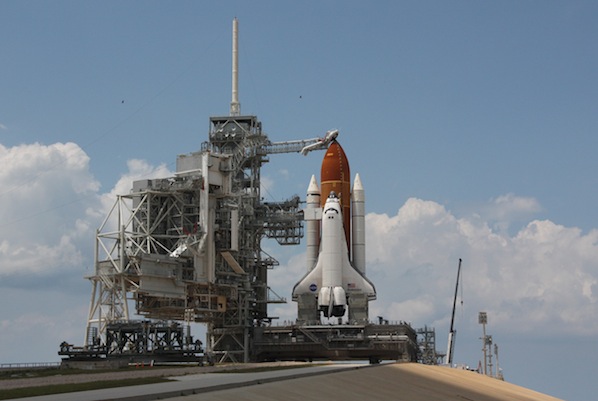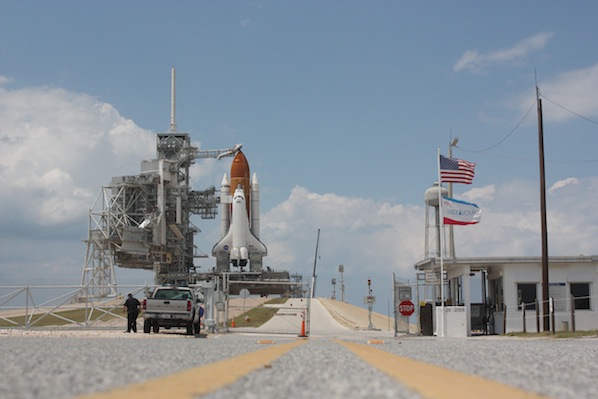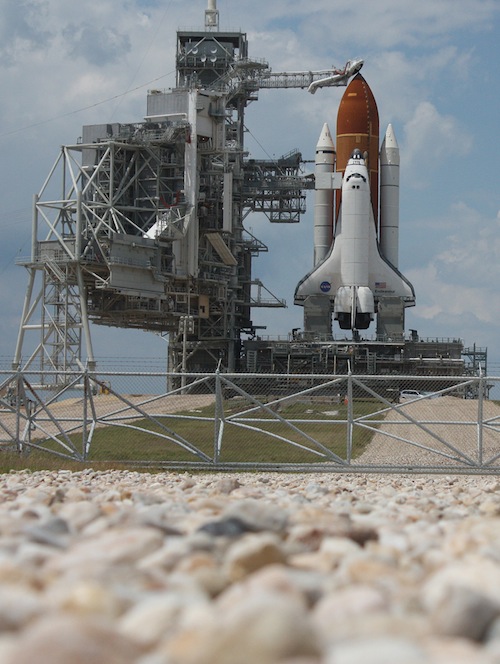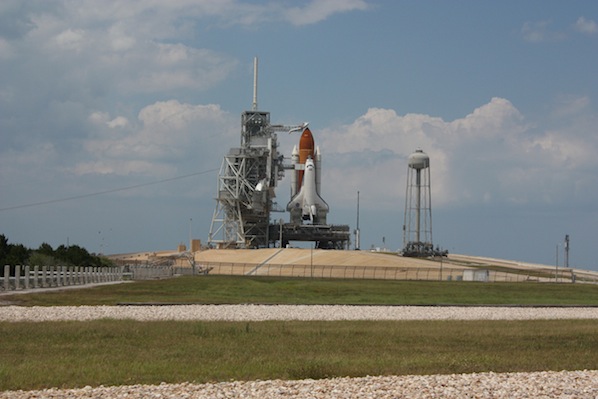 Photo credit: Stephen Clark/Spaceflight Now


Additional coverage for subscribers:


VIDEO: TIME-LAPSE OF SUNDAY'S GANTRY ROLLBACK PLAY | HI-DEF


VIDEO: ANOTHER TOWER TIME-LAPSE FROM PAD CAMERA PLAY



VIDEO: RECAP OF HEATER PROBLEM AND THE FIX PLAY | HI-DEF


VIDEO: THE PRE-LAUNCH NEWS CONFERENCE PLAY


VIDEO: COUNTDOWN STATUS AND WEATHER BRIEFING PLAY | HI-DEF


VIDEO: ASTRONAUTS ARRIVE FOR SECOND COUNTDOWN PLAY | HI-DEF



VIDEO: ENDEAVOUR LAUNCH RESCHEDULED FOR MAY 16 PLAY


VIDEO: CHECKING ENDEAVOUR'S WIRING PLAY | HI-DEF


VIDEO: OLD ALCA-2 BOX OPENED UP FOR FORENSICS PLAY | HI-DEF


VIDEO: FAILED ALCA-2 BOX REMOVED FROM ENDEAVOUR PLAY | HI-DEF


VIDEO: WORKING ON OLD AND NEW SWITCHBOXES PLAY | HI-DEF


VIDEO: LAUNCH OF ENDEAVOUR DELAYED FURTHER PLAY



VIDEO: PRESIDENT OBAMA ARRIVES AT THE CAPE PLAY | HI-DEF


VIDEO: TOUR OF ATLANTIS AND ASTRONAUT MEETING PLAY | HI-DEF


VIDEO: FIRST FAMILY DEPARTS AFTER VISIT PLAY | HI-DEF



VIDEO: POST-SCRUB NEWS BRIEFING PLAY


VIDEO: LAUNCH DIRECTOR EXPLAINS SCRUB CALL PLAY | HI-DEF


VIDEO: SCRUB DECLARED FOR APU NO. 1 HEATER GLITCH PLAY | HI-DEF


VIDEO: ASTRONAUTS LEAVE QUARTERS BEFORE SCRUB PLAY | HI-DEF


VIDEO: CREW GETS SUITED UP FOR LAUNCH PLAY | HI-DEF


VIDEO: TIME-LAPSE OF PAD GANTRY RETRACTING PLAY | HI-DEF



VIDEO: ENDEAVOUR'S PRE-FLIGHT CAMPAIGN PLAY | HI-DEF


VIDEO: PAYLOADS' PRE-FLIGHT CAMPAIGN PLAY | HI-DEF


VIDEO: PREPARING ENDEAVOUR FUEL TANK FOR LAUNCH PLAY | HI-DEF



VIDEO: COUNTDOWN UPDATE AND WEATHER BRIEFING PLAY


VIDEO: THE PRE-LAUNCH NEWS CONFERENCE PLAY


VIDEO: ASTRONAUTS ARRIVE AT LAUNCH SITE PLAY | HI-DEF


VIDEO: COUNTDOWN PREVIEW BRIEFING PLAY | HI-DEF



VIDEO: GUIDED TOUR OF SPACE STATION PLAY | HI-DEF


VIDEO: ENDEAVOUR MISSION PREVIEW MOVIE PLAY | HI-DEF


VIDEO: GET TO KNOW ENDEAVOUR'S ASTRONAUTS PLAY | HI-DEF



VIDEO: PRE-FLIGHT INTERVIEW WITH MARK KELLY PLAY


VIDEO: PRE-FLIGHT INTERVIEW WITH GREG JOHNSON PLAY


VIDEO: PRE-FLIGHT INTERVIEW WITH MIKE FINCKE PLAY


VIDEO: PRE-FLIGHT INTERVIEW WITH ROBERTO VITTORI PLAY


VIDEO: PRE-FLIGHT INTERVIEW WITH DREW FEUSTEL PLAY


VIDEO: PRE-FLIGHT INTERVIEW WITH GREG CHAMITOFF PLAY



VIDEO: ENDEAVOUR CLEARED FOR APRIL 29 LAUNCH PLAY



VIDEO: EVACUATION DRESS REHEARSAL PLAY | HI-DEF


VIDEO: ASTRONAUTS BOARD ENDEAVOUR PLAY | HI-DEF


VIDEO: SUITING UP FOR PRACTICE COUNT PLAY | HI-DEF


VIDEO: SHUTTLE INSPECTED FOR STORM DAMAGE PLAY | HI-DEF


VIDEO: CREW TEST-DRIVES PAD ESCAPE VEHICLE PLAY | HI-DEF


VIDEO: ASTRONAUT CHAT AT THE PRESS SITE PLAY | HI-DEF


VIDEO: CREW ARRIVES FOR PRACTICE COUNT PLAY | HI-DEF



VIDEO: PAYLOADS ARRIVE AT LAUNCH PAD 39A PLAY | HI-DEF


VIDEO: CANISTER ROTATED UPRIGHT FOR PAD PLAY | HI-DEF


VIDEO: PALLET OF SPARE PARTS INTO CANISTER PLAY | HI-DEF


VIDEO: AMS PAYLOAD PUT INTO TRANSPORTER PLAY | HI-DEF



VIDEO: SHUTTLE AND STATION PROGRAM BRIEFING PLAY


VIDEO: THE STS-134 MISSION OVERVIEW PRESENTATIONS PLAY


VIDEO: IN-DEPTH WITH ALPHA MAGNETIC SPECTROMETER PLAY


VIDEO: PREVIEW BRIEFING ON MISSION'S SPACEWALKS PLAY


VIDEO: THE ASTRONAUTS' PRE-FLIGHT NEWS BRIEFING PLAY



VIDEO: SUN RISES OVER THE LAUNCH PAD PLAY | HI-DEF


VIDEO: ENDEAVOUR ARRIVES ATOP PAD 39A PLAY | HI-DEF


VIDEO: ROLLOUT FROM VEHICLE ASSEMBLY BUILDING PLAY | HI-DEF



VIDEO: HOISTING ENDEAVOUR TO TANK AND SRBS PLAY | HI-DEF


VIDEO: ORBITER GOES VERTICAL PLAY | HI-DEF


VIDEO: ENDEAVOUR LEAVES PROCESSING HANGAR PLAY | HI-DEF



VIDEO: PAYLOAD MEDIA DAY PLAY | HI-DEF


VIDEO: THE ALPHA MAGNETIC SPECTROMETER PLAY | HI-DEF


VIDEO: PAYLOAD REMOVED FROM C-5 PLAY | HI-DEF


VIDEO: AMS ARRIVES FROM EUROPE PLAY | HI-DEF



VIDEO: EXPRESS LOGISTICS CARRIER NO. 3 PLAY | HI-DEF


VIDEO: HIGH-PRESSURE OXYGEN GAS TANK PLAY | HI-DEF


VIDEO: PUTTING STATION ANTENNA ON CARRIER PLAY | HI-DEF



VIDEO: TANK UNLOADED TO ASSEMBLY BUILDING PLAY | HI-DEF


VIDEO: THE EXTERNAL FUEL TANK ARRIVES PLAY | HI-DEF


VIDEO: BOOSTER SEGMENT MOVED TO VAB PLAY | HI-DEF


VIDEO: KENNEDY SPACE CENTER SRB CEREMONY PLAY | HI-DEF


VIDEO: ENDEAVOUR FITTED WITH MAIN ENGINES PLAY | HI-DEF


VIDEO: ORBITER TOWED OFF RUNWAY PLAY | HI-DEF



MORE: STS-134 VIDEO ARCHIVE


HDTV: HIGH-DEFINITION COVERAGE


SUBSCRIBE NOW