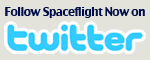 NewsAlert





Sign up for our NewsAlert service and have the latest news in astronomy and space e-mailed direct to your desktop.


Privacy note: your e-mail address will not be used for any other purpose.





Storm inspections on Endeavour
BY SPACEFLIGHT NOW
Posted: April 2, 2011


After nasty storms blew across Kennedy Space Center earlier this week, precautionary inspections of space shuttle Endeavour and the external fuel tank were performed at launch pad 39A. Only superficial marks were noted on the tank's foam during initial looks, as seen in this gallery of images snapped from Friday's high-definition video. Further inspections were planned on Saturday.
Photo credit: NASA TV