NASA rules out moving up Atlantis launch date again
BY WILLIAM HARWOOD
STORY WRITTEN FOR CBS NEWS "SPACE PLACE" & USED WITH PERMISSION
Posted: August 3, 2006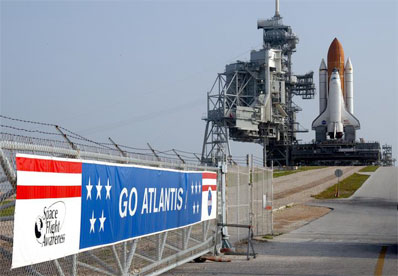 Credit: NASA-KSC



NASA managers today decided to stick with an Aug. 27 launch target for shuttle Atlantis based on an analysis that indicates orbital lighting would not be sufficient for a launch on Aug. 26.

As part of NASA's recovery from the Columbia disaster, the agency wants to launch Atlantis in daylight and still have enough light in orbit after the climb to space to permit photo documentation of the foam insulation on the shuttle's external fuel tank.

Because of a potential conflict with launch of a Russian Soyuz spacecraft carrying the station's next full-time crew, Atlantis' launch window currently extends through Sept. 7. NASA managers asked engineers to assess the possibility of launching Atlantis as early as Aug. 26 to maximize their chances of getting the shuttle off before the window closes.

That's important because once the August/September window expires, NASA will only have three useable lighted launch days between then and the end of the year - two in late October and one in December.

But as it turns out, critical areas of the tank's insulation - so-called ice-frost ramps and the nearby area where longer protuberance air-load, or PAL, ramps were once in place, will not be sufficiently illuminated on Aug. 26 to permit the sort of photo documentation engineers want.

As a result, NASA is sticking with the Aug. 27 launch target. Barring major problems, that date is expected to become official at the conclusion of a two-day flight readiness review Aug. 16.


Additional coverage for subscribers:


VIDEO: ATLANTIS ARRIVES AT LAUNCH PAD 39B PLAY


VIDEO: ROLLOUT FROM VEHICLE ASSEMBLY BUILDING BEGINS PLAY



VIDEO: TRUSS IN PAD'S PAYLOAD ROOM PLAY


VIDEO: PAYLOAD HOISTED INTO THE PAD PLAY


VIDEO: STATION TRUSS PAYLOAD DELIVERED TO PAD PLAY


MORE: STS-115 VIDEO COVERAGE


SUBSCRIBE NOW





Telescopes.com

Largest selection and the best prices anywhere in the world. Free shipping on select items. Telescopes.com is the largest dealer of both Meade and Celestron Telescopes. Visit Telescopes.com or call toll free 1-800-303-5873.

Final Shuttle Mission Patch

Free shipping to U.S. addresses!


The crew emblem for the final space shuttle mission is now available in our store. Get this piece of history!


U.S. STORE

WORLDWIDE STORE

STS-134 Patch

Free shipping to U.S. addresses!


The final planned flight of space shuttle Endeavour is symbolized in the official embroidered crew patch for STS-134. Available in our store!


U.S. STORE

WORLDWIDE STORE

Ares 1-X Patch

The official embroidered patch for the Ares 1-X rocket test flight, is available for purchase.


U.S. STORE

WORLDWIDE STORE

Apollo Collage

This beautiful one piece set features the Apollo program emblem surrounded by the individual mission logos.


U.S. STORE

WORLDWIDE STORE

Project Orion

The Orion crew exploration vehicle is NASA's first new human spacecraft developed since the space shuttle a quarter-century earlier. The capsule is one of the key elements of returning astronauts to the Moon.


U.S. STORE

Fallen Heroes Patch Collection

The official patches from Apollo 1, the shuttle Challenger and Columbia crews are available in the store.


U.S. STORE

WORLDWIDE STORE

An insider's view of how Apollo flight controllers operated and just what they faced when events were crucial.


Choose your store:
U.S.