Duane G. "Digger" Carey (Lieutenant Colonel, USAF)
NASA BIOGRAPHY
Posted: January 7, 2002


PERSONAL DATA: Born April 30, 1957 in St. Paul, Minnesota. Married to the former Cheryl Ann Tobritzhofer of St. Paul, Minnesota. They have two children. He enjoys motorcycle travel, racing motocross, camping, home-schooling his children, and reading science fiction. His parents reside in Minneapolis, Minnesota. Her mother resides in St. Paul Minnesota. Her father is deceased.

EDUCATION: Graduated from Highland Park High School, St. Paul, Minnesota in 1975; received a Bachelor of Science degree in Aerospace Engineering and Mechanics and a Master of Science degree in Aerospace Engineering from the University of Minnesota-Minneapolis in 1981 and 1982, respectively.

ORGANIZATIONS: National Space Society, American Motorcyclist Association, Air Force Association.

SPECIAL HONORS: Awarded the Distinguished Flying Cross and three Air Medals.

EXPERIENCE: Carey received his commission from the Reserve Officer Training Corps in 1981 and graduated from Undergraduate Pilot Training in 1983. He flew the A-10A during tours at England Air Force Base, Louisiana, and Suwon Air Base, Republic of Korea. He completed F-16 training in 1988 and was assigned to Torrejon Air Base, Spain. In 1991, he was selected to attend the United States Air Force Test Pilot School at Edwards Air Force Base, California. After graduation in 1992, he worked as an F-16 experimental test pilot and System Safety Officer at Edwards Air Force Base.

He has logged over 3700 hours in more than 35 types of aircraft

NASA EXPERIENCE: Carey was selected as an astronaut candidate by NASA in April 1996. He reported to the NASA Johnson Space Center in August 1996. Having completed two years of training and evaluation, he is qualified for flight assignment as a pilot. Initially, Carey was assigned technical duties in the Astronaut Office Spacecraft Systems/Operations Branch. He is assigned as pilot on STS-109 scheduled for launch early in 2002.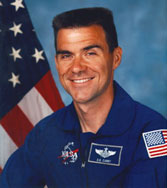 Final Shuttle Mission Patch

Free shipping to U.S. addresses!


The crew emblem for the final space shuttle mission is now available in our store. Get this piece of history!


U.S. STORE

WORLDWIDE STORE

STS-134 Patch

Free shipping to U.S. addresses!


The final planned flight of space shuttle Endeavour is symbolized in the official embroidered crew patch for STS-134. Available in our store!


U.S. STORE

WORLDWIDE STORE

Ares 1-X Patch

The official embroidered patch for the Ares 1-X rocket test flight, is available for purchase.


U.S. STORE

WORLDWIDE STORE

Apollo Collage

This beautiful one piece set features the Apollo program emblem surrounded by the individual mission logos.


U.S. STORE

WORLDWIDE STORE

Project Orion

The Orion crew exploration vehicle is NASA's first new human spacecraft developed since the space shuttle a quarter-century earlier. The capsule is one of the key elements of returning astronauts to the Moon.


U.S. STORE

Fallen Heroes Patch Collection

The official patches from Apollo 1, the shuttle Challenger and Columbia crews are available in the store.


U.S. STORE

WORLDWIDE STORE

Soviet Space
For the first time ever available in the West. Rocket & Space Corporation Energia: a complete pictorial history of the Soviet/Russian Space Program from 1946 to the present day all in full color. Available from our store.


Choose your store:
U.S. - U.K. - E.U. - Worldwide

Viking patch
This embroidered mission patch celebrates NASA's Viking Project which reached the Red Planet in 1976.


Choose your store:
U.S. - U.K. - E.U. - Worldwide

Apollo 7 DVD

For 11 days the crew of Apollo 7 fought colds while they put the Apollo spacecraft through a workout, establishing confidence in the machine what would lead directly to the bold decision to send Apollo 8 to the moon just 2 months later.


Choose your store:
U.S. - U.K. - E.U. - Worldwide

Gemini 12
Gemini 12: The NASA Mission Reports covers the voyage of James Lovell and Buzz Aldrin that capped the Gemini program's efforts to prove the technologies and techniques that would be needed for the Apollo Moon landings. Includes CD-ROM.


Choose your store:
U.S. - U.K. - E.U. - Worldwide

An insider's view of how Apollo flight controllers operated and just what they faced when events were crucial.


Choose your store:
U.S.