New data shows Columbia's state in final moments
BY WILLIAM HARWOOD
STORY WRITTEN FOR CBS NEWS "SPACE PLACE" & USED WITH PERMISSION
Posted: February 21, 2003


The shuttle Columbia's fuselage remained essentially intact for at least a half minute after the commander's final transmission, according to sources familiar with an ongoing analysis of the last 32 seconds of telemetry from the doomed spacecraft. The astronauts almost certainly had some awareness of the unfolding disaster, but there is no insight at this point to indicate what they might have known, or when.

The telemetry data, radioed back to Earth 30 to 32 seconds after normal communications with Columbia were interrupted 207,000 feet above Texas, indicate the shuttle's left wing was either gone or so severely damaged by a catastrophic "burn through" that hydraulic lines leading to the wing's elevons and landing gear had been severed or ruptured.

That final burst of telemetry shows the orbiter's hydraulic power units, or APUs, were still functioning, as were the ship's flight computers, navigation systems and its electrical generators. But the data show no pressure in the triply redundant hydraulic power system lines running to the left wing. The hydraulic fluid presumably was being pumped overboard following a structural failure of some sort in the left wing.

Whatever happened to Columbia began while the ship was descending over the Pacific Ocean off the west coast of California. Engineers believe hot plasma ate its way into the left wing because of a breach in the shuttle's thermal protection system. The exact location of the breach is not yet known, but engineers are focusing on two areas: The leading edge of the left wing and the left main landing gear door area.

In any case, as Columbia's descent continued the plasma burned through wiring, routed around the wheel well, that led to sensors mounted near the rear of the wing. The plasma intrusion also caused temperatures to rise dramatically in the left landing gear wheel well, triggering additional sensor failures. Video and still photography shot by amateurs as far west as California show debris falling away from Columbias as it streaked eastward across the southwestern United States.

A team of NASA engineers studying FAA radar tapes has identified at least two possible debris tracks, which are expected to greatly narrow the search area for tiles or other material that might have fallen away from Columbia well before its eventual breakup. Any such debris could prove critical for pinpointing where the plasma breach occurred.

Wherever it began, the breach ultimately caused unusual aerodynamic drag to develop on the left side of the spacecraft, forcing Columbia's flight computers to adjust the shuttle's roll trim with the elevons, or wing flaps, on each wing. Eventually, two right-firing rocket thrusters were ignited to provide additional muscle. But it was a losing battle.

Shuttle commander Rick Husband, replying to a call from mission control about the loss of tire pressure data from Columbia's left main landing gear, radioed Houston for the last time at 8:59:32 a.m., saying "Roger, uh, (garble)." The transmission was cut off, but Husband's voice did not indicate any apparent alarm.

Shuttle program manager Ronald Dittemore said in the days following the mishap that engineers were attempting to extract data from up to 32 seconds of telemetry received on the ground after Husband's final call. The telemetry likely was transmitted continuously during that 32-second period, but line-of-sight communications through NASA's tracking and data relay satellite were sporadic, possibly because of the shuttle's changing orientation.

Analysis of the telemetry that was received is not complete. But officials say valid data continued flowing down for about five seconds after Husband's interrupted transmission. During that five-second period, two more right-firing thrusters ignited on command of Columbia's flight computers, joining the two already in operation to counteract an increasing aerodynamic drag on the left side of the vehicle.

Following that initial five seconds of data, there are 25 seconds with no data at all. Then, in a final burst of telemetry between 9:00:02 a.m. and 9:00:04 a.m., data showed Columbia's hydraulic power units were still running. The APUS are located in the aft engine compartment and the fuel cells are under the floor of the cargo bay, showing the fuselage - from the aft compartment to the crew module - was still essentially intact at that point.

Analysis shows a "roll reference message" was generated by the ship's flight computers at one point to alert the crew to problems maintaining the shuttle's orientation. Whether that message ever reached a cockpit display is not yet known.

Video showing Columbia's track across the Texas sky indicates the orbiter began breaking up as or just after the last bits of telemetry was transmitted. Within 26 seconds of the final telemetry, time-stamped video from Apache helicopters flying near Fort Hood, Texas, showed multiple contrails indicating the catastrophic breakup of America's first space shuttle, presumably due to aerodynamic effects following the failure of the left wing.


Video coverage for subscribers only:


VIDEO: LATEST SHIPMENT OF COLUMBIA DEBRIS ARRIVES AT KSC QT


VIDEO: APACHE HELICOPTER FOOTAGE OF SHUTTLE BREAK-UP QT


VIDEO: INSIDE MISSION CONTROL DURING COLUMBIA'S REENTRY QT


VIDEO: THURSDAY'S NEWS CONFERENCE WITH SEAN O'KEEFE QT


SUBSCRIBE NOW






Apollo 12 tribute DVD set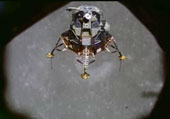 New! Featuring the jovial crew of Pete Conrad, Dick Gordon and Alan Bean, the Apollo 12 mission was struck by lightning shortly after liftoff but proceeded on the second successful exploration voyage to the lunar surface. This three-disc DVD brings the mission to life with extraordinary detail.


Choose your store:
U.S. - U.K. - E.U. - Worldwide

Fallen Heroes special patch

This special 12-inch embroidered patch commemorates the U.S. astronauts who made the ultimate sacrifice, honoring the crews of Apollo 1, Challenger and Columbia.


Choose your store:
U.S. - U.K. - E.U. - Worldwide

Women in Space
Women of Space: Cool Careers on the Final Frontier is for girls, young women, and anyone else interested in learning about exciting careers in space exploration. Includes CD-ROM.


Choose your store:
U.S. - U.K. - E.U. - Worldwide

Mars rover poster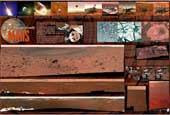 This new poster features some of the best pictures from NASA's amazing Mars Exploration Rovers Spirit and Opportunity.


Choose your store:
U.S.

ERROR: Random File Unopenable
The random file, as specified in the $random_file perl variable was unopenable.

The file was not found on your file system. This means that it has either not been created or the path you have specified in $trrandom_file is incorrect.


Hubble Calendar

NEW! This remarkable calendar features stunning images of planets, stars, gaseous nebulae, and galaxies captured by NASA's orbiting Hubble Space Telescope.


U.S. STORE


U.K. & WORLDWIDE STORE



Get e-mail updates
Sign up for our NewsAlert service and have the latest news in astronomy and space e-mailed direct to your desktop (privacy note: your e-mail address will not be used for any other purpose).




Hubble Posters


Stunning posters featuring images from the Hubble Space Telescope and world-renowned astrophotographer David Malin are now available from the Astronomy Now Store.


U.S. STORE


U.K. & WORLDWIDE STORE



Earth Calendar

NEW! This amazing 2003 calendar features stunning images of mountain ranges, volcanoes, rivers, and oceans obtained from previous NASA space shuttle missions.


U.S. STORE


U.K. & WORLDWIDE STORE