STS-106 Deorbit and Landing Opportunities
COMPILED BY WILLIAM HARWOOD
Posted: September 19, 2000



Latest entry predictions



The following deorbit and landing times for shuttle mission STS-106 have been updated through orbit 186. Subsequent times are approximate. The orbit number refers to the shuttle's location at the time of deorbit ignition.

Date
Orbit
Deorbit
Burn
Landing
Time
Landing
Site
09/20/00
185
02:49:17 AM
03:56:24 AM
KSC
186
04:26:34 AM
05:32:50 AM
KSC
187
06:00:00 AM
07:03:00 AM
EAFB*
188
07:36:00 AM
08:40:00 AM
EAFB*
09/21/00
200
01:53:00 AM
02:56:00 AM
KSC
201
03:29:00 AM
04:32:00 AM
KSC
202
05:00:00 AM
06:03:00 AM
EAFB
203
06:36:00 AM
07:39:00 AM
EAFB
09/22/00
216
02:28:00 AM
03:32:00 AM
KSC
217
03:59:00 AM
05:03:00 AM
EAFB
04:05:00 AM
05:08:00 AM
KSC
218
05:35:00 AM
06:39:00 AM
EAFB
*Edwards Air Force Base, Calif., will not be used for a 9/20 landing.


Entry timeline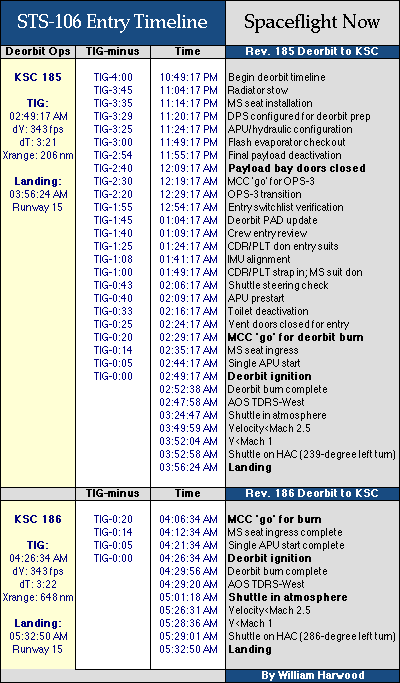 Shuttle Landing Weather Links







Ground track

See the path Atlantis will take on its return to Earth with our STS-106 Landing Tracker.



KSC Orbit 185 - touchdown in Florida at 0756 GMT.




At a glance
Vehicle: Atlantis (OV-104)
Payload: ISS 2A.2b
Launch date: Sept. 8, 2000
Launch time: 1245:47.066 GMT (8:45:47.066 a.m. EDT)
Launch site: LC-39B, Kennedy Space Center, Fla.
Landing date: Sept. 20, 2000
Landing time: 0756 GMT (3:56 a.m. EDT)
Landing site: SLF, KSC
Crew: Wilcutt, Altman, Lu, Malenchenko, Morukov, Mastracchio, Burbank


Flight Data File

Quick look data - Facts, figures and important information about the mission.



Flight plan - A detailed day-by-day timetable of the major mission events based on NASA's official flight plan.



Landing opportunities - The available deorbit and landing options to bring Atlantis home, plus entry timeline.



NASA TV - The schedule for NASA TV programming during the STS-106 mission.



Tracking spacecraft - Latest orbital data for tracking the shuttle, station and other satellites on your computer.



The crew - Meet the seven astronauts who will fly aboard shuttle Atlantis.



Space demographics before and after - How the space explorers numbers will stack up before and after STS-106.