The EchoStar 8 satellite
ECHOSTAR NEWS RELEASE
Posted: June 20, 2002

| | |
| --- | --- |
| | Illustration of EchoStar 8. Photo: Space Systems/Loral |
EchoStar 8 is designed to operate in several different payload modes with a combination of national and spot beams. The EchoStar 8 satellite's primary operating mode will provide 16 high-power national transponders at approximately 250 watts RF and 25 spot beam transponders distributed among 16 beams. The unique spot-beam feature will allow a more efficient use of spectrum, enabling EchoStar to expand its DISH Network local-into-local service and increase in-orbit backup capacity.

The EchoStar 8 satellite will join seven other satellites currently comprising the EchoStar fleet. From its location at 110 degrees West Longitude, EchoStar 8, combined with EchoStar 7 at 119 degrees W.L., will provide Ku-band and spot-beam services over the continental United States, Alaska and Hawaii to enhance the delivery of EchoStar's local-into-local TV channels.

The EchoStar 8 satellite was constructed by Space Systems/Loral based in Palo Alto, Calif., and the Proton K/Block DM launch vehicle is provided by International Launch Services based in McLean, Va.

Because of EchoStar's significant satellite backup capabilities, along with the expected increase in backup capabilities pending the successful launch of EchoStar 8, and due to the current market for in-orbit insurance, EchoStar has not procured in-orbit insurance for EchoStar 8. EchoStar has procured $125 million of insurance for the launch of EchoStar 8, protecting against the risk of total launch vehicle failure not attributable to the satellite through separation of the satellite from the launch vehicle.

DISH Network is a trademark of EchoStar Communications Corporation. DISH Network is EchoStar's state-of-the-art direct broadcast satellite TV system that is capable of offering over 500 channels of digital video and CD-quality audio programming, as well as fully MPEG-2/DVB compliant hardware and installation. EchoStar is included in the Nasdaq-100 Index (NDX) which contains the largest non-financial companies on the Nasdaq Stock Market. DISH Network currently serves over 7.16 million customers.




Flight data file
Vehicle: Proton K/Block DM
Payload: EchoStar 8
Launch date: August 20, 2002
Launch time: 0515 GMT (1:15 a.m. EDT)
Launch site: Baikonur Cosmodrome, Kazakhstan
Satellite broadcast: Galaxy 9, Transponder 3, C-band



Pre-launch briefing
Launch timeline - Chart with times and descriptions of events to occur during the launch.



Ground track - Map showing the ground track for the launch.



Orbit insertion - Illustration showing the orbits for this mission.



Proton - A look at the Russian expendable rocket to be used for this mission.



On to Mars
A wide variety of papers presented at the first four years of the Mars Society's annual conference are collected together in this volume.


U.S. STORE

WORLDWIDE STORE

Columbia Report
The official accident investigation report into the loss of the space shuttle Columbia and its crew of seven. Includes CD-ROM.


Choose your store:
U.S.

Apollo 12 tribute DVD set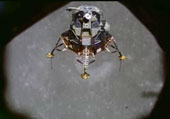 New! Featuring the jovial crew of Pete Conrad, Dick Gordon and Alan Bean, the Apollo 12 mission was struck by lightning shortly after liftoff but proceeded on the second successful exploration voyage to the lunar surface. This three-disc DVD brings the mission to life with extraordinary detail.


Choose your store:
U.S. - U.K. - E.U. - Worldwide

Fallen Heroes special patch

This special 12-inch embroidered patch commemorates the U.S. astronauts who made the ultimate sacrifice, honoring the crews of Apollo 1, Challenger and Columbia.


Choose your store:
U.S. - U.K. - E.U. - Worldwide

Women in Space
Women of Space: Cool Careers on the Final Frontier is for girls, young women, and anyone else interested in learning about exciting careers in space exploration. Includes CD-ROM.


Choose your store:
U.S. - U.K. - E.U. - Worldwide

Mars rover poster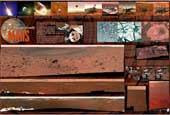 This new poster features some of the best pictures from NASA's amazing Mars Exploration Rovers Spirit and Opportunity.


Choose your store:
U.S.