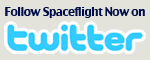 NewsAlert





Sign up for our NewsAlert service and have the latest space news e-mailed direct to your desktop.


Privacy note: your e-mail address will not be used for any other purpose.









Chinese demo satellites shot into space by Long March
BY STEPHEN CLARK
SPACEFLIGHT NOW
Posted: October 14, 2012


China successfully launched a Long March 2C rocket Sunday, orbiting a pair of engineering research satellites to test new technologies in space, according to state-run media reports.
The Long March 2C launcher lifted off at 0325 GMT Sunday (11:25 p.m. EDT Saturday) from the Taiyuan space center in northern China's Shanxi province, a remote site about 265 miles southwest of Beijing.
Launch occurred at 11:25 a.m. Beijing time.
The state-run Xinhua news agency reported the launch was successful. China did not announce plans for the launch in advance.
The Long March 2C booster was carrying two Shijian 9 demonstration satellites, state media reported. The rocket reached a near-polar orbit, according to U.S. military tracking data.
Official Chinese reports did not identify what specific components the Shijian 9 satellites would test in orbit, but state media said the mission would focus on satellite reliability demonstrations and validating high-performance Chinese-made technologies.
Shijian means "practice" in Chinese.
Sunday's launch marked China's 14th space launch of 2012 and the 56th mission to reach orbit worldwide this year.




Final Shuttle Mission Patch

Free shipping to U.S. addresses!


The crew emblem for the final space shuttle mission is now available in our store. Get this piece of history!


U.S. STORE

WORLDWIDE STORE

STS-134 Patch

Free shipping to U.S. addresses!


The final planned flight of space shuttle Endeavour is symbolized in the official embroidered crew patch for STS-134. Available in our store!


U.S. STORE

WORLDWIDE STORE

Ares 1-X Patch

The official embroidered patch for the Ares 1-X rocket test flight, is available for purchase.


U.S. STORE

WORLDWIDE STORE

Apollo Collage

This beautiful one piece set features the Apollo program emblem surrounded by the individual mission logos.


U.S. STORE

WORLDWIDE STORE

Project Orion

The Orion crew exploration vehicle is NASA's first new human spacecraft developed since the space shuttle a quarter-century earlier. The capsule is one of the key elements of returning astronauts to the Moon.


U.S. STORE

Fallen Heroes Patch Collection

The official patches from Apollo 1, the shuttle Challenger and Columbia crews are available in the store.


U.S. STORE

WORLDWIDE STORE