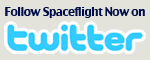 SpaceX's reusable rocket testbed takes first hop
BY STEPHEN CLARK
SPACEFLIGHT NOW
Posted: September 24, 2012


SpaceX's Grasshopper testbed, a slender white rocket fitted with insect-like landing legs, took off for a brief hop at the company's Texas test site Friday.
Credit: SpaceX
The short flight of approximately 6 feet lasted less than 3 seconds, but it kicked off a campaign of more ambitious testing to demonstrate the ability to land spent rocket stages for reuse.
SpaceX's concept calls for the Falcon 9 rocket's first stage to descend and land vertically, using engine thrust to settle to a soft touchdown at or near the launch site. The first stages are currently only used once and jettisoned to fall into the ocean.
Engineers constructed a 106-foot-tall test vehicle with four steel landing legs. SpaceX also built a half-acre Grasshopper launch pad at the company's rocket development facility in McGregor, Texas.
According to SpaceX, Friday's successful flight will be followed by another test in the next several months, in which the Grasshopper will hover at roughly 100 feet.
The Grasshopper - shaped like a white cylindrical water tank - consists of a Falcon 9 first stage and a Merlin 1D engine burning kerosene and liquid oxygen to generate up to 122,000 pounds of thrust.
High-altitude supersonic tests of the Grasshopper are also planned by SpaceX, and those flights could be staged from McGregor or White Sands Missile Range, N.M.
SpaceX officials have not said when they could attempt a vertical landing on a real space launch, but Elon Musk, the company's founder and CEO, believes developing a fully reusable rocket is crucial for realizing his vision of drastically lowering the cost of space transportation.



Final Shuttle Mission Patch

Free shipping to U.S. addresses!


The crew emblem for the final space shuttle mission is now available in our store. Get this piece of history!


U.S. STORE

WORLDWIDE STORE

STS-134 Patch

Free shipping to U.S. addresses!


The final planned flight of space shuttle Endeavour is symbolized in the official embroidered crew patch for STS-134. Available in our store!


U.S. STORE

WORLDWIDE STORE

Ares 1-X Patch

The official embroidered patch for the Ares 1-X rocket test flight, is available for purchase.


U.S. STORE

WORLDWIDE STORE

Apollo Collage

This beautiful one piece set features the Apollo program emblem surrounded by the individual mission logos.


U.S. STORE

WORLDWIDE STORE

Project Orion

The Orion crew exploration vehicle is NASA's first new human spacecraft developed since the space shuttle a quarter-century earlier. The capsule is one of the key elements of returning astronauts to the Moon.


U.S. STORE

Fallen Heroes Patch Collection

The official patches from Apollo 1, the shuttle Challenger and Columbia crews are available in the store.


U.S. STORE

WORLDWIDE STORE