Loral purchase gives Canadian firm a U.S. footprint
BY STEPHEN CLARK
SPACEFLIGHT NOW
Posted: June 27, 2012


Commercial satellite-builder Space Systems/Loral is being acquired by MDA Corp. of Canada for $875 million in a deal which gives the Canadian contractor a foothold in the market for contracts with the U.S. government, officials said Wednesday.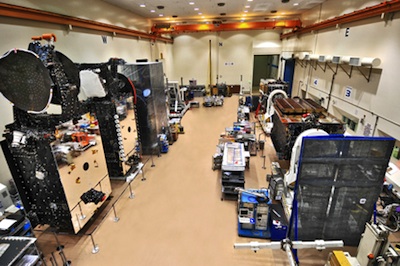 Photo of Space Systems/Loral's facility in Palo Alto, Calif. Credit: Space Systems/Loral

The companies announced the agreement Tuesday, and Daniel Friedmann, MDA's president and CEO, on Wednesday called the acquisition a "true game-changer" for the his firm, saying it "meets many of our strategic objectives in a single move."
Space Systems/Loral is one of the world's top commercial satellite builders, having manufactured more than 240 satellites since 1960. The Palo Alto, Calif.-based firm has more communications satellites in geosynchronous orbit today than any other company, according its website.
Space Systems/Loral reported $1.1 billion in revenue in 2011, and it held a backlog of about $2 billion at the end of March.
The satellite manufacturer is a subsidiary of Loral Space and Communications Inc. Loral and MDA officials said they expect to close the deal in a few months following regulatory approvals.
Michael Targoff, CEO of Loral Space and Communications, said the boards of directors of MDA and Loral approved the deal, which was signed Tuesday.
The terms of the transaction call for MDA's purchase of Space Systems/Loral equity for $774 million and real estate for $101 million. Space Systems/Loral will pay Loral $112 million in cash dividends and an additional per diem payment of $5.8 million per month until the deal is closed.
Targoff said the full value of the transaction to Loral is more than $1 billion, and after-tax proceeds will likely be distributed to Loral shareholders.
For MDA, the deal grows the firm's backlog and expands its presence in the commercial and U.S. government markets.
"The benefits of this transaction are not in the future," Friedmann said. "It will provide immediate benefits, including strong accretion for our shareholders."
Less than one-third of MDA's revenue currently comes from the commercial market. Following the acquisition of Space Systems/Loral, commercial customers will supply more than two-thirds of the company's revenue, Friedmann said.
According to Friedmann, MDA's purchase of Space Systems/Loral gives the Canadian firm a "critical mass" in the U.S. market, making it more attractive for contracts with the Defense Department and NASA.
MDA developed and built the International Space Station's primary robotics systems, including the lab's 58-foot mechanical arm and Dextre, a robotic handyman designed to complete repairs and chores outside the complex.
While MDA has achieved some financial success in international partnerships through the Canadian Space Agency, it has struggled to obtain big contracts with U.S. government agencies. Friedmann said MDA often gets approval for U.S. government design contracts, but the company is passed over for large-scale development and production because much of the work is performed outside the United States.
"When the big programs go forward, we get sent home," Friedmann said. "We now have an incredible capability in the United States to pursue that business. Despite [concerns with] government funding, it's still a huge pool of money."
Space Systems/Loral's core business focuses on commercial satellites, but MDA is eyeing an expansion into the government sector. The company's 3,200 employees "have the skill set to expand MDA's traditional business to new customers," Friedmann said.