Where are they now? Space shuttle commanders move on
BY JUSTIN RAY
SPACEFLIGHT NOW
Posted: December 12, 2011


Two of the final space shuttle commanders have landed new gigs in the commercial world working for companies competing to launch private crew-transports to and from the International Space Station.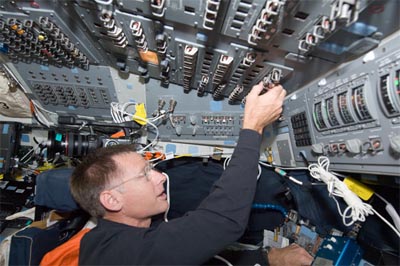 Shuttle commander Chris Ferguson now works for Boeing. Credit: NASA



Former chief NASA astronaut Steve Lindsey and the skipper of the last shuttle mission Chris Ferguson have left the agency to join separate firms vying for a piece of the commercial crew launch business.

Lindsey flew shuttle Discovery on her final voyage back in February and Ferguson commanded Atlantis' mission in July. Lindsey joined Sierra Nevada Corp. in July as the Dream Chaser spaceplane's director of flight operations and on Monday Boeing announced it had hired Ferguson as director of Commercial Crew Interface in the company's efforts to field the Crew Space Transportation (CST-100) capsule.

"Chris' extraordinary managerial and spaceflight experience will be a significant asset to our team as we advance our development of the Commercial Crew Transportation System," John Mulholland, Boeing space exploration vice president and manager of commercial programs, said in Monday's announcement. "He will help us address all aspects of human spaceflight requirements, not only for trained NASA astronauts but also for a broad spectrum of people interested in accessing low Earth orbit."

Both Lindsey and Ferguson are taking their NASA experience to the private sector as the space program shifts into a new era with commercial companies now tasked to create and operate the spacecraft and rockets to take U.S. astronauts and cargo supplies to the low-Earth-orbit to service the International Space Station.

Retirement of the space shuttles and the Obama Administration's push to spur privatization of Earth orbit is geared so NASA can focus its energies on developing the heavy-lift booster and Orion craft that will enable the nation to mount deep space exploration to asteroids and Mars.

Sierra Nevada and Boeing are preparing to begin demonstration tests of their designs in hopes of manned flights by mid-decade.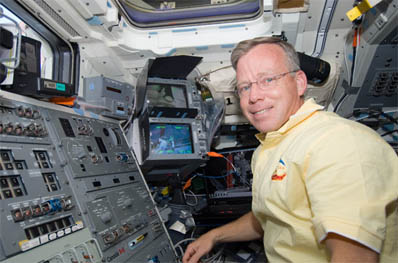 Shuttle commander Steve Lindsey works aboard Discovery's flight deck earlier this year. Credit: NASA



Lindsey, born in a suburb of Los Angeles, is a 51-year-old retired Air Force colonel with over 6,500 flight hours in more than 50 different aircraft. He flew on five space shuttle missions and also served as NASA's chief astronaut before being selected to command the final Discovery voyage.

Having accumulating 63 days in orbit, Lindsey was pilot on the STS-87 science flight of Columbia in 1997 and the STS-95 mission in 1998 aboard Discovery that featured John Glenn's return to space. His first command came in 2001 as Atlantis' skipper on STS-104 that launched the Quest airlock module to the space station. He then led Discovery's STS-121 test flight in 2006. His finale was STS-133 that took one final U.S. module to the space station to serve as a storage closet.

Ferguson is a 50-year-old retired Navy captain born in Philadelphia. Selected as an astronaut in 1998, he logged over 40 days in space on three missions and was a drummer in Max Q, an astronaut rock and roll band.

After earning a mechanical engineering from Drexel University in 1984 and his commission to the Navy ROTC program at the University of Pennsylvania, Ferguson received Navy Wings in 1986 and joined the F-14 Tomcat training squadron.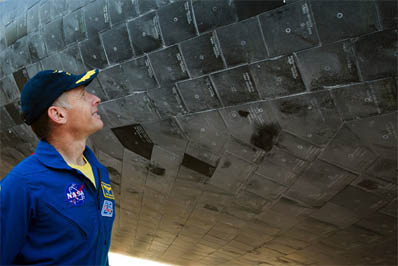 Ferguson inspects Atlantis' heat shield after landing this summer. Credit: NASA



He served as pilot on Atlantis' STS-115 mission in 2006 that installed another solar power truss on the International Space Station and commander of Endeavour's STS-126 mission in 2008 that brought up critical equipment to remodel the outpost's interior in preparation for doubling the size of its resident crews. The program's final mission was STS-135 on Atlantis in July that delivered one last massive load of goods and provisions that only the winged spaceplanes could carry.

Meanwhile, the man who flew Endeavour's final flight in May, Mark Kelly, also has left NASA. He's been on a promotional tour for his book about wife Gabrielle Giffords, who survived an assassination attempt in January.