Final space shuttle commander to leave NASA
BY STEPHEN CLARK
SPACEFLIGHT NOW
Posted: December 5, 2011


NASA astronaut Chris Ferguson, the commander of the final space shuttle mission, will leave NASA at the end of this week, the space agency announced Monday.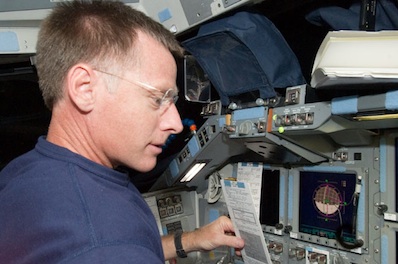 Ferguson, pictured here, commanded the final space shuttle mission. Credit: NASA

A veteran of three space shuttle flights, including twice as commander, Ferguson logged more than 40 days in space during his NASA career.
"Chris has been a true leader at NASA, not just as a commander of the space shuttle, but also as an exemplary civil servant, a distinguished Navy officer and a good friend," said Charles Bolden, the NASA administrator. "I am confident he will succeed in his next career as he brings his skill and talents to new endeavors."
The retired U.S. Navy captain will take a new job in the private sector, according to NASA.
"Chris has been a great friend, a tremendous professional and an invaluable asset to the NASA team and the astronaut office," said Peggy Whitson, chief of the astronaut office. "His exceptional leadership helped ensure a perfect final flight of the space shuttle, a fitting tribute to the thousands who made the program possible."
Selected as an astronaut in 1998, Ferguson flew as pilot of shuttle Atlantis on the STS-115 mission in September 2006. The flight delivered the second set of U.S. solar arrays to the International Space Station.
Ferguson commanded the STS-126 mission of shuttle Endeavour in November 2008 before being assigned in 2010 to lead the four-person crew of the last space shuttle flight.
Ferguson was joined on the STS-135 mission by pilot Doug Hurley and mission specialists Sandy Magnus and Rex Walheim. After launching July 8, Ferguson and the Atlantis crew delivered five tons of spare parts and supplies to the complex, preparing the station for life without the space shuttle.
The 13-day flight concluded with a predawn landing at the Kennedy Space Center on July 21.
Ferguson's retirement comes after the departure of astronauts Steve Lindsey and Mark Kelly, who commanded the final missions of shuttles Discovery and Endeavour in February and May. Lindsey and Kelly announced their retirements earlier this year.
NASA's astronaut corps is transitioning from the shuttle program, when there were a few dozen flight opportunities each year, to long-duration expeditions on the space station.
Space station training takes up to three years and there are only about six seats available for U.S. astronauts on the Russian Soyuz capsule each year.
Although the astronaut corps is shrinking, experts say NASA should maintain a healthy number of space fliers to maintain critical skills and respond to unexpected events.
NASA announced last month it is accepting applications through Jan. 27 for a new class of astronauts to be selected in 2013.