Globalstar swaps for healthy satellite before next launch
BY STEPHEN CLARK
SPACEFLIGHT NOW
Posted: December 2, 2011


Struggling with recurring problems with satellite momentum wheels, Globalstar exchanged one of six mobile communications spacecraft set to launch in December with a spare platform to ensure it does not succumb to an issue that has knocked one of the company's newest satellites out of service.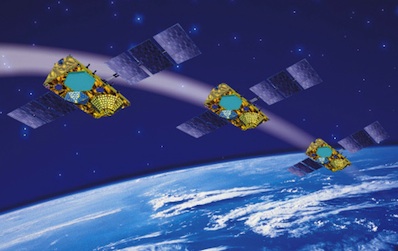 Artist's concept of second-generation Globalstar satellites. Credit: Thales Alenia Space

Officials with Globalstar and Thales Alenia Space, the satellite's manufacturer, decided on the change-out after reviews showed it might be affected by an issue with its momentum wheels, which maintain the orientation of the craft in space.
The launch from the Baikonur Cosmodrome in Kazakhstan is scheduled for no earlier than Dec. 25 aboard a Soyuz rocket.
Globalstar subscribers use the satellite network to make mobile phone calls and data transmissions, especially in rural zones where terrestrial coverage is spotty or non-existent.
The U.S.-based company is in the midst of a four-launch campaign to replenish its mobile communications fleet with 24 new satellites. But one of six spacecraft launched in October 2010 is out of service after two of its momentum wheels stopped functioning.
Another six satellites launched in July also show early signs of problems with momentum wheels, even after extra inspections and repairs before liftoff.
"We have two wheels from the first batch which are in degraded operations," said Tony Navarra, president of global operations for Globalstar Inc. "They continue to operate, but they have increased friction torque. Then we have two in batch two, which were launched in July, that have increased friction torque."
Six more satellites were due to launch in October, but the failure of a Soyuz rocket in August shuffled the flight manifest, punting the Globalstar mission to early December.
The mission was delayed again to late December as officials opted to replace a satellite with another craft already at the launch site for the subsequent flight in 2012.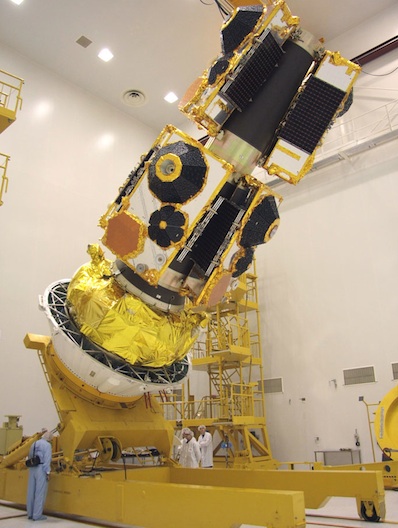 Globalstar satellites launch six at a time on Soyuz rockets. Credit: Arianespace

"The delay that took from July to the late December date was to make certain that all the momentum wheels were flight-worthy," Navarra said Thursday. "We did have to swap out one satellite which is in Baikonur with another satellite which was already there for the fourth launch."
Two of the six satellites for the fourth launch of Globalstar's second-generation network are already at the Baikonur Cosmodrome. The final four vehicles will be shipped from the Thales factory in Rome to Kazakhstan later this month, Navarra said.
Globalstar says that launch is yet to be scheduled, but it's expected to occur in the first few months of 2012.
While engineers inspected satellites awaiting launch at Baikonur, officials developed software to save the affected spacecraft already in orbit 878 miles above Earth.
Globalstar and Thales signed an agreement in November to develop and implement a software solution for the satellites to operate with two functioning momentum wheels. Each craft has four wheels, but they currently need three healthy wheels to provide communications services.
"We have entered into a contract with Thales for them to design and do the actual development of new flight software that will allow us to fly the satellites with as few as two functioning momentum wheels, mag torquers and the thrusters," Navarra said in an interview with Spaceflight Now.
The software fix should allow the deactivated satellite to return to service through its 15-year design life. The solution could be used on other satellites experiencing momentum wheel issues.
Months of simulations verified the software would allow the satellites to function with reduced momentum wheel capability.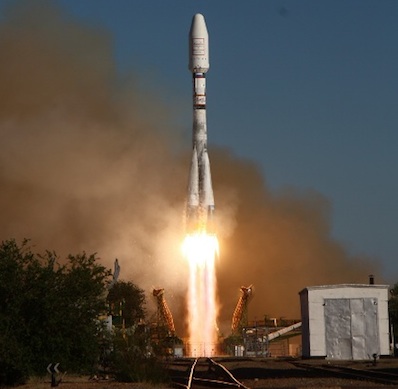 File photo of a Soyuz rocket launching Globalstar satellites in July 2011. Credit: Roscosmos

"We have, both in Europe and here in California, simulators that effectively operate an entire satellite," Navarra said. "Through the simulation process, they developed a number of approaches to fly satellites with only two momentum wheels, and as such, made certain first through the simulators it was possible. And then afterwards, they estimated the cost to give us a proposal and delivery schedule."
"Thales Alenia Space has allocated major skilled resources to this development, which would allow Globalstar to operate the satellite even with this wheel anomaly," said Michel Fiat, chief technical officer of Thales Alenia Space. "This software, after full validation on Thales Alenia Space software and avionics test benches, will be then uploaded in flight, thanks to on board computer capability. It will also be available for other satellites, if needed, to help ensure their expected lifetime."
Globalstar wishes to procure additional satellites from Thales to be rushed into service after the momentum wheel glitches and communications degradation on aging first-generation satellites.
S-band antenna degradation on Globalstar's existing satellites has limited voice and duplex data communications since 2007. The problem has not affected Globalstar's simplex data relay and asset tracking product, according to the company.
The fresh satellites are gradually restoring two-way telephone communications through the Globalstar system.
Globalstar and Thales are in arbitration to set terms for the purchase of up to 24 more satellites.
"As soon as we have the resolution of the arbitration, which we expect to occur very late in January, I would expect us to be under contract in the first quarter of 2012," Navarra said.
Globalstar and Arianespace, the commercial Soyuz launch provider, have an option for a fifth launch of six satellites. But Globalstar has not signed a contract with any provider for further launches beyond that.