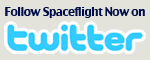 NewsAlert





Sign up for our NewsAlert service and have the latest news in astronomy and space e-mailed direct to your desktop.


Privacy note: your e-mail address will not be used for any other purpose.







Satellite back in action after communications outage
BY JUSTIN RAY
SPACEFLIGHT NOW
Posted: October 7, 2011


A Canadian-owned satellite has recovered from Thursday's problem that caused widespread communications disruptions to phone circuits, television signals, Internet connections and data-relay services across North America.
| | |
| --- | --- |
| | Artist's concept of Anik F2 in orbit. Credit: Boeing |
The Anik F2 spacecraft in geostationary orbit 22,300 miles above the planet experienced a software issue and entered a "safe mode" Thursday at 6:36 a.m. EDT (1036 GMT).

The Ottawa-based satellite operator Telesat said engineers worked through the day and successfully returned Anik F2 to communications duties by early Friday morning.

"Satellite anomalies like the one that affected Telesat's Anik F2 yesterday are highly unusual. This particular anomaly was the result of a software error encountered during a routine maneuver which triggered the satellite to place itself into a safe mode, shutting itself down and pointing itself at the sun to ensure it remained powered," the company said in a statement.

"The software error that led to the anomaly appears to have been caused by a software update that was recently provided by the satellite manufacturer. That particular software update was not re-loaded onto the satellite."

Launched aboard an Ariane 5 rocket in 2004, the powerhouse bird carries 45 Ka-band spot beams for broadband users, plus 32 Ku-band and 24 C-band transponders for broadcasting and telecommunications.

"Anik F2 supports a variety of services in Canada and the United States, all of which are affected by the satellite anomaly," Telesat said yesterday.

The spacecraft operates at the 111.1-degree West longitude orbit slot. It is a Boeing 702 design with solar arrays stretching 157 feet long and a planned mission life of 15 years.



Final Shuttle Mission Patch

Free shipping to U.S. addresses!


The crew emblem for the final space shuttle mission is now available in our store. Get this piece of history!


U.S. STORE

WORLDWIDE STORE

STS-134 Patch

Free shipping to U.S. addresses!


The final planned flight of space shuttle Endeavour is symbolized in the official embroidered crew patch for STS-134. Available in our store!


U.S. STORE

WORLDWIDE STORE

Ares 1-X Patch

The official embroidered patch for the Ares 1-X rocket test flight, is available for purchase.


U.S. STORE

WORLDWIDE STORE

Apollo Collage

This beautiful one piece set features the Apollo program emblem surrounded by the individual mission logos.


U.S. STORE

WORLDWIDE STORE

Project Orion

The Orion crew exploration vehicle is NASA's first new human spacecraft developed since the space shuttle a quarter-century earlier. The capsule is one of the key elements of returning astronauts to the Moon.


U.S. STORE

Fallen Heroes Patch Collection

The official patches from Apollo 1, the shuttle Challenger and Columbia crews are available in the store.


U.S. STORE

WORLDWIDE STORE