Air Force procures another WGS communications craft
BY STEPHEN CLARK
SPACEFLIGHT NOW
Posted: September 6, 2011


The U.S. Air Force is continuing its expansion of a fleet of wideband communications satellites with a $439 million contract with Boeing to construct a new spacecraft to serve troops deployed around the world.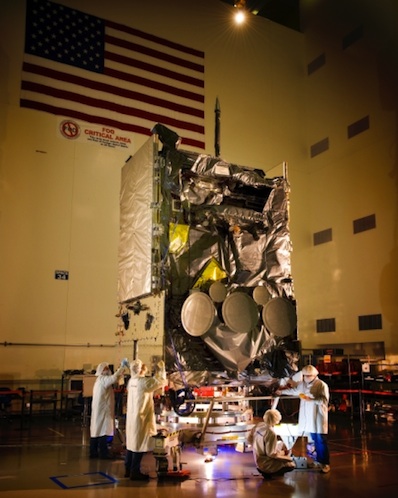 File photo of a WGS satellite under construction at Boeing's factory in Southern California. Credit: Boeing

The contract covers the production of the seventh Wideband Global SATCOM, or WGS, satellite and procurement of long-lead components for an eighth spacecraft, according to a posting on the Federal Business Opportunities website.
The contract award date was Sept. 1, according to the website posting. WGS 7 should be ready for launch in 2015.
The total amount of money obligated under the contract is $439 million.
Three WGS satellites already in space operate over the Pacific, Middle East and Atlantic regions, sending maps and data to troops on the battlefield, relaying video from unmanned aerial reconnaissance drones, and broadcasting television and Internet services to ships at sea.
A fourth WGS satellite, the first in the program's Block 2 series, is scheduled for launch in January. Two more Block 2 craft, one of which is financed by the Australian government, should launch by 2013.
A follow-on contract to the Block 2 series awarded in August 2010 covers options for six more WGS satellites for a total value of up to $1.8 billion. If all the options are exercised, the WGS satellite fleet would grow to 12 spacecraft.
The Air Force plans to exercise the satellite options once per year to expand the WGS fleet and continue its on-orbit operations into the 2020s. The military intends to maintain an active eight-satellite constellation through the program's life.
The Air Force is extending the ongoing WGS and Advanced Extremely High Frequency communications satellite programs after the 2009 cancellation of the next-generation Transformational Satellite Communications System, or TSAT.
Each WGS spacecraft has 10 times the capacity of a single predecessor satellite, part of a network called the Defense Satellite Communications System, or DSCS.
The WGS satellites are based on the high-power Boeing 702 platform to provide X-band and Ka-band communications services from a perch 22,300 miles above Earth.