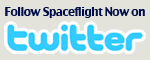 Page not found (404)
It seems we can't find what you're looking for. Perhaps searching can help.


NewsAlert





Sign up for our NewsAlert service and have the latest news in astronomy and space e-mailed direct to your desktop.


Privacy note: your e-mail address will not be used for any other purpose.







Chinese broadcasting satellite placed in orbit
BY STEPHEN CLARK
SPACEFLIGHT NOW
Posted: September 4, 2010


A Chinese communications satellite launched Saturday on a Long March rocket, beginning a mission to broadcast civil television and radio signals across China.
Bolted on top of a 180-foot-tall Long March 3B rocket, the Chinasat 6A satellite lifted off from the Xichang space center in southwestern China's Sichuan province at 1614 GMT (12:14 p.m. EDT) Saturday.
According to state-run media, the three-stage launcher deployed Chinasat 6A in a super-synchronous transfer orbit with a high point of more than 26,000 miles, a low point of 122 miles and an inclination of 25 degrees.
It was the fourth space launch in five weeks for China, which has now fired eight rockets into orbit since the beginning of the year.
Chinasat 6A will use its own propulsion system to circularize its orbit at an altitude of 22,300 miles above the equator near Indonesia.
The satellite is designed to last 15 years delivering television and radio programming to customers across China, especially in remote and mountainous regions, according to the Xinhua news agency.
China Satellite Communications Corp. will operate the satellite.
Xinhua reported the new spacecraft will back up Chinasat 5C, another communications satellite that launched in 2007.
Chinasat 6A was built by the China Aerospace Science and Technology Corp. and is based on the DFH-4 communications satellite bus.



Final Shuttle Mission Patch

Free shipping to U.S. addresses!


The crew emblem for the final space shuttle mission is now available in our store. Get this piece of history!


U.S. STORE

WORLDWIDE STORE

STS-134 Patch

Free shipping to U.S. addresses!


The final planned flight of space shuttle Endeavour is symbolized in the official embroidered crew patch for STS-134. Available in our store!


U.S. STORE

WORLDWIDE STORE

Ares 1-X Patch

The official embroidered patch for the Ares 1-X rocket test flight, is available for purchase.


U.S. STORE

WORLDWIDE STORE

Apollo Collage

This beautiful one piece set features the Apollo program emblem surrounded by the individual mission logos.


U.S. STORE

WORLDWIDE STORE

Project Orion

The Orion crew exploration vehicle is NASA's first new human spacecraft developed since the space shuttle a quarter-century earlier. The capsule is one of the key elements of returning astronauts to the Moon.


U.S. STORE

Fallen Heroes Patch Collection

The official patches from Apollo 1, the shuttle Challenger and Columbia crews are available in the store.


U.S. STORE

WORLDWIDE STORE