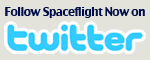 Spaceflight Now +





Subscribe to Spaceflight Now Plus for access to our extensive video collections!
How do I sign up?
Video archive

Weather satellite launch

The NOAA-N Prime weather observatory launches from California aboard a Delta 2 rocket on Feb. 6.

Play

Carbon observatory

Preview of the Orbiting Carbon Observatory, NASA's first spacecraft dedicated to mapping the global distribution of carbon dioxide.

Play

Expedition 19 crew

The Russian commander and two American astronauts to serve aboard the space station during the Expedition 19 mission hold this pre-flight news briefing.

Play

Delta 4-Heavy launch

The Delta 4-Heavy rocket launches a new intelligence-gathering satellite for the nation.

Full coverage

STS-119: Shuttle on pad

Shuttle Discovery rolls to pad 39A for its February launch to the space station.

Play

STS-119: The programs

In advance of shuttle Discovery's STS-119 mission to the station, managers from both programs discuss the flight.

Play

STS-119: The mission

A detailed preview of Discovery's mission to deliver and activate the space station's final power truss is provided in this briefing.

Play

STS-119: Spacewalks

Four spacewalks are planned during Discovery's STS-119 mission to the station.

Play

STS-119: The Crew

The Discovery astronauts, led by commander Lee Archambault, meet the press in the traditional pre-flight news conference.

Play

Station's new toilet

Space station commander Mike Fincke shows the new U.S. toilet installed aboard the complex. The astronauts are preparing the station for larger crews beginning in 2009.

Play

Become a subscriber
More video







Resupply ship set for Friday rendezvous with station
BY SPACEFLIGHT NOW
Posted: February 10, 2009


A three-day orbital chase by a robotic cargo freighter to catch the international space station began high above Earth early this morning with the successful launch of the Russian-made resupply ship.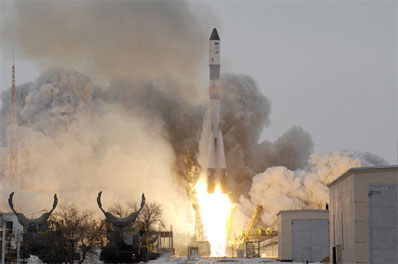 Credit: Energia



Flying atop a Russian Soyuz booster, the Progress M-66 spacecraft rocketed away from the Baikonur Cosmodrome in Kazakhstan at 12:49 a.m. EST (0549 GMT).

A preliminary orbit was achieved after a nine-minute ascent provided by the three-stage rocket. Onboard commands then extended the Progress craft's two power-generating solar arrays that span 35 feet and unfurled communications and navigation antennas.

A series of precise engine firings scheduled for later today and again on Thursday will guide the freighter toward its automated docking Friday at 2:19 a.m. EST (0719 GMT). It will be the 32nd such cargo craft sent to the station.

The 24-foot long ship will link up with the Earth-facing port on the Pirs docking module, a spot vacated by the previous Progress vessel that undocked last Thursday. The old vehicle, packed with trash, was commanded to deorbit over the Pacific Ocean on Sunday.

Today's launch, known in the station's assembly matrix as Progress mission 32P, will deliver two-and-a-half tons of supplies to the station. The "dry" cargo tucked aboard the Progress amounts to 2,866 pounds in the form of spare parts, life support gear and equipment hardware.

The refueling module carries 1,918 pounds of propellant for transfer into the Russian segment of the complex to feed the station's maneuvering thrusters.

And the vessel has 110 pounds of oxygen and air.

The space station is occupied by the Expedition 18 crew of commander Mike Fincke, flight engineer Yury Lonchakov and NASA astronaut Sandy Magnus. Lonchakov will be standing by Friday to manually dock the Progress if the automated system experiences a problem.

The following timeline shows the key events scheduled from launch until docking for the Progress freighter:

Day 1 events - Tuesday


Event
Mission Time
Eastern Time
LAUNCH
0/00:00:00
12:49:44 a.m.
Orbit Insertion
0/00:08:45
12:58:29 a.m.
Maneuver DV1
(20.41 m/s)
0/03:35:42
4:25:26 a.m.
Maneuver DV2
(11.58 m/s)
0/04:24:38
5:14:22 a.m.
Day 3 events -Thursday


Event
Mission Time
Eastern Time
Maneuver DV3
(3.00 m/s)
2/00:56:39
1:46:43 a.m.
Start Automated
Rendezvous
2/23:04:14
11:53:58 p.m.
Day 4 events - Friday


Event
Mission Time
Eastern Time
DV4 / Impulse 1
(30.31 m/s)
2/23:25:48
12:15:32 a.m.
Station in docking attitude
2/23:27:16
12:17:00 a.m.
Impulse 2
(1.14 m/s)
2/23:48:12
12:37:56 a.m.
Progress Kurs-A
activation
2/23:50:16
12:40:00 a.m.
Zvezda Kurs-P
activation
2/23:52:16
12:42:00 a.m.
DV5 / Impulse 3
(20.87 m/s)
3/00:11:04
1:00:48 a.m.
Good Kurs-P data
(Range 80 km)
3/00:16:14
1:05:58 a.m.
Kurs-A and Kurs-P
short test
(Range 15 km)
3/00:37:14
1:26:58 a.m.
VHF-2 activation
(Range 9 km)
3/00:43:54
1:33:38 a.m.
Progress TV
activation
(Range 8 km)
3/00:45:34
1:35:18 a.m.
Impulse 4
(6.92 m/s)
3/00:53:59
1:43:43 a.m.
Impulse 5
(4.40 m/s)
3/00:58:53
1:48:37 a.m.
Orbital sunrise
3/00:59:53
1:49:37 a.m.
Impulse 6
(2.26 m/s)
3/01:01:19
1:51:03 a.m.
Start flyaround
mode
3/01:03:01
1:52:45 a.m.
Start stationkeeping
3/01:12:01
2:01:45 a.m.
Start final approach
3/01:20:16
2:10:00 a.m.
DOCKING
3/01:29:16
2:19:00 a.m.


Data source: NASA




Final Shuttle Mission Patch

Free shipping to U.S. addresses!


The crew emblem for the final space shuttle mission is now available in our store. Get this piece of history!


U.S. STORE

WORLDWIDE STORE

STS-134 Patch

Free shipping to U.S. addresses!


The final planned flight of space shuttle Endeavour is symbolized in the official embroidered crew patch for STS-134. Available in our store!


U.S. STORE

WORLDWIDE STORE

Ares 1-X Patch

The official embroidered patch for the Ares 1-X rocket test flight, is available for purchase.


U.S. STORE

WORLDWIDE STORE

Apollo Collage

This beautiful one piece set features the Apollo program emblem surrounded by the individual mission logos.


U.S. STORE

WORLDWIDE STORE

Project Orion

The Orion crew exploration vehicle is NASA's first new human spacecraft developed since the space shuttle a quarter-century earlier. The capsule is one of the key elements of returning astronauts to the Moon.


U.S. STORE

Fallen Heroes Patch Collection

The official patches from Apollo 1, the shuttle Challenger and Columbia crews are available in the store.


U.S. STORE

WORLDWIDE STORE