Spaceflight Now +





Premium video content for our Spaceflight Now Plus subscribers.

STS-31: Opening window to the Universe
The Hubble Space Telescope has become astronomy's crown jewel for knowledge and discovery. The great observatory was placed high above Earth following its launch aboard space shuttle Discovery on April 24, 1990. The astronauts of STS-31 recount their mission in this post-flight film presentation.

Small | Medium | Large

Atlantis on the pad
Space shuttle Atlantis is delivered to Kennedy Space Center's launch pad 39B on August 2 to begin final preparations for blastoff on the STS-115 mission to resume construction of the International Space Station.

PLAY

Atlantis rollout begins
Just after 1 a.m. local time August 2, the crawler-transporter began the slow move out of the Vehicle Assembly Building carrying space shuttle Atlantis toward the launch pad.

PLAY

ISS EVA preview
Astronauts Jeff Williams and Thomas Reiter will conduct a U.S.-based spacewalk outside the International Space Station on August 3. To preview the EVA and the tasks to be accomplished during the excursion, station managers held this press conference from Johnson Space Center in Houston.

Dial-up | Broadband

STS-34: Galileo launch
The long voyage of exploration to Jupiter and its many moons by the Galileo spacecraft began on October 18, 1989 with launch from Kennedy Space Center aboard the space shuttle Atlantis. The crew of mission STS-34 tell the story of their flight to dispatch the probe -- fitted with an Inertial Upper Stage rocket motor -- during this post-flight presentation film.

Small | Medium | Large

Atlantis on the move
Space shuttle Atlantis is transported to the cavernous Vehicle Assembly Building where the ship will be mated to the external fuel tank and twin solid rocket boosters for a late-August liftoff.

PLAY | TIME-LAPSE

Become a subscriber
More video







Planet or failed star? Hubble finds strange object
SPACE TELESCOPE SCIENCE INSTITUTE NEWS RELEASE
Posted: September 7, 2006


Astronomers using NASA's Hubble Space Telescope have photographed one of the smallest objects ever seen around a normal star beyond our Sun. Weighing in at 12 times the mass of Jupiter, the object is small enough to be a planet. The conundrum is that it's also large enough to be a brown dwarf, a failed star.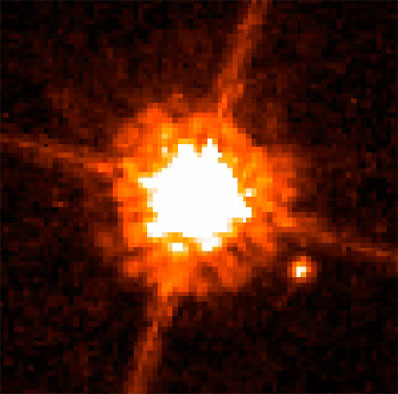 This Hubble image shows the brown dwarf candidate, called CHXR 73 B, as the bright spot at lower right. It orbits a red dwarf star, dubbed CHXR 73, which is a third less massive than the Sun. Credit: NASA, ESA and K. Luhman (Penn State University)
Download larger image version here



The Hubble observation of the diminutive companion to the low-mass red dwarf star CHXR 73 is a dramatic reminder that astronomers do not have a consensus in deciding which objects orbiting other stars are truly planets -- even though they have at last agreed on how they will apply the definition of "planet" to objects inside our solar system.

Kevin Luhman of Penn State University in University Park, Pa., leader of the team that found the object, called CHXR 73 B, is casting his vote for a brown dwarf. "New, more sensitive telescopes are finding smaller and smaller objects of planetary-mass size," said Luhman. "These discoveries have prompted astronomers to ask the question, are planetary-mass companions always planets?"

Some astronomers suggest that an extrasolar object's mass determines whether it is a planet. Luhman and others advocate that an object is only a planet if it formed from the disk of gas and dust that commonly encircles a newborn star. Our solar system planets formed 4.6 billion years ago out of a dust disk around our Sun.

Brown dwarfs, by contrast, form just like stars: from the gravitational collapse of large, diffuse clouds of hydrogen gas. Unlike stars, brown dwarfs do not have quite enough mass to ignite hydrogen fusion reactions in their cores, which power stars such as our Sun.

CHXR 73 B is 19.5 billion miles from its red dwarf sun. That's roughly 200 times farther than Earth is from our Sun. At 2 million years old, the star is very young when compared with our middle-aged 4.6-billion-year-old Sun.

"The object is so far away from its star that it is unlikely to have formed in a circumstellar disk," Luhman explained. Disks around low-mass stars are about 5 to 10 billion miles in diameter. There isn't enough material at that distance from the red dwarf to create a planet. Theoretical models show that giant planets like Jupiter form no more than about 3 billion miles from their stars.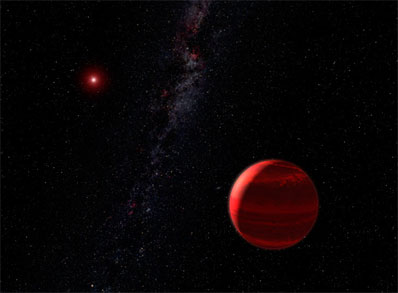 This is an artist's concept of the red dwarf star CHXR 73 (upper left) and its companion CHXR 73 B in the foreground (lower right) weighing in at 12 Jupiter masses. Credit: NASA, ESA and G. Bacon (STScI)
Download larger image version here



Hubble's Advanced Camera for Surveys discovered the object while conducting a survey of free-floating brown dwarfs. Astronomers have found hundreds of brown dwarfs in our galaxy since the first brown dwarfs were spied about a decade ago. Most of them are floating through space and not orbiting stars.

"It is important to study young star systems to understand how small bodies formed. Young brown dwarfs are brighter than older, cooler brown dwarfs. This allows them to be seen even at lower masses, where older dwarfs would still be undetectable," said team member John Wilson of the University of Virginia in Charlottesville.

One way to further settle the uncertainty would be if a disk of dust could be observed around CHXR 73's companion. Like stars, brown dwarfs have circumstellar disks, too. They would be no more than about 2 billion miles in diameter.

NASA's Spitzer Space Telescope has detected disks around several free-floating brown dwarfs. But CHXR 73 B is too close to its star for Spitzer to detect the disk. So astronomers will have to wait for the launch of the James Webb Space Telescope in 2013 to determine if this companion has a disk. The Webb telescope will combine Hubble's sharpness, which is needed for detecting close companions, and Spitzer's infrared sensitivity, which is necessary for seeing cool, dusty disks.

The team's result will appear in the Sept. 20 issue of the Astrophysical Journal.



Telescopes.com

Largest selection and the best prices anywhere in the world. Free shipping on select items. Telescopes.com is the largest dealer of both Meade and Celestron Telescopes. Visit Telescopes.com or call toll free 1-800-303-5873.

John Glenn Mission Patch

Free shipping to U.S. addresses!


The historic first orbital flight by an American is marked by this commemorative patch for John Glenn and Friendship 7.


U.S. STORE

WORLDWIDE STORE

Final Shuttle Mission Patch

Free shipping to U.S. addresses!


The crew emblem for the final space shuttle mission is available in our store. Get this piece of history!


U.S. STORE

WORLDWIDE STORE

Celebrate the shuttle program
Free shipping to U.S. addresses!

This special commemorative patch marks the retirement of NASA's Space Shuttle Program. Available in our store!


U.S. STORE

WORLDWIDE STORE

Anniversary Shuttle Patch

Free shipping to U.S. addresses!

This embroidered patch commemorates the 30th anniversary of the Space Shuttle Program. The design features the space shuttle Columbia's historic maiden flight of April 12, 1981.


U.S. STORE

WORLDWIDE STORE

Mercury anniversary

Free shipping to U.S. addresses!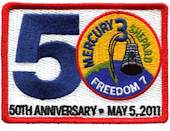 Celebrate the 50th anniversary of Alan Shephard's historic Mercury mission with this collectors' item, the official commemorative embroidered patch.


U.S. STORE

WORLDWIDE STORE

Fallen Heroes Patch Collection

The official patches from Apollo 1, the shuttle Challenger and Columbia crews are available in the store.


U.S. STORE

WORLDWIDE STORE

Ares 1-X Patch
The official embroidered patch for the Ares 1-X rocket test flight, is available for purchase.


U.S. STORE

WORLDWIDE STORE

Apollo Collage
This beautiful one piece set features the Apollo program emblem surrounded by the individual mission logos.


U.S. STORE

Expedition 21
The official embroidered patch for the International Space Station Expedition 21 crew is now available from our stores.


U.S. STORE

WORLDWIDE STORE

Hubble Patch
The official embroidered patch for mission STS-125, the space shuttle's last planned service call to the Hubble Space Telescope, is available for purchase.


U.S. STORE

WORLDWIDE STORE