Spaceflight Now +





Premium video content for our Spaceflight Now Plus subscribers.

Atlas 5 launches ASTRA
The Lockheed Martin Atlas 5 rocket blasts off with the European ASTRA 1KR television broadcast satellite right on time April 20 from Complex 41 at Cape Canaveral Air Force Station.

Play video

STS-51A: Daring mission
Soon after the Palapa and Westar communications satellites got stranded in worthless orbits following their deployment from shuttle Challenger in February 1984, planners began devising a rescue mission to launch that November. The STS-51A flight of shuttle Discovery is arguably one of the most daring and complex space missions ever attempted. The crew successfully launched two communications satellites and then retrieved Palapa and Westar during extraordinary spacewalks using jet-propelled backpacks and hands-on muscle power. Watch the amazing flight unfold with narration by the crew in this post-flight film.

Small | Medium | Large

Memories of STS-1
In the continuing 25th anniversary celebration of STS-1, this program looks at the engineering challenges behind development of the space shuttle and performing the first flight from Mission Control. This panel includes Milt Heflin, the STS-1 ascent/entry electrical power system flight controller, former space shuttle program manager Bob Thompson, former orbiter project manager Aaron Cohen, Neil Hutchinson, the STS-1 ascent flight director, and astronauts John Young and Bob Crippen.

Dial-up | Broadband

STS-1 anniversary event
This 25th anniversary celebration of the first space shuttle launch took place April 12 at Space Center Houston. Speakers included Johnson Space Center Director Mike Coats, NASA Administrator Mike Griffin, Congressman Tom DeLay, Senator Kay Bailey Hutchison, STS-1 commander John Young and pilot Bob Crippen.

Dial-up: Part 1 | Part 2
Broadband: Part 1 | 2

Become a subscriber
More video







International Space Station supply ship launched
MISSION CONTROL STATUS REPORT
Posted: April 24, 2006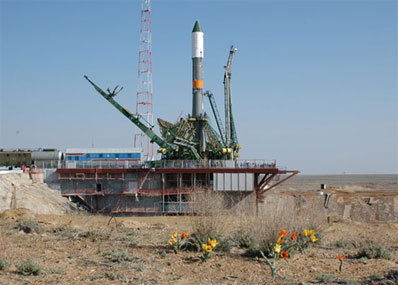 Credit: Energia



A shipment of supplies is on its way to the International Space Station. The ISS Progress 21P cargo ship was launched today from the Baikonur Cosmodrome in Kazakhstan.

The new resupply ship lifted off at 12:03 p.m. EDT (10:03 p.m. Baikonur time). Less than 10 minutes later, the cargo ship reached orbit, and its solar arrays and navigational antennas were deployed for its two-day trip to the orbital outpost.

Two pre-programmed firings of the Progress' main engine are scheduled today to fine-tune the ship's path to the space station. Additional rendezvous maneuvers are planned Tuesday and Wednesday.

When the Progress launched, Expedition 13 Commander Pavel Vinogradov and NASA Flight Engineer and Science Officer Jeff Williams were flying 219 statute miles over the Earth off the northeast coast of Australia in their 26th day in space and their 24th day on the complex.

Carrying 2.5 tons of food, water, fuel, oxygen, air, spare parts and other supplies, the new Progress is scheduled to automatically dock to the aft port of the station's Zvezda Service Module at 1:40 p.m. EDT Wednesday. The older ISS Progress 20P supply ship that arrived at the station just before Christmas will remain at the Pirs Docking Compartment until mid-June. It will be used to stow trash and to enable its supply of oxygen to replenish the cabin atmosphere.

Live coverage of the docking of Progress 21P to the space station begins at 1 p.m. EDT Wednesday on NASA Television.



ERROR: Random File Unopenable
The random file, as specified in the $random_file perl variable was unopenable.

The file was not found on your file system. This means that it has either not been created or the path you have specified in $trrandom_file is incorrect.


Final Shuttle Mission Patch



Free shipping to U.S. addresses!



The crew emblem for the final space shuttle mission is now available in our store. Get this piece of history!


U.S. STORE


WORLDWIDE STORE



STS-134 Patch



Free shipping to U.S. addresses!



The final planned flight of space shuttle Endeavour is symbolized in the official embroidered crew patch for STS-134. Available in our store!


U.S. STORE


WORLDWIDE STORE



Ares 1-X Patch


The official embroidered patch for the Ares 1-X rocket test flight, is available for purchase.


U.S. STORE


WORLDWIDE STORE



Apollo Collage


This beautiful one piece set features the Apollo program emblem surrounded by the individual mission logos.


U.S. STORE


WORLDWIDE STORE



Project Orion


The Orion crew exploration vehicle is NASA's first new human spacecraft developed since the space shuttle a quarter-century earlier. The capsule is one of the key elements of returning astronauts to the Moon.


U.S. STORE



Fallen Heroes Patch Collection


The official patches from Apollo 1, the shuttle Challenger and Columbia crews are available in the store.


U.S. STORE


WORLDWIDE STORE