Spaceflight Now +





Premium video content for our Spaceflight Now Plus subscribers.

Spirit panorama
This amazing panorama of the martian surface at Columbia Hills was taken by the Spirit rover. Expert narration is provided by camera scientist Jim Bell. (2min 12sec file)
Play video

Update on Mars rovers
Mars Exploration Rover project manager Jim Erickson and panoramic camera lead scientist Jim Bell offer comments on the status of the Spirit and Opportunity missions (1min 33sec file)
Play video

Delta rocket assembly
The first stage of Boeing's Delta 2 rocket that will launch NASA's Swift gamma-ray burst detection observatory in November is erected on pad 17A at Cape Canaveral, Florida. (4min 52sec file)
Play video

Solid boosters arrive
The three solid-fueled rocket boosters for the Boeing Delta 2 vehicle that will launch the Swift satellite are hoisted into the pad 17A mobile service tower. (4min 55sec file)
Play video

SRBs go for attachment
The mobile service tower carries the solid boosters into position for attachment to the Delta 2 rocket's first stage. (3min 08sec file)
Play video

Swift nose cone
The two halves of the 10-foot diameter rocket nose cone that will enclose NASA's Swift satellite during launch aboard a Boeing Delta 2 vehicle are lifted into the pad 17A tower. (4min 26sec file)
Play video

ISS talk with students
The International Space Station crew holds an educational event to answers questions live with students at the Maryland Science Center. (24min 01sec file)
Play video

Genesis to Houston
The solar wind samples retrieved by NASA's Genesis spacecraft finally arrive at Johnson Space Center facilities from the Utah landing site. (2min 51sec file)
Play video

SpaceShipOne team chats with ISS
SpaceShipOne pilots and Burt Rutan call the International Space Station for an informal chat with Expedition 9 commander Gennady Padalka and flight engineer Mike Fincke the day after winning the X Prize. (13min 07sec file)
Play video

Gordon Cooper tribute
The flight of Gordon Cooper and Mercury's Faith 7 mission is remembered in this NASA tribute film. (20min 42sec file)
Play video

X Prize launch
SpaceShipOne with pilot Brian Binnie rocket into space on the second of two flights needed to win the $10 million X Prize. (2min 32sec file)
Play video

Monday's flight
This longer length clip of SpaceShipOne's second X Prize launch following the ascent, feathering of the wings and the start of re-entry. (5min 56sec file)
Play video

Safe landing
Brian Binnie, the world's second private astronaut, brings SpaceShipOne to a safe landing at Mojave airport to capture the X Prize. (5min 55sec file)
Play video

Become a subscriber
More video





NewsAlert





Sign up for our NewsAlert service and have the latest news in astronomy and space e-mailed direct to your desktop.


Privacy note: your e-mail address will not be used for any other purpose.







Earthquake forecast program has amazing success rate
NASA NEWS RELEASE
Posted: October 8, 2004


A NASA-funded earthquake forecast program has an amazing track record. Published in 2002, the Rundle-Tiampo Forecast has accurately forecast the locations of 15 of California's 16 largest earthquakes this decade, including recent tremors. 

The 10-year forecast was developed by researchers at the University of Colorado (now at the University of California, Davis) and from NASA's Jet Propulsion Laboratory, Pasadena, Calif.   NASA and the U.S. Department of Energy funded it. 

"We're elated our computer modeling technique has revealed a relationship between past and future earthquake locations," said Dr. John Rundle, director of the Computational Science and Engineering initiative at the University of California, Davis. He leads the group that developed the forecast scorecard. "We're nearly batting a thousand, and that's a powerful validation of the promise this forecasting technique holds." 

Of 16 earthquakes of magnitude 5 and higher since Jan. 1, 2000, 15 fall on "hotspots" identified by the forecasting approach. Twelve of the 16 quakes occurred after the paper was published in Proceedings of the National Academy of Sciences in Feb. 2002. The scorecard uses records of earthquakes from 1932 onward to predict locations most likely to have quakes of magnitude 5 or greater between 2000 and 2010. According to Rundle, small earthquakes of magnitude 3 and above may indicate stress is building up along a fault. While activity continues on most faults, some of those faults will show increasing numbers of small quakes, building up to a big quake, while some faults will appear to shut down. Both effects may herald the possible occurrence of large events.

The scorecard is one component of NASA's QuakeSim project. "QuakeSim seeks to develop tools for quake forecasting. It integrates high-precision, space-based measurements from global positioning system satellites and interferometric synthetic aperture radar (InSAR) with numerical simulations and pattern recognition techniques," said JPL's Dr. Andrea Donnellan, QuakeSim principal investigator. "It includes historical data, geological information and satellite data to make updated forecasts of quakes, similar to a weather forecast." 

JPL software engineer Jay Parker said, "QuakeSim aims to accelerate the efforts of the international earthquake science community to better understand earthquake sources and develop innovative forecasting methods. We expect adding more types of data and analyses will lead to forecasts with substantially better precision than we have today."

The scorecard forecast generated a map of California from the San Francisco Bay area to the Mexican border, divided into approximately 4,000 boxes, or "tiles." For each tile, researchers calculated the seismic potential and assigned color-coding to show the areas most likely to experience quakes over a 10-year period. 

"Essentially, we look at past data and perform math operations on it," said James Holliday, a University of California, Davis graduate student working on the project. Instrumental earthquake records are available for Southern California since 1932 and for Northern California since 1967. The scorecard gives more precision than a simple look at where quakes have occurred in the past, Rundle said. 

"In California, quake activity happens at some level almost everywhere. This method narrows the locations of the largest future events to about six percent of the state," Rundle said. "This information will help engineers and government decision makers prioritize areas for further testing and seismic retrofits." 

So far, the technique has missed only one earthquake -- a magnitude of 5.2 -- on June 15, 2004, under the ocean near San Clemente Island. Rundle believes this "miss" may be due to larger uncertainties in locating earthquakes in this offshore region of the state. San Clemente Island is at the edge of the coverage area for Southern California's seismograph network. Rundle and Holliday are working to refine the method and find new ways to visualize the data. 

Other forecast collaborators include Kristy Tiampo, the University of Western Ontario, Canada; William Klein, Boston University, Boston; and Jorge S. Sa Martins, Universidad Federal Fluminense, Rio de Janeiro, Brazil. 

JPL is managed for NASA by the California Institute of Technology in Pasadena.



Gemini 7
Gemini 7: The NASA Mission Reports covers this 14-day mission by Borman and Lovell as they demonstrated some of the more essential facts of space flight. Includes CD-ROM.


Choose your store:
U.S. - U.K. - E.U. - Worldwide

Apollo patches
The Apollo Patch Collection: Includes all 12 Apollo mission patches plus the Apollo Program Patch. Save over 20% off the Individual price.


Choose your store:
U.S. - U.K. - E.U. - Worldwide

Mars Rover mission patch
A mission patch featuring NASA's Mars Exploration Rover is available from our online.


Choose your store:
U.S. - U.K. - E.U. - Worldwide

Apollo 9 DVD

On the road to the moon, the mission of Apollo 9 stands as an important gateway in experience and procedures. This 2-DVD collection presents the crucial mission on the voyage to the moon.


Choose your store:
U.S. - U.K. - E.U. - Worldwide

Gemini 12
Gemini 12: The NASA Mission Reports covers the voyage of James Lovell and Buzz Aldrin that capped the Gemini program's efforts to prove the technologies and techniques that would be needed for the Apollo Moon landings. Includes CD-ROM.


Choose your store:
U.S. - U.K. - E.U. - Worldwide

STS-134 Patch

Free shipping to U.S. addresses!


The final planned flight of space shuttle Endeavour is symbolized in the official embroidered crew patch for STS-134. Available in our store!


U.S. STORE

WORLDWIDE STORE

Final Shuttle Mission Patch

Free shipping to U.S. addresses!


The crew emblem for the final space shuttle mission is now available in our store. Get this piece of history!


U.S. STORE

WORLDWIDE STORE

Apollo Collage

This beautiful one piece set features the Apollo program emblem surrounded by the individual mission logos.


U.S. STORE

STS-133 Patch

Free shipping to U.S. addresses!


The final planned flight of space shuttle Discovery is symbolized in the official embroidered crew patch for STS-133. Available in our store!


U.S. STORE

WORLDWIDE STORE

Anniversary Shuttle Patch

Free shipping to U.S. addresses!


This embroidered patch commemorates the 30th anniversary of the Space Shuttle Program. The design features the space shuttle Columbia's historic maiden flight of April 12, 1981.


U.S. STORE

WORLDWIDE STORE

Mercury anniversary

Free shipping to U.S. addresses!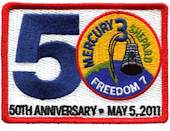 Celebrate the 50th anniversary of Alan Shephard's historic Mercury mission with this collectors' item, the official commemorative embroidered patch.


U.S. STORE

WORLDWIDE STORE

Mars rover collectible patch

Free shipping to U.S. addresses!


This commemorative patch celebrates NASA's Curiosity rover mission of the Mars Science Laboratory in search of clues whether the Red Planet was once hospitable to life.


U.S. STORE

WORLDWIDE STORE