Spaceflight Now +





Premium video content for our Spaceflight Now Plus subscribers.

Crew remembers Reagan
The two-man crew living aboard the International Space Station pays tribute to President Ronald Reagan. (2min 20sec file)
Play video

Rover enters crater
Ride along with Oppportunity as the rover drives into and back out of Endurance Crater on June 8.
Play video

Tuesday's Mars briefing
Plans to drive the Mars rover Opportunity into Endurance Crater and new results from Spirit's search for past water at Gusev Crater are announced at this briefing from June 8. (38min 18sec file)
Play video

Drive path
Opportunity's path into Endurance Crater and plans for the drive are explained by mission manager Jim Erickson. (1min 28sec file)
Play video

Crater science
The rover lead scientist, Steve Squyres, explains what Opportunity will study inside Endurance Crater and what the results would say about Mars. (3min 09sec file)
Play video

Columbia Hills
Steve Squyres, rover principal investigator, narrates a new panorama from Spirit showing the Columbia Hills. (2min 01sec file)
Play video

Become a subscriber
More video





NewsAlert





Sign up for our NewsAlert service and have the latest news in astronomy and space e-mailed direct to your desktop.


Privacy note: your e-mail address will not be used for any other purpose.







Date for upcoming ISS spacewalk in limbo
MISSION CONTROL STATUS REPORT
Posted: June 11, 2004


The Expedition 9 crew, Commander Gennady Padalka and NASA ISS Science Officer Mike Fincke, spent their seventh week aboard the Station continuing to prepare for their first spacewalk, now under consideration to be conducted June 24.

Managers decided today to reschedule the planning date for the spacewalk from June 15 and discussed a possible new planning date of June 24. Formal management approval of a new planning date is expected next week.

The rescheduling will move the activity into a better period of the crew's workday, optimize communications coverage and provide additional planning time. The time of day to conduct the spacewalk changes each day as the times the Station will pass over Russian ground communications sites change.

The new schedule also allows additional time for ground teams to continue the development of the spacewalk procedures.

Managers plan to review all preparations for the spacewalk at a normal Stage Operations Readiness Review planned for June 21.

Padalka and Fincke gathered tools and began work with their spacesuits this week to prepare for the spacewalk, which is planned to restore power to one of the complex's Control Moment Gyroscopes (CMGs), devices that help maintain the Station's orientation as it orbits Earth. During the venture outside, the crew is planned to replace a Remote Power Control Module, or circuit breaker, that failed April 21, removing power from the one CMG. However, two CMGs have remained operating well, safely controlling the orientation of the Station.

The crew began their work this week by charging batteries of the Pistol Grip Tool, a type of spacewalking power wrench, and familiarizing themselves with the tool's operation as it will be used during the spacewalk. Other activities included replacing batteries, filters, helmet lights and other routine parts in the Russian Orlan spacesuits that will be used for the spacewalk. They also unstowed personal garments such as socks, gloves, and cooling garments; sized the spacesuits; and peformed procedures to ensure no excess gas is present in the spacesuits' water and gas separation systems.

Both crewmembers also participated in cardiovascular evaluation sessions on the Russian stationary bicycle aboard the Station. The checks are part of standard spacewalk preparations.



Apollo 12 tribute DVD set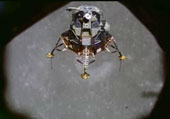 New! Featuring the jovial crew of Pete Conrad, Dick Gordon and Alan Bean, the Apollo 12 mission was struck by lightning shortly after liftoff but proceeded on the second successful exploration voyage to the lunar surface. This three-disc DVD brings the mission to life with extraordinary detail.


Choose your store:
U.S. - U.K. - E.U. - Worldwide

Fallen Heroes special patch

This special 12-inch embroidered patch commemorates the U.S. astronauts who made the ultimate sacrifice, honoring the crews of Apollo 1, Challenger and Columbia.


Choose your store:
U.S. - U.K. - E.U. - Worldwide

Women in Space
Women of Space: Cool Careers on the Final Frontier is for girls, young women, and anyone else interested in learning about exciting careers in space exploration. Includes CD-ROM.


Choose your store:
U.S. - U.K. - E.U. - Worldwide

Mars rover poster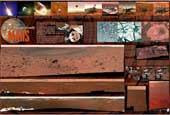 This new poster features some of the best pictures from NASA's amazing Mars Exploration Rovers Spirit and Opportunity.


Choose your store:
U.S.

Apollo 11 special patch

Special collectors' patch marking the 35th anniversary of the historic Apollo 11 moon landing is now available.


Choose your store:
U.S. - U.K. - E.U. - Worldwide

Inside Apollo mission control
An insider's view of how Apollo flight controllers operated and just what they faced when events were crucial.


Choose your store:
U.S.

The ultimate Apollo 11 DVD
This exceptional chronicle of the historic Apollo 11 lunar landing mission features new digital transfers of film and television coverage unmatched by any other.


Choose your store:
U.S. - U.K. - E.U. - Worldwide

Next ISS crew

Own a little piece of history with this official patch for the International Space Station's Expedition 11 crew. We'll ship yours today!


Choose your store:
U.S.