Spaceflight Now +





Premium video content for our Spaceflight Now Plus subscribers.

X-43A launched
NASA's experimental X-43A hypersonic research aircraft is successfully launched by a Pegasus rocket off the coast of California on March 27. (2min 40sec file)
Play video

Longer launch movie
This extended clip shows the launch of X-43A as seen live through completion of the scramjet propulsion test. (3min 11sec file)
Play video

Pre-launch preps
Technicians put the final touches on the X-43A research vehicle just before the B-52 rolled to the runway. (1min 36sec file)
Play video

B-52 taxi
The B-52 carrier aircraft heads for the runway at Edwards Air Force Base in advance of takeoff. (2min 48sec file)
Play video

Carrier jet takes off
With the Pegasus rocket booster and X-43A mounted beneath its right wing, the B-52 carrier aircraft roars into the sky. (1min 40sec file)
Play video

X-43A readiness test
The aerosurfaces on the X-43A research vehicle are tested prior to launch. (26sec file)
Play video

Pegasus fin sweep
The aerosurface fins of the Pegasus rocket booster undergo a movement test one minute before launch. (26sec file)
Play video

B-52 returns to base
Having completed its mission, the B-52 lands safely at Edwards Air Force. (3min 27sec file)
Play video

Post-launch news conference
Mission officials hold a post-launch press briefing to announce results of the X-43A flight on March 27. (30min 05sec file)
Play video

Preview animation
This animation shows a Pegasus rocket booster launching NASA's X-43A experimental air-breathing scramjet vehicle. (QuickTime file)
Play video

Pre-launch news conference
The pre-launch news conference is held at NASA's Dryden Flight Research Center on March 24 to preview this X-43A experimental flight. (41min 50sec file)
Play video

Become a subscriber
More video





NewsAlert





Sign up for our NewsAlert service and have the latest news in astronomy and space e-mailed direct to your desktop.


Privacy note: your e-mail address will not be used for any other purpose.







Scramjet experiment soars off California coast
BY SPACEFLIGHT NOW
Posted: March 27, 2004


NASA's experimental X-43A hypersonic research vehicle was successfully launched Saturday, demonstrating for the first time an airbreathing scramjet-powered aircraft while soaring 95,000 feet above the Pacific Ocean at seven times the speed of sound.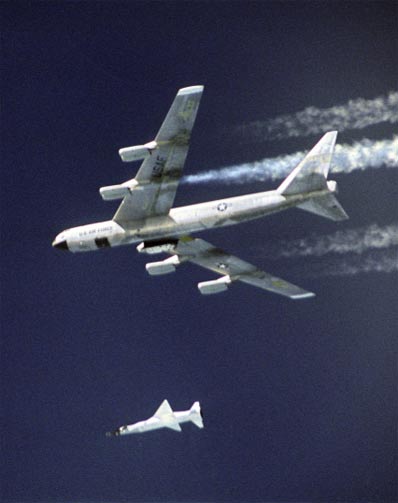 The Pegasus rocket and X-43A fall away from B-52 carrier jet. Credit: NASA/Jim Ross



"Today was a grand-slam in the bottom of the 12th," said Joel Sitz, X-43A project manager from NASA's Dryden Flight Research Center. "It was fun all the way to Mach 7. We separated the research vehicle from the launch vehicle, as well as separating the real from the imagined."

The experiment was part of NASA's high-risk, $250 million Hyper-X program that seeks alternate propulsion technologies for access to space and high-speed flight within the atmosphere.

A scramjet operates by supersonic combustion of fuel in a stream of air compressed by the high forward speed of the aircraft itself, as opposed to a normal jet engine, in which fan blades compress the air.

In order to test the scramjet, the 12-foot-long, five-foot-wide X-43A vehicle was blasted high above Earth on the end of a solid-fueled Pegasus rocket booster.

The single-stage Pegasus was carried from California's Edwards Air Force Base to a position 50 miles off the Southern California coast by a B-52B aircraft, then dropped at an altitude of 40,000 feet at 2200 GMT (5:00 p.m. EST; 2:00 p.m. PST).

After free-falling for five seconds, the Pegasus ignited for an 80-second firing.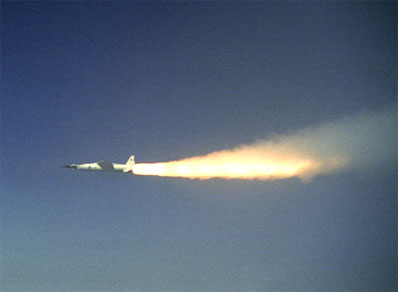 The Pegasus booster fires into the sky with X-43A. Credit: NASA/Jim Ross



Once the rocket motor had burned out, the 2,800-pound X-43A was released to fly on its own and perform its history-making experiment at nearly 5,000 mph.

The supersonic combustion ramjet, or scramjet, operated for about 10 seconds -- the duration of its hydrogen fuel supply.

"It's been a great, record-breaking day," said Larry Huebner, Hyper-X propulsion lead from NASA's Langley Research Center. "We achieved positive acceleration of the vehicle while we were climbing, and maintained outstanding vehicle control. This was a world-record speed for air-breathing flight."

Controllers gathered several additional minutes of data as X-43A glided back to Earth, eventually splashing down in the Pacific approximately 450 miles off the coast about 10 minutes after launch.

The X-43A vehicle and engine were built by ATK GASL, formerly MicroCraft, of Tullahoma, Tennessee. Boeing Phantom Works in Huntington Beach, Calif., designed the thermal protection and onboard systems. The booster is a modified Pegasus rocket built by Orbital Sciences Corp. Chandler, Ariz.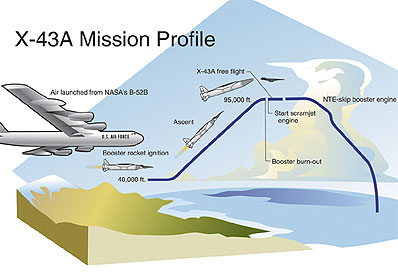 An artist's concept of X-43A mission sequence. Credit: NASA



Researchers believe the Hyper-X technologies may someday offer more airplane-like operations and other benefits compared to traditional rocket systems. Rockets provide limited throttle control and must carry heavy tanks filled with liquid oxygen, necessary for combustion of fuel. An air-breathing engine, like that on the X-43A, scoops oxygen from the air as it flies. The weight savings could be used to increase payload capacity, increase range or reduce vehicle size for the same payload.

The test flight came nearly three years after an initial X-43A launch was destroyed moments after it began when the Pegasus rocket booster veered off course. Investigators reported there was no single contributing factor, but the root cause of the problem was identified as the control system of the booster.

"After several years of detailed analysis, design upgrades and testing to address the factors that contributed to the failure of the program's first flight, it is all the more gratifying to have carried out this successful flight test," said Ron Grabe, executive vice president and general manager of Orbital's Launch Systems Group.

"Our congratulations go out to NASA and all the partners on this program who persevered to get it right. We now have our sights set on a successful third mission to provide even more critical data to NASA's research into the field of hypersonic flight and to extend the flight speed record set today to Mach 10," Grabe added.



Apollo patches
The Apollo Patch Collection: Includes all 12 Apollo mission patches plus the Apollo Program Patch. Save over 20% off the Individual price.


Choose your store:
U.S. - U.K. - E.U. - Worldwide

Apollo 11 special patch

Special collectors' patch marking the 35th anniversary of the historic Apollo 11 moon landing is now available.


Choose your store:
U.S. - U.K. - E.U. - Worldwide

Inside Apollo mission control
An insider's view of how Apollo flight controllers operated and just what they faced when events were crucial.


Choose your store:
U.S.

The ultimate Apollo 11 DVD
This exceptional chronicle of the historic Apollo 11 lunar landing mission features new digital transfers of film and television coverage unmatched by any other.


Choose your store:
U.S. - U.K. - E.U. - Worldwide

Next ISS crew

Own a little piece of history with this official patch for the International Space Station's Expedition 11 crew. We'll ship yours today!


Choose your store:
U.S.

Apollo 12 tribute DVD set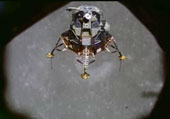 New! Featuring the jovial crew of Pete Conrad, Dick Gordon and Alan Bean, the Apollo 12 mission was struck by lightning shortly after liftoff but proceeded on the second successful exploration voyage to the lunar surface. This three-disc DVD brings the mission to life with extraordinary detail.


Choose your store:
U.S. - U.K. - E.U. - Worldwide

Fallen Heroes special patch

This special 12-inch embroidered patch commemorates the U.S. astronauts who made the ultimate sacrifice, honoring the crews of Apollo 1, Challenger and Columbia.


Choose your store:
U.S. - U.K. - E.U. - Worldwide

Women in Space
Women of Space: Cool Careers on the Final Frontier is for girls, young women, and anyone else interested in learning about exciting careers in space exploration. Includes CD-ROM.


Choose your store:
U.S. - U.K. - E.U. - Worldwide

Mars rover poster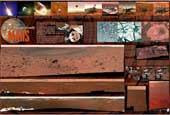 This new poster features some of the best pictures from NASA's amazing Mars Exploration Rovers Spirit and Opportunity.


Choose your store:
U.S.

Final Shuttle Mission Patch

Free shipping to U.S. addresses!


The crew emblem for the final space shuttle mission is now available in our store. Get this piece of history!


U.S. STORE

WORLDWIDE STORE

STS-134 Patch

Free shipping to U.S. addresses!


The final planned flight of space shuttle Endeavour is symbolized in the official embroidered crew patch for STS-134. Available in our store!


U.S. STORE

WORLDWIDE STORE

Ares 1-X Patch

The official embroidered patch for the Ares 1-X rocket test flight, is available for purchase.


U.S. STORE

WORLDWIDE STORE

Apollo Collage

This beautiful one piece set features the Apollo program emblem surrounded by the individual mission logos.


U.S. STORE

WORLDWIDE STORE

Project Orion

The Orion crew exploration vehicle is NASA's first new human spacecraft developed since the space shuttle a quarter-century earlier. The capsule is one of the key elements of returning astronauts to the Moon.


U.S. STORE

Fallen Heroes Patch Collection

The official patches from Apollo 1, the shuttle Challenger and Columbia crews are available in the store.


U.S. STORE

WORLDWIDE STORE

Ferryflight Shuttle Patch

Free shipping to U.S. addresses!


"The Final Mission" - NASA emblem developed for the Shuttle Carrier Aircraft crew and their support teams to deliver the orbiters to their final destinations at museums.


U.S. STORE

WORLDWIDE STORE