Spaceflight Now +





Premium video content for our Spaceflight Now Plus subscribers.

X-43A launched
NASA's experimental X-43A hypersonic research aircraft is successfully launched by a Pegasus rocket off the coast of California on March 27. (2min 40sec file)
Play video
More clips

Latest Mars rover news
The latest pictures and science results from the twin Mars Exploration Rovers Spirit and Opportunity are presented at this briefing on Friday. (50min 02sec file)
Play video
More clips

Mars water discovery
Scientists present evidence from the Mars rover Opportunity during this Tuesday news conference that shows the landing site was once the bottom of a salty sea. (76min 48sec file)
Play video
MP3 audio download

Armstrong speech
Neil Armstrong accepts the Rotary National Space Trophy for career contributions in aerospace. He says President Bush's plan to return to the Moon is economically feasible and has "substantial merit and promise." (12min 10sec)
Play video

Become a subscriber
More video





NewsAlert





Sign up for our NewsAlert service and have the latest news in astronomy and space e-mailed direct to your desktop.


Privacy note: your e-mail address will not be used for any other purpose.







First Eurostar E3000 satellite reaches geostationary orbit
EADS ASTRIUM NEWS RELEASE
Posted: March 27, 2004


The W3A spacecraft, designed and built by EADS Astrium for EUTELSAT and launched by Proton on March 16, successfully performed early operations and is now in geostationary orbit.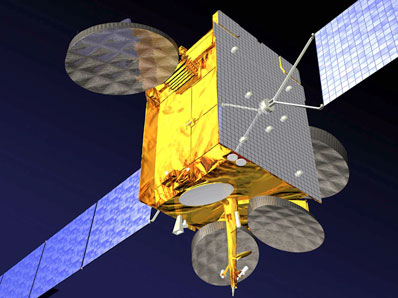 An artist's concept of W3A. Photo: EADS Astrium



After its launch from Baikonur by a Proton launch vehicle, the satellite's perigee altitude was raised in several burns of its own engine until it reached geostationary orbit.

Its solar arrays were successfully deployed as were the antenna reflectors, and the satellite is now accurately pointing to Earth. All systems are behaving nominally. As planned the satellite is slowly drifting round to its orbital position where it will be thoroughly tested before the payload can be brought into full operational service.

"This is a major event for EADS Astrium as W3A is the first of the Eurostar E3000 series. All over Europe our teams and our expertise were mobilised to make this event a success." said Antoine Bouvier, CEO of EADS Astrium. "With the launch of W3A, its largest satellite so far, Eutelsat has demonstrated its confidence in the Eurostar E3000 and EADS Astrium's overall capabilities."

From its 7 degree East orbit location, W3A will provide a full range of services in Ku and Ka-band, to include business communications, Internet and television transmission, over a large area covering Europe and Africa.

The spacecraft has a launch mass of 4250 kg, a solar array span of 35 metres once deployed in orbit, and a spacecraft power of 9.6 kW at end of life. The satellite will provide commercial services for a minimum of 15 years. 37 EUROSTAR spacecraft have been ordered to date, of which 24 have already been launched and have proven highly reliable in operational service. W3A is the first in the E3000 series, of which nine others are currently in production.

The E3000 platform features a high degree of modularity, which, due to its wide range of configurations, enables it to match mission requirements precisely and to offer operators a comprehensive range of power options.

EADS Astrium is Europe's leading satellite system specialist. Its activities cover complete civil and military telecommunications and Earth observation systems, science and navigation programmes, and all spacecraft avionics and equipment.

EADS Astrium is a wholly owned subsidiary of EADS SPACE, which is dedicated to providing civil and defence space systems. In 2003 EADS SPACE had a turnover of e2.4 billion and 12,000 employees in France, Germany, the United Kingdom and Spain.

EADS is a global leader in aerospace, defence and related services. In 2003, EADS generated revenues of e30.1 billion and employed a workforce of more than 100,000.



Mars rover collectible patch

Free shipping to U.S. addresses!


This commemorative patch celebrates NASA's Curiosity rover mission of the Mars Science Laboratory in search of clues whether the Red Planet was once hospitable to life.


U.S. STORE

WORLDWIDE STORE


Columbia Report
A reproduction of the official accident investigation report into the loss of the space shuttle Columbia and its crew of seven.


Choose your store:
U.S. - U.K. - E.U. - Worldwide

Mars Panorama

DISCOUNTED! This 360 degree image was taken by the Mars Pathfinder, which landed on the Red Planet in July 1997. The Sojourner Rover is visible in the image.


Choose your store:
U.S.

Apollo 11 Mission Report
Apollo 11 - The NASA Mission Reports Vol. 3 is the first comprehensive study of man's first mission to another world is revealed in all of its startling complexity. Includes DVD!


Choose your store:
U.S. - U.K. - E.U. - Worldwide

Rocket DVD

If you've ever watched a launch from Kennedy Space Center, Cape Canaveral, Vandenberg Air Force Base or even Kodiak Island Alaska, there's no better way to describe what you witnessed than with this DVD.


Choose your store:
U.S. - U.K. - E.U. - Worldwide

John Glenn Mission Patch

Free shipping to U.S. addresses!


The historic first orbital flight by an American is marked by this commemorative patch for John Glenn and Friendship 7.


U.S. STORE

WORLDWIDE STORE

Final Shuttle Mission Patch

Free shipping to U.S. addresses!


The crew emblem for the final space shuttle mission is available in our store. Get this piece of history!


U.S. STORE

WORLDWIDE STORE

Celebrate the shuttle program
Free shipping to U.S. addresses!

This special commemorative patch marks the retirement of NASA's Space Shuttle Program. Available in our store!


U.S. STORE

WORLDWIDE STORE

Anniversary Shuttle Patch

Free shipping to U.S. addresses!

This embroidered patch commemorates the 30th anniversary of the Space Shuttle Program. The design features the space shuttle Columbia's historic maiden flight of April 12, 1981.


U.S. STORE

WORLDWIDE STORE

Mercury anniversary

Free shipping to U.S. addresses!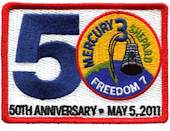 Celebrate the 50th anniversary of Alan Shephard's historic Mercury mission with this collectors' item, the official commemorative embroidered patch.


U.S. STORE

WORLDWIDE STORE

Fallen Heroes Patch Collection

The official patches from Apollo 1, the shuttle Challenger and Columbia crews are available in the store.


U.S. STORE

WORLDWIDE STORE