Most distant object in Solar System discovered
NASA NEWS RELEASE
Posted: March 15, 2004


NASA-funded researchers have discovered the most distant object orbiting Earth's Sun. The object is a mysterious planet-like body three times farther from Earth than Pluto.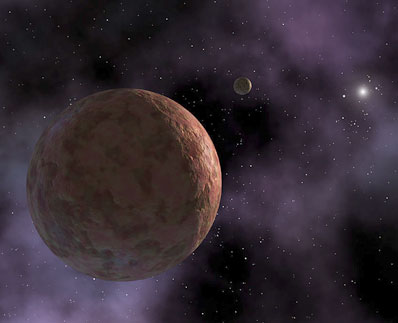 An artist's concept of Sedna. Credit: NASA/JPL-Caltech
Download a larger image here



"The Sun appears so small from that distance that you could completely block it out with the head of a pin," said Dr. Mike Brown, California Institute of Technology, Pasadena, Calif., associate professor of planetary astronomy and leader of the research team. The object, called "Sedna" for the Inuit goddess of the ocean, is 13 billion kilometers (8 billion miles) away, in the farthest reaches of the solar system.




Coverage for subscribers only:


AUDIO: DR. BROWN'S ANNOUNCEMENT OF THIS DISCOVERY QT


SUBSCRIBE NOW




This is likely the first detection of the long-hypothesized "Oort cloud," a faraway repository of small icy bodies that supplies the comets that streak by Earth. Other notable features of Sedna include its size and reddish color. After Mars, it is the second reddest object in the solar system. It is estimated Sedna is approximately three-fourths the size of Pluto. Sedna is likely the largest object found in the solar system since Pluto was discovered in 1930.

Brown, along with Drs. Chad Trujillo of the Gemini Observatory, Hawaii, and David Rabinowitz of Yale University, New Haven, Conn., found the planet-like object, or planetoid, on Nov. 14, 2003. The researchers used the 48-inch Samuel Oschin Telescope at Caltech's Palomar Observatory near San Diego. Within days, telescopes in Chile, Spain, Arizona and Hawaii observed the object. NASA's new Spitzer Space Telescope also looked for it.


These three panels show the first detection of the faint distant object dubbed "Sedna." Imaged on November 14th from 6:32 to 9:38 Universal Time, Sedna was identified by the slight shift in position noted in these three pictures taken at different times. Credit: NASA/Caltech
Download a larger image here



Sedna is extremely far from the Sun, in the coldest know region of our solar system, where temperatures never rise above minus 240 degrees Celsius (minus 400 degrees Fahrenheit). The planetoid is usually even colder, because it approaches the Sun only briefly during its 10,500-year solar orbit. At its most distant, Sedna is 130 billion kilometers (84 billion miles) from the Sun, which is 900 times Earth's solar distance.

Scientists used the fact that even the Spitzer telescope was unable to detect the heat of the extremely distant, cold object to determine it must be less than 1,700 kilometers (about 1,000 miles) in diameter, which is smaller than Pluto. By combining available data, Brown estimated Sedna's size at about halfway between Pluto and Quaoar, the planetoid discovered by the same team in 2002.

The elliptical orbit of Sedna is unlike anything previously seen by astronomers. However, it resembles that of objects predicted to lie in the hypothetical Oort cloud. The cloud is thought to explain the existence of certain comets. It is believed to surround the Sun and extend outward halfway to the star closest to the Sun. But Sedna is 10 times closer than the predicted distance of the Oort cloud. Brown said this "inner Oort cloud" may have been formed by gravity from a rogue star near the Sun in the solar system's early days.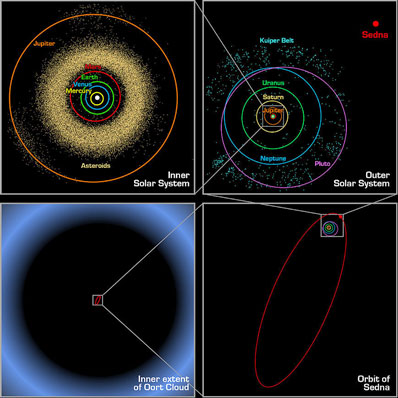 The location and orbit of the new object is shown in context with the orbits of the Solar System, known asteroids and Kuiper belt objects, and the hypothesized Oort cloud of distant objects orbiting the Sun. Credit: NASA/Caltech
Download a larger image here



"The star would have been close enough to be brighter than the full moon, and it would have been visible in the daytime sky for 20,000 years," Brown explained. Worse, it would have dislodged comets farther out in the Oort cloud, leading to an intense comet shower that could have wiped out some or all forms of life that existed on Earth at the time.

Rabinowitz said there is indirect evidence that Sedna may have a moon. The researchers hope to check this possibility with NASA's Hubble Space Telescope. Trujillo has begun to examine the object's surface with one of the world's largest optical/infrared telescopes, the 8-meter (26-foot) Frederick C. Gillett Gemini Telescope on Mauna Kea, Hawaii. "We still don't understand what is on the surface of this body. It is nothing like what we would have predicted or what we can explain," he said.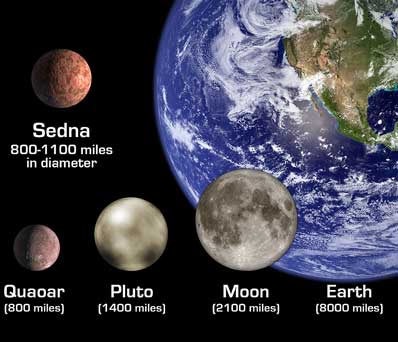 This illustration shows Sedna in relation to other bodies in the solar system, including Earth and its Moon; Pluto; and Quaoar, a planetoid beyond Pluto that was until now the largest known object beyond Pluto. The diameter of Sedna is slightly smaller than Pluto's but likely somewhat larger than Quaoar. Credit: NASA/JPL-Caltech
Download a larger image here



Sedna will become closer and brighter over the next 72 years, before it begins its 10,500-year trip to the far reaches of the solar system. "The last time Sedna was this close to the Sun, Earth was just coming out of the last ice age. The next time it comes back, the world might again be a completely different place," Brown said.

NASA's Jet Propulsion Laboratory, Pasadena, Calif, manages the Spitzer Space Telescope.




Apollo 12 tribute DVD set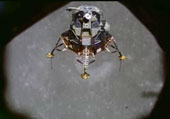 New! Featuring the jovial crew of Pete Conrad, Dick Gordon and Alan Bean, the Apollo 12 mission was struck by lightning shortly after liftoff but proceeded on the second successful exploration voyage to the lunar surface. This three-disc DVD brings the mission to life with extraordinary detail.


Choose your store:
U.S. - U.K. - E.U. - Worldwide

Fallen Heroes special patch

This special 12-inch embroidered patch commemorates the U.S. astronauts who made the ultimate sacrifice, honoring the crews of Apollo 1, Challenger and Columbia.


Choose your store:
U.S. - U.K. - E.U. - Worldwide

Women in Space
Women of Space: Cool Careers on the Final Frontier is for girls, young women, and anyone else interested in learning about exciting careers in space exploration. Includes CD-ROM.


Choose your store:
U.S. - U.K. - E.U. - Worldwide

Mars rover poster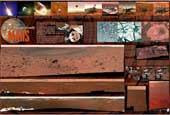 This new poster features some of the best pictures from NASA's amazing Mars Exploration Rovers Spirit and Opportunity.


Choose your store:
U.S.

Final Shuttle Mission Patch

Free shipping to U.S. addresses!


The crew emblem for the final space shuttle mission is now available in our store. Get this piece of history!


U.S. STORE

WORLDWIDE STORE

STS-134 Patch

Free shipping to U.S. addresses!


The final planned flight of space shuttle Endeavour is symbolized in the official embroidered crew patch for STS-134. Available in our store!


U.S. STORE

WORLDWIDE STORE

Ares 1-X Patch

The official embroidered patch for the Ares 1-X rocket test flight, is available for purchase.


U.S. STORE

WORLDWIDE STORE

Apollo Collage

This beautiful one piece set features the Apollo program emblem surrounded by the individual mission logos.


U.S. STORE

WORLDWIDE STORE

Project Orion

The Orion crew exploration vehicle is NASA's first new human spacecraft developed since the space shuttle a quarter-century earlier. The capsule is one of the key elements of returning astronauts to the Moon.


U.S. STORE

Fallen Heroes Patch Collection

The official patches from Apollo 1, the shuttle Challenger and Columbia crews are available in the store.


U.S. STORE

WORLDWIDE STORE

Columbia Report
A reproduction of the official accident investigation report into the loss of the space shuttle Columbia and its crew of seven.


Choose your store:
U.S. - U.K. - E.U. - Worldwide

Mars Panorama

DISCOUNTED! This 360 degree image was taken by the Mars Pathfinder, which landed on the Red Planet in July 1997. The Sojourner Rover is visible in the image.


Choose your store:
U.S.

Apollo 11 Mission Report
Apollo 11 - The NASA Mission Reports Vol. 3 is the first comprehensive study of man's first mission to another world is revealed in all of its startling complexity. Includes DVD!


Choose your store:
U.S. - U.K. - E.U. - Worldwide

Rocket DVD

If you've ever watched a launch from Kennedy Space Center, Cape Canaveral, Vandenberg Air Force Base or even Kodiak Island Alaska, there's no better way to describe what you witnessed than with this DVD.


Choose your store:
U.S. - U.K. - E.U. - Worldwide

Mars rover collectible patch

Free shipping to U.S. addresses!


This commemorative patch celebrates NASA's Curiosity rover mission of the Mars Science Laboratory in search of clues whether the Red Planet was once hospitable to life.


U.S. STORE

WORLDWIDE STORE


An insider's view of how Apollo flight controllers operated and just what they faced when events were crucial.


Choose your store:
U.S.


Get e-mail updates
Sign up for our NewsAlert service and have the latest news in astronomy and space e-mailed direct to your desktop (privacy note: your e-mail address will not be used for any other purpose).