Orphaned star clusters roam the Universe
INTERNATIONAL ASTRONOMICAL UNION RELEASE
Posted: July 17, 2003


US and UK astronomers have discovered a population of previously unknown star clusters in what was thought to be the empty space between galaxies. The research is being presented at the International Astronomical Union's 25th General Assembly being held in Sydney, Australia by Dr. Michael West of the University of Hawaii.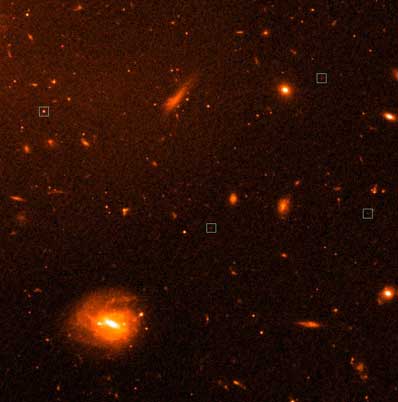 This image taken by the Hubble Space Telescope shows a small region of space within a large group of several thousand galaxies, about 400 million light-years from Earth. The boxes indicate four of the numerous "orphaned" star clusters that were recently discovered by a team of astronomers led by Dr Michael West of the University of Hawaii. Credit: Dr. Michael J. West (University of Hawaii)



Most galaxies are surrounded by tens, hundreds or even thousands of ancient star clusters, which swarm around them like bees around a hive. Our own Milky Way galaxy has about 150 of these "globular clusters", as they are called. Globular clusters are systems of up to a million stars compacted together by gravity into dense sphere-shaped groupings. Studies of globular clusters have provided many important insights over the years into the formation of their parent galaxies.

The discovery of this new type of star cluster was made using images obtained last year with the Hubble Space Telescope and the giant 10-meter Keck Telescope on Mauna Kea, Hawaii. "We found a large number of 'orphaned' globular clusters," said Dr Michael West, an astronomer at the University of Hawaii. "These clusters are no longer held within the gravitational grip of galaxies, and seem to be wandering freely through intergalactic space like cosmic vagabonds."

Although the lonely existence of such star clusters had been predicted for half a century, it is only now that astronomers have finally been able to confirm their existence. Dr West's team published preliminary findings about its discovery in April this year, and is today presenting new results at the International Astronomical Union's 25th General Assembly, being held in Sydney, Australia.

"The new data from the Hubble Space Telescope and Keck Telescope confirm our discovery, and are providing new insights to the origin of these objects," said Dr West.

According to West, these globular star clusters probably once resided in galaxies just like most of the normal globular clusters that we see in nearby galaxies today. However, the pull of gravity from a passing galaxy can rip stars and star clusters loose -- in some cases entire galaxies can be damaged or destroyed by violent collisions or by the collective gravitational pull from their galactic neighbors.

It is thought that the partial or complete destruction of their parent galaxies spilled the globular star clusters into intergalactic space.

Finding these globular clusters hasn't been easy. With only one exception, all of the intergalactic globular clusters the teams have detected are so far away (millions of light-years) that they just look like tiny points of light in a vast sea of blackness.

"Because they're so far away these objects are very faint, almost a billion times fainter than the unaided human eye can see," said Dr West. "Detecting such faint objects pushes the limits of even what the Hubble Space Telescope can do."

"By studying these intergalactic vagabonds in greater detail we hope to learn more about the numbers and types of galaxies that may have been destroyed so far during the life of the universe," said Dr West. "Some of these star clusters might also eventually be 'adopted' by other galaxies if they stray close enough to be captured by their gravity."

The researchers are currently analyzing new Hubble Space Telescope images they recently obtained, and are planning to obtain more at the end of this year.




Mars DVD
Explore the Red Planet from the comfort of your home with this interactive DVD. Includes 3D glasses for viewing three-dimensional images of Mars.


U.S. STORE

U.K. & WORLDWIDE STORE

Columbia Report
A reproduction of the official accident investigation report into the loss of the space shuttle Columbia and its crew of seven.


Choose your store:
U.S. - U.K. - E.U. - Worldwide

Mars Panorama

DISCOUNTED! This 360 degree image was taken by the Mars Pathfinder, which landed on the Red Planet in July 1997. The Sojourner Rover is visible in the image.


Choose your store:
U.S.

Apollo 11 Mission Report
Apollo 11 - The NASA Mission Reports Vol. 3 is the first comprehensive study of man's first mission to another world is revealed in all of its startling complexity. Includes DVD!


Choose your store:
U.S. - U.K. - E.U. - Worldwide

Rocket DVD

If you've ever watched a launch from Kennedy Space Center, Cape Canaveral, Vandenberg Air Force Base or even Kodiak Island Alaska, there's no better way to describe what you witnessed than with this DVD.


Choose your store:
U.S. - U.K. - E.U. - Worldwide


Get e-mail updates
Sign up for our NewsAlert service and have the latest news in astronomy and space e-mailed direct to your desktop (privacy note: your e-mail address will not be used for any other purpose).




ERROR: Random File Unopenable
The random file, as specified in the $random_file perl variable was unopenable.

The file was not found on your file system. This means that it has either not been created or the path you have specified in $trrandom_file is incorrect.

An insider's view of how Apollo flight controllers operated and just what they faced when events were crucial.


Choose your store:
U.S.