'Happy Face' crater of Mars
NASA/JPL/MSSS RELEASE
Posted: May 17, 2003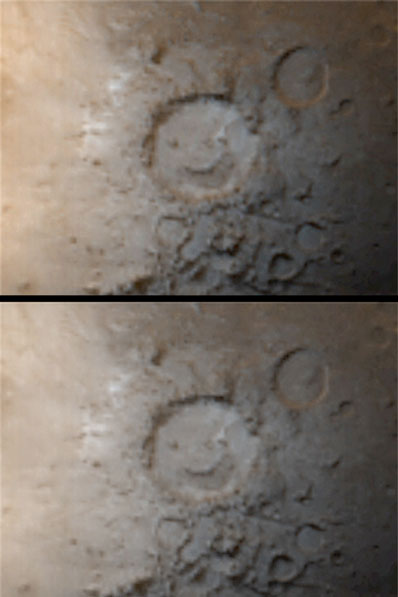 Credit: NASA/JPL/Malin Space Science Systems



Every day, the Mars Global Surveyor (MGS) Mars Orbiter Camera (MOC) wide angle instruments obtain a global view of the planet to help monitor weather and seasonal patterns of frost deposition and removal.

The two pictures shown here are taken from the same daily global image mosaic (the only difference is that each was processed slightly differently). The pictures show Galle Crater, informally known as "Happy Face," as it appeared in early southern winter.

The white-ish gray surfaces are coated with wintertime carbon dioxide frost. The pattern of frost distribution gives the appearance that "Happy Face" has opened its mouth.

Galle Crater is located on the east rim of Argyre at 51 degrees S, 31 degrees W. Sunlight illuminates the scene from the upper left. Galle Crater is 230 km (143 mi) across.

Malin Space Science Systems and the California Institute of Technology built the MOC using spare hardware from the Mars Observer mission. MSSS operates the camera from its facilities in San Diego, California. The Jet Propulsion Laboratory's Mars Surveyor Operations Project operates the Mars Global Surveyor spacecraft with its industrial partner, Lockheed Martin Astronautics, from facilities in Pasadena, California and Denver, Colorado.




Soviet Space
For the first time ever available in the West. Rocket & Space Corporation Energia: a complete pictorial history of the Soviet/Russian Space Program from 1946 to the present day all in full color. Available from our store.


Choose your store:
U.S. - U.K. - E.U. - Worldwide

Viking patch
This embroidered mission patch celebrates NASA's Viking Project which reached the Red Planet in 1976.


Choose your store:
U.S. - U.K. - E.U. - Worldwide

Apollo 7 DVD

For 11 days the crew of Apollo 7 fought colds while they put the Apollo spacecraft through a workout, establishing confidence in the machine what would lead directly to the bold decision to send Apollo 8 to the moon just 2 months later.


Choose your store:
U.S. - U.K. - E.U. - Worldwide

Gemini 12
Gemini 12: The NASA Mission Reports covers the voyage of James Lovell and Buzz Aldrin that capped the Gemini program's efforts to prove the technologies and techniques that would be needed for the Apollo Moon landings. Includes CD-ROM.


Choose your store:
U.S. - U.K. - E.U. - Worldwide


Get e-mail updates
Sign up for our NewsAlert service and have the latest news in astronomy and space e-mailed direct to your desktop (privacy note: your e-mail address will not be used for any other purpose).



ERROR: Random File Unopenable
The random file, as specified in the $random_file perl variable was unopenable.

The file was not found on your file system. This means that it has either not been created or the path you have specified in $trrandom_file is incorrect.