A wheel within a wheel
SPACE TELESCOPE SCIENCE INSTITUTE PHOTO RELEASE
Posted: September 5, 2002


A nearly perfect ring of hot, blue stars pinwheels about the yellow nucleus of an unusual galaxy known as Hoag's Object. This image from NASA's Hubble Space Telescope captures a face-on view of the galaxy's ring of stars, revealing more detail than any existing photo of this object. The image may help astronomers unravel clues on how such strange objects form.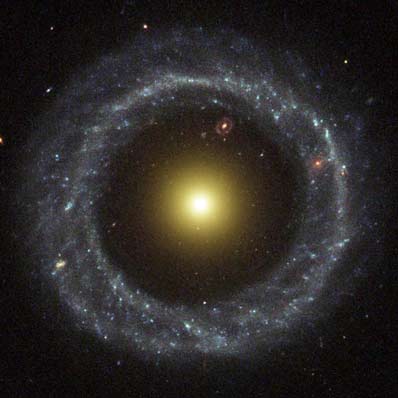 Image Credit: NASA and The Hubble Heritage Team (STScI/AURA); Acknowledgment: Ray A. Lucas (STScI/AURA)



The entire galaxy is about 120,000 light-years wide, which is slightly larger than our Milky Way Galaxy. The blue ring, which is dominated by clusters of young, massive stars, contrasts sharply with the yellow nucleus of mostly older stars. What appears to be a "gap" separating the two stellar populations may actually contain some star clusters that are almost too faint to see. Curiously, an object that bears an uncanny resemblance to Hoag's Object can be seen in the gap at the one o'clock position. The object is probably a background ring galaxy.

Ring-shaped galaxies can form in several different ways. One possible scenario is through a collision with another galaxy. Sometimes the second galaxy speeds through the first, leaving a "splash" of star formation. But in Hoag's Object there is no sign of the second galaxy, which leads to the suspicion that the blue ring of stars may be the shredded remains of a galaxy that passed nearby. Some astronomers estimate that the encounter occurred about 2 to 3 billion years ago.

This unusual galaxy was discovered in 1950 by astronomer Art Hoag. Hoag thought the smoke-ring-like object resembled a planetary nebula, the glowing remains of a Sun-like star. But he quickly discounted that possibility, suggesting that the mysterious object was most likely a galaxy. Observations in the 1970s confirmed this prediction, though many of the details of Hoag's galaxy remain a mystery.

The galaxy is 600 million light-years away in the constellation Serpens. The Wide Field and Planetary Camera 2 took this image on July 9, 2001.

The Space Telescope Science Institute (STScI) is operated by the Association of Universities for Research in Astronomy, Inc. (AURA), for NASA, under contract with the Goddard Space Flight Center, Greenbelt, MD. The Hubble Space Telescope is a project of international cooperation between NASA and the European Space Agency (ESA).




Hubble
Astronomy Now presents Hubble: the space telescope's view of the cosmos. A collection of the best images from the world's premier space observatory.


U.S. STORE

U.K. & WORLDWIDE STORE

Apollo 15 DVDs
Bring a unique piece of space history to your living room. Two- and six-disc Apollo 15 DVDs will be shipping soon.


U.S. STORE

U.K. & WORLDWIDE STORE

ERROR: Random File Unopenable
The random file, as specified in the $random_file perl variable was unopenable.

The file was not found on your file system. This means that it has either not been created or the path you have specified in $trrandom_file is incorrect.


Apollo 11 special patch


Special collectors' patch marking the 35th anniversary of the historic Apollo 11 moon landing is now available.


Choose your store:
U.S. - U.K.


Apollo 12 tribute DVD set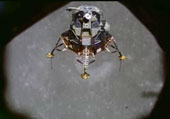 New! Featuring the jovial crew of Pete Conrad, Dick Gordon and Alan Bean, the Apollo 12 mission was struck by lightning shortly after liftoff but proceeded on the second successful exploration voyage to the lunar surface. This three-disc DVD brings the mission to life with extraordinary detail.


Choose your store:
U.S. - U.K. - E.U. - Worldwide


Fallen Heroes special patch


This special 12-inch embroidered patch commemorates the U.S. astronauts who made the ultimate sacrifice, honoring the crews of Apollo 1, Challenger and Columbia.


Choose your store:
U.S. - U.K. - E.U. - Worldwide


Women in Space

Women of Space: Cool Careers on the Final Frontier is for girls, young women, and anyone else interested in learning about exciting careers in space exploration. Includes CD-ROM.


Choose your store:
U.S. - U.K. - E.U. - Worldwide


Mars rover poster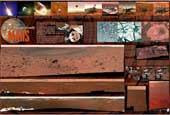 This new poster features some of the best pictures from NASA's amazing Mars Exploration Rovers Spirit and Opportunity.


Choose your store:
U.S.