Is the Universe older than expected?
EUROPEAN SPACE AGENCY NEWS RELEASE
Posted: July 10, 2002


An analysis of 13.5 thousand million-year-old X-rays, captured by ESA's XMM-Newton satellite, has shown that either the Universe may be older than astronomers had thought or that mysterious, undiscovered 'iron factories' litter the early Universe.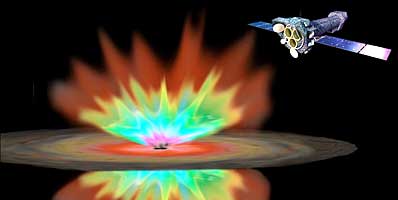 Artist's impression of the new 'unified model' for the different kinds of quasar activity. Photo: MPA/MPE



ESA's Norbert Schartel and colleagues from the Max-Planck-Institut für extraterrestrische Physik,Germany, found more iron than anyone thought possible in the extremely distant celestial object, APM 8279+5255. The object is a quasar, that is, a young galaxy containing an incredibly bright central region, caused by gas falling into a giant black hole.

APM 8279+5255 is 13.5 thousand million light years away. Scientists know this because they have estimated a property of its light known as the red shift, which is caused by the expansion of the Universe stretching the wavelengths of light emitted by the celestial object. XMM-Newton's data showed that iron was three times more abundant in the quasar than in our Solar System.

Since iron is released by exploding stars, according to precise physical phenomena, and scientists think it builds up across the Universe gradually with time. The Solar System formed just 5 thousand million years ago, so it should contain more iron than the quasar, which formed over 13.5 thousand million years ago. The fact that the quasar contains three times more iron than the Sun is therefore a major puzzle.

One possible explanation is that something is wrong with the way astronomers measure the age of objects in the Universe. The almost-holy red shift-distance-age conversion would therefore be wrong. Fred Jansen, ESA's project scientist for XMM-Newton, explains that this would mean rewriting the textbooks. "If you study the evolution of the Universe, one of the basic rules is that we can tie redshift to age. One distinct possibility to explain these observations is that, at the redshift we are looking at, the Universe is older than we think."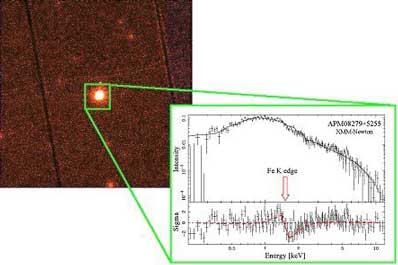 Spectrum of the quasar APM 08279+5255, showing iron-cloud traces. The left picture shows a photo of the quasar, taken by XMM-Newton. The dip in the spectrum of the quasar APM 08279+5255 is caused by the element iron. In a same way that our bones appear dark in X-ray photographs because they are opaque to X-rays, the outflowing iron clouds of APM 08279+5255 are opaque for X-rays that are created at the quasar's centre. At the 'absorption energy' characteristic for iron (marked by the red arrow), some part of the X-ray light is missing. Photo: ESA, Graphics: MPE



If the older-Universe interpretation is wrong, there is only one other, stranger possibility, according to Jansen. Somewhere in the early Universe there must be undiscovered 'iron factories', producing the metal by unknown physical means. Understandably, Jansen is cautious about this, saying, "This is the less likely solution in my opinion."

If such mysterious objects exist, perhaps XEUS (a next-generation X-ray satellite currently under study by ESA for launch sometime in the next decade) will discover them, because it will have the ability to see the very first galaxies.

In the shorter term, ESA is launching INTEGRAL, a gamma-ray-detecting satellite, in October 2002. It will observe exploding stars to study the formation of chemical elements and may explain the anomalous iron observations.

The paper containing these results is published on 10 July 2002, in Astrophysical Journal Letters, Vol. 573, L77. The authors were G. Hasinger and S. Komossa at the Max-Planck-Institut für Extraterrestrische Physik and N. Schartel at the European Space Agency.




Apollo 15 DVD - special price
For a limited time only, preorder your Apollo 15 DVDs at a special discount price. Two- and six-disc editions of this unique DVD are coming soon.


U.S. STORE

U.K. & WORLDWIDE STORE

Apollo 11
Apollo 11 - The NASA Mission Reports Vol. 3 is the first comprehensive study of man's first mission to another world is revealed in all of its startling complexity. Includes DVD!


U.S. STORE

WORLDWIDE STORE

John Glenn Mission Patch

Free shipping to U.S. addresses!


The historic first orbital flight by an American is marked by this commemorative patch for John Glenn and Friendship 7.


U.S. STORE

WORLDWIDE STORE

Final Shuttle Mission Patch

Free shipping to U.S. addresses!


The crew emblem for the final space shuttle mission is available in our store. Get this piece of history!


U.S. STORE

WORLDWIDE STORE

Celebrate the shuttle program
Free shipping to U.S. addresses!

This special commemorative patch marks the retirement of NASA's Space Shuttle Program. Available in our store!


U.S. STORE

WORLDWIDE STORE

Anniversary Shuttle Patch

Free shipping to U.S. addresses!

This embroidered patch commemorates the 30th anniversary of the Space Shuttle Program. The design features the space shuttle Columbia's historic maiden flight of April 12, 1981.


U.S. STORE

WORLDWIDE STORE

Mercury anniversary

Free shipping to U.S. addresses!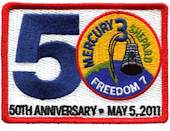 Celebrate the 50th anniversary of Alan Shephard's historic Mercury mission with this collectors' item, the official commemorative embroidered patch.


U.S. STORE

WORLDWIDE STORE

Fallen Heroes Patch Collection

The official patches from Apollo 1, the shuttle Challenger and Columbia crews are available in the store.


U.S. STORE

WORLDWIDE STORE

An insider's view of how Apollo flight controllers operated and just what they faced when events were crucial.


Choose your store:
U.S.

Gemini 7
Gemini 7: The NASA Mission Reports covers this 14-day mission by Borman and Lovell as they demonstrated some of the more essential facts of space flight. Includes CD-ROM.


Choose your store:
U.S. - U.K. - E.U. - Worldwide

Apollo patches
The Apollo Patch Collection: Includes all 12 Apollo mission patches plus the Apollo Program Patch. Save over 20% off the Individual price.


Choose your store:
U.S. - U.K. - E.U. - Worldwide

Mars Rover mission patch
A mission patch featuring NASA's Mars Exploration Rover is available from our online.


Choose your store:
U.S. - U.K. - E.U. - Worldwide

Apollo 9 DVD

On the road to the moon, the mission of Apollo 9 stands as an important gateway in experience and procedures. This 2-DVD collection presents the crucial mission on the voyage to the moon.


Choose your store:
U.S. - U.K. - E.U. - Worldwide

Hubble Posters

Stunning posters featuring images from the Hubble Space Telescope and world-renowned astrophotographer David Malin are now available from the Astronomy Now Store.


U.S. STORE

U.K. & WORLDWIDE STORE


Get e-mail updates
Sign up for our NewsAlert service and have the latest news in astronomy and space e-mailed direct to your desktop (privacy note: your e-mail address will not be used for any other purpose).