Hypervelocity winds rage in the Sun's atmosphere
NASA NEWS RELEASE
Posted: May 16, 2002


Winds of electrified gas rip through the solar atmosphere at nearly the speed of sound there, according to new observations from NASA's Transition Region and Coronal Explorer (TRACE) spacecraft and the European Space Agency/NASA Solar and Heliospheric Observatory (SOHO) spacecraft.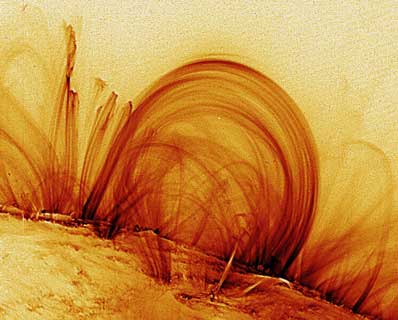 This false color image from the TRACE spacecraft of coronal loops is made using the ultraviolet light emitted by hot, electrified gas in the coronal loops. Photo: NASA and the TRACE team



The new result, from a team of astronomers at the Harvard-Smithsonian Center for Astrophysics (CfA) in Cambridge, Mass., shows that the winds and storms of the solar atmosphere -- at speeds up to 200,000 miles per hour -- so intense that they are more important than gravity in determining the density of the atmosphere. The Sun's gravity at its visible surface is about 28 times stronger than that at the Earth's surface; a 150-pound person would face an epic struggle to support 4,200 pounds if he or she could somehow stand on the solar surface. For the Earth's atmosphere to behave similarly, winds over 3,000 mph would be common on the surface.

"This discovery completely changes our understanding of coronal loops, immense, arch-shaped structures of electrified gas that comprise the Sun's outer atmosphere (corona)," said Amy Winebarger, lead author of a paper on this research published in March in the Astrophysical Journal. "We are excited about this because it increases our understanding of the corona, which is the location of explosive solar activity that occasionally disrupts high-technology systems at Earth." Winebarger, formerly at CfA, is a solar physicist for Computational Physics Incorporated, Springfield, Va., and is now with the Naval Research Laboratory in Washington.

The solar atmosphere is permeated with magnetic fields, generated by electrified gas, or plasma, churning violently beneath the visible surface. Solar astronomers have long observed loops of plasma, called coronal loops, which appear to trace out the corona's complex magnetic-field structure, much as iron filings reveal the invisible magnetic field surrounding a magnet. Coronal loops come in various sizes, but most are enormous, capable of spanning several Earths.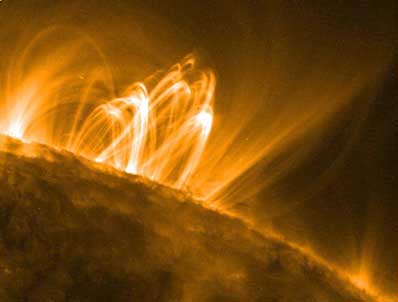 Coronal loops from the TRACE spacecraft. Photo: NASA and the TRACE team



Solar astronomers know the particles comprising plasma are electrically charged and feel magnetic forces. Thus, scientists thought coronal loops were tubes of plasma trapped by and enclosed in the arch-shaped magnetic fields of the corona.

The coronal loops have puzzling features, however. The strong pull of solar gravity led astronomers to believe that the plasma should be dense at the bases of the loop and thin at the top, just as the Earth's gravity pulls our atmosphere close to the surface, causing it to thin with increasing altitude. In fact, coronal loops seem to be about the same density throughout their height, even though some of them extend several hundred thousand miles (over a million kilometers) above the solar surface.

In their new observation, the astronomers saw bright blobs of plasma racing up and down the coronal loops in movies made from TRACE images. SOHO data confirmed that these plasma blobs were moving at tremendous speeds, leading the researchers to their new view that coronal loops are not static plasma- filled structures, but rather hypervelocity currents of plasma blasted from the solar surface and squirted between the magnetic structures in the corona.

"Rather than being tubes of plasma enclosed within a magnetic container, they are jets of hot plasma flowing along in the alleys between the strong coronal magnetic fields," said Leon Golub of CfA, a co-author of the paper. If coronal loops are indeed currents of plasma being propelled against solar gravity, they would have about the same density along their entire height, just like the arc of water from a water fountain.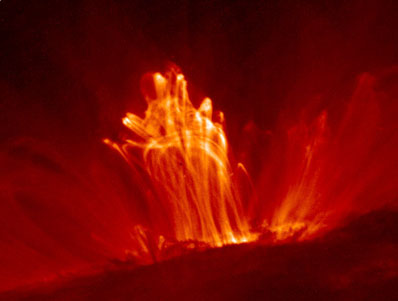 Coronal loops come in a variety of shapes and sizes, but most are enormous, capable of spanning several Earth's. Photo: NASA and the TRACE team



The researchers observe plasma flows in approximately half of all coronal loops visible by TRACE. Flows may be present in the remainder, but they might be too faint for TRACE to detect, according to the team. New instruments will be required to determine if all coronal loops have high-speed flows, because some loops are too small, or are of a different temperature than what TRACE can see.

According to the researchers, the plasma current that forms a coronal loop is probably caused by uneven heating at the bases of the loop, with plasma racing from the hotter end to the cooler end. "The bases of a coronal loop are separated by many thousands of miles, and there is no reason to assume that the environment at one end will be exactly the same, and input exactly the same amount of heat, as the environment at the other end," said Golub.

The researchers aren't sure what causes coronal-loop heating in the first place, but their work may help discover the mechanism, shedding light on the long-standing mystery of why the corona is hundreds of times hotter than the solar surface. "There are many theories to explain coronal heating, but only a few of them can produce the hypervelocity plasma flows we see in coronal loops, so this discovery narrows the possibilities greatly," said Winebarger.




Apollo patches
The Apollo Patch Collection: Includes all 12 Apollo mission patches plus the Apollo Program Patch. Save over 20% off the Individual price.


Choose your store:
U.S. - U.K. - E.U. - Worldwide

John Glenn Mission Patch

Free shipping to U.S. addresses!


The historic first orbital flight by an American is marked by this commemorative patch for John Glenn and Friendship 7.


U.S. STORE

WORLDWIDE STORE

Final Shuttle Mission Patch

Free shipping to U.S. addresses!


The crew emblem for the final space shuttle mission is available in our store. Get this piece of history!


U.S. STORE

WORLDWIDE STORE

Celebrate the shuttle program
Free shipping to U.S. addresses!

This special commemorative patch marks the retirement of NASA's Space Shuttle Program. Available in our store!


U.S. STORE

WORLDWIDE STORE

Anniversary Shuttle Patch

Free shipping to U.S. addresses!

This embroidered patch commemorates the 30th anniversary of the Space Shuttle Program. The design features the space shuttle Columbia's historic maiden flight of April 12, 1981.


U.S. STORE

WORLDWIDE STORE

Mercury anniversary

Free shipping to U.S. addresses!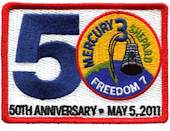 Celebrate the 50th anniversary of Alan Shephard's historic Mercury mission with this collectors' item, the official commemorative embroidered patch.


U.S. STORE

WORLDWIDE STORE

Fallen Heroes Patch Collection

The official patches from Apollo 1, the shuttle Challenger and Columbia crews are available in the store.


U.S. STORE

WORLDWIDE STORE

Apollo 11 special patch

Special collectors' patch marking the 35th anniversary of the historic Apollo 11 moon landing is now available.


Choose your store:
U.S. - U.K. - E.U. - Worldwide

Inside Apollo mission control
An insider's view of how Apollo flight controllers operated and just what they faced when events were crucial.


Choose your store:
U.S.

The ultimate Apollo 11 DVD
This exceptional chronicle of the historic Apollo 11 lunar landing mission features new digital transfers of film and television coverage unmatched by any other.


Choose your store:
U.S. - U.K. - E.U. - Worldwide

Next ISS crew

Own a little piece of history with this official patch for the International Space Station's Expedition 11 crew. We'll ship yours today!


Choose your store:
U.S.

Liberty Bell 7
Lost Spacecraft - the Search for Liberty Bell 7 describes the exploration of two unique and dangerous environments - space and underwater - in the recovery of Gus Grissom's Mercury capsule.


U.S. STORE

WORLDWIDE STORE

Apollo 12 tribute DVD set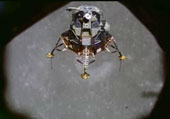 New! Featuring the jovial crew of Pete Conrad, Dick Gordon and Alan Bean, the Apollo 12 mission was struck by lightning shortly after liftoff but proceeded on the second successful exploration voyage to the lunar surface. This three-disc DVD brings the mission to life with extraordinary detail.


Choose your store:
U.S. - U.K. - E.U. - Worldwide

Fallen Heroes special patch

This special 12-inch embroidered patch commemorates the U.S. astronauts who made the ultimate sacrifice, honoring the crews of Apollo 1, Challenger and Columbia.


Choose your store:
U.S. - U.K. - E.U. - Worldwide

Women in Space
Women of Space: Cool Careers on the Final Frontier is for girls, young women, and anyone else interested in learning about exciting careers in space exploration. Includes CD-ROM.


Choose your store:
U.S. - U.K. - E.U. - Worldwide

Mars rover poster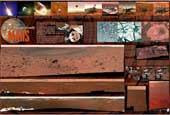 This new poster features some of the best pictures from NASA's amazing Mars Exploration Rovers Spirit and Opportunity.


Choose your store:
U.S.

Hubble Posters

Stunning posters featuring images from the Hubble Space Telescope and world-renowned astrophotographer David Malin are now available from the Astronomy Now Store.


U.S. STORE

U.K. & WORLDWIDE STORE


Get e-mail updates
Sign up for our NewsAlert service and have the latest news in astronomy and space e-mailed direct to your desktop (privacy note: your e-mail address will not be used for any other purpose).