Guinness names aerogel world's lightest solid
NASA/JPL NEWS RELEASE
Posted: May 8, 2002


A new version of aerogel, the particle-collecting substance on NASA's Stardust spacecraft, has been recognized by Guinness World Records as the solid with the lowest density.

Dr. Steven Jones of NASA's Jet Propulsion Laboratory, Pasadena, Calif., a materials scientist who created the aerogel used by Stardust, also created a lighter version that weighs only 3 milligrams per cubic centimeter (.00011 pounds per cubic inch.) The team received the official certificate Monday.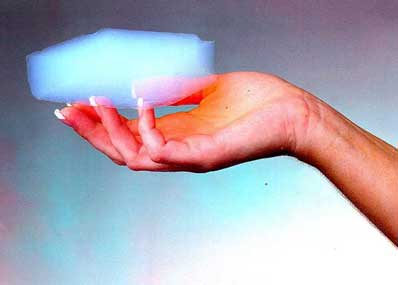 Credit: NASA/JPL



Guinness World Records approved the new aerogel's application for the least dense solid in March. Astronomer David Hawksett, Guinness World Records' science and technology judge, decided that Jones' aerogel beat out the previous record holder, an aerogel that weighed 5 milligrams per cubic centimeter (.00018 pounds per cubic inch.)

Aerogel is pure silicon dioxide and sand, just as is glass, but aerogel is a thousand times less dense than glass because it is 99.8 percent air. It is prepared like gelatin by mixing a liquid silicon compound and a fast-evaporating liquid solvent, forming a gel that is then dried in an instrument similar to a pressure cooker. The mixture thickens, and then careful heating and depressurizing produce a glassy sponge of silicon.

What remains is sometimes called "solid smoke," for its cloudy translucent color and super-light weight. Surprisingly, this seemingly brittle substance is durable and easily survives launch and space environments.

"It's probably not possible to make aerogel any lighter than this because then it wouldn't gel," Jones said. "The molecules of silicon wouldn't connect. And it's not possible to make it lighter than the density of air, 1.2 milligrams per cubic centimeter (.00004 pounds per cubic inch), because aerogel is filled with air." To change the density, Jones simply changes the amount of silicon in the initial mixture.

Stardust will use aerogel to capture particles from comet Wild 2 in 2004. NASA used aerogel for thermal insulation on the Mars Pathfinder mission. It will also be used on the 2003 Mars Exploration Rover, and may aid a proposed fundamental- physics testing mission and the Mars Scout Program.

More information is available at: http://stardust.jpl.nasa.gov/tech/aerogel.html.

JPL is a division of the California Institute of Technology, Pasadena, Calif.




Apollo 11 special patch

Special collectors' patch marking the 35th anniversary of the historic Apollo 11 moon landing is now available.


Choose your store:
U.S. - U.K. - E.U. - Worldwide

Inside Apollo mission control
An insider's view of how Apollo flight controllers operated and just what they faced when events were crucial.


Choose your store:
U.S.

The ultimate Apollo 11 DVD
This exceptional chronicle of the historic Apollo 11 lunar landing mission features new digital transfers of film and television coverage unmatched by any other.


Choose your store:
U.S. - U.K. - E.U. - Worldwide

Next ISS crew

Own a little piece of history with this official patch for the International Space Station's Expedition 11 crew. We'll ship yours today!


Choose your store:
U.S.

ERROR: Random File Unopenable
The random file, as specified in the $random_file perl variable was unopenable.

The file was not found on your file system. This means that it has either not been created or the path you have specified in $trrandom_file is incorrect.


Apollo 12 tribute DVD set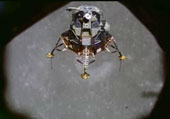 New! Featuring the jovial crew of Pete Conrad, Dick Gordon and Alan Bean, the Apollo 12 mission was struck by lightning shortly after liftoff but proceeded on the second successful exploration voyage to the lunar surface. This three-disc DVD brings the mission to life with extraordinary detail.


Choose your store:
U.S. - U.K. - E.U. - Worldwide


Fallen Heroes special patch


This special 12-inch embroidered patch commemorates the U.S. astronauts who made the ultimate sacrifice, honoring the crews of Apollo 1, Challenger and Columbia.


Choose your store:
U.S. - U.K. - E.U. - Worldwide


Women in Space

Women of Space: Cool Careers on the Final Frontier is for girls, young women, and anyone else interested in learning about exciting careers in space exploration. Includes CD-ROM.


Choose your store:
U.S. - U.K. - E.U. - Worldwide


Mars rover poster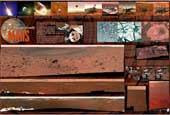 This new poster features some of the best pictures from NASA's amazing Mars Exploration Rovers Spirit and Opportunity.


Choose your store:
U.S.


Final Shuttle Mission Patch



Free shipping to U.S. addresses!



The crew emblem for the final space shuttle mission is now available in our store. Get this piece of history!


U.S. STORE


WORLDWIDE STORE



STS-134 Patch



Free shipping to U.S. addresses!



The final planned flight of space shuttle Endeavour is symbolized in the official embroidered crew patch for STS-134. Available in our store!


U.S. STORE


WORLDWIDE STORE



Ares 1-X Patch


The official embroidered patch for the Ares 1-X rocket test flight, is available for purchase.


U.S. STORE


WORLDWIDE STORE



Apollo Collage


This beautiful one piece set features the Apollo program emblem surrounded by the individual mission logos.


U.S. STORE


WORLDWIDE STORE



Project Orion


The Orion crew exploration vehicle is NASA's first new human spacecraft developed since the space shuttle a quarter-century earlier. The capsule is one of the key elements of returning astronauts to the Moon.


U.S. STORE



Fallen Heroes Patch Collection


The official patches from Apollo 1, the shuttle Challenger and Columbia crews are available in the store.


U.S. STORE


WORLDWIDE STORE



Gemini 12

Gemini 12: The NASA Mission Reports covers the voyage of James Lovell and Buzz Aldrin that capped the Gemini program's efforts to prove the technologies and techniques that would be needed for the Apollo Moon landings. Includes CD-ROM.


Choose your store:
U.S. - U.K. - E.U. - Worldwide