Antifreeze found in space
NATIONAL RADIO ASTRONOMY OBSERVATORY NEWS RELEASE
Posted: April 16, 2002

| | |
| --- | --- |
| | An image of the 12 Meter Telescope. Photo: NRAO |
Ethylene glycol, the chemical commonly used as automobile antifreeze, was discovered recently in a massive interstellar cloud of dust and gas near the center of the Milky Way Galaxy. Scientists used the National Science Foundation's (NSF) 12 Meter Radio Telescope to detect this organic molecule.

"Though we most commonly think of ethylene glycol as antifreeze, it actually is associated with the formation of more complex sugar molecules that are necessary for life," said Jan M. Hollis of NASA Goddard Space Flight Center in Greenbelt, Maryland. "Finding this molecule supports the view that prebiotic chemistry may first get started in interstellar space."

Hollis collaborated with Frank J. Lovas of the University of Illinois, Philip R. Jewell of the National Radio Astronomy Observatory (NRAO), and Laurent H. Coudert of the University of Paris at Campus d'Orsay to identify the ethylene glycol molecule. Their results were accepted for publication in the Astrophysical Journal Letters.

The scientific team detected ethylene glycol in the molecular cloud called Sagittarius, located 26,000 light-years from Earth near the center of our Galaxy. Though rarefied by Earth standards, interstellar clouds like this one can enable complex chemical reactions over time scales of hundreds-of-thousands or even millions of years. About 130 different molecules are known to exist in interstellar clouds.
| | |
| --- | --- |
| | A graphic of the molecule ethlene glycol. Photo: NRAO |
Ethylene glycol (a 10-atom molecule made up of carbon, hydrogen, and oxygen) is one of the five largest molecules ever discovered in space. It also is a chemically reduced form of 8-atom glycolaldehyde, the simplest member of the sugar family. This means that ethylene glycol can be produced from glycolaldehyde by the addition of two hydrogen atoms. Both molecules have now been detected in space by this team.

"These detections suggest that the production of more complex sugars, like ribose, may be occurring in interstellar clouds," Hollis said. Ribose sugar is required for the backbone structure of RNA; a less complex form, deoxyribose sugar, is required for the backbone structure of DNA.

"This discovery further demonstrates how important interstellar chemistry may be to understanding the creation of biological molecules on the early Earth," said Jewell. "Some scientists have even speculated that the Earth could have been 'seeded' with complex molecules from passing comets, which were formed from the condensing gas nebula that produced our Solar System."

Astronomers on Earth are able to detect and identify the faint radio emission of molecules in space as they tumble and vibrate within interstellar clouds, emitting radio waves at precise frequencies. These frequencies are unique to each molecule, and provide a "fingerprint" in the electromagnetic spectrum. Signals from other molecules can sometimes fall at nearby frequencies, in effect smudging the ethylene glycol fingerprint. The scientists used four different signals from ethylene glycol to secure its detection.

The researchers made their discovery with data taken in May 2000 with the 12 Meter Radio Telescope at Kitt Peak, Arizona, which has been a pioneering instrument in detecting molecules in space. Though operated by NRAO at the time, this telescope now is operated by the Steward Observatory of the University of Arizona. The research team plans future work on interstellar biomolecules using the new NRAO Robert C. Byrd Green Bank Telescope, which promises to be the most sensitive telescope yet for such work.

The National Radio Astronomy Observatory is a facility of the National Science Foundation, operated under cooperative agreement by Associated Universities, Inc.




Apollo 12 tribute DVD set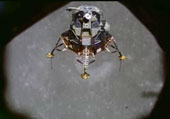 New! Featuring the jovial crew of Pete Conrad, Dick Gordon and Alan Bean, the Apollo 12 mission was struck by lightning shortly after liftoff but proceeded on the second successful exploration voyage to the lunar surface. This three-disc DVD brings the mission to life with extraordinary detail.


Choose your store:
U.S. - U.K. - E.U. - Worldwide

Fallen Heroes special patch

This special 12-inch embroidered patch commemorates the U.S. astronauts who made the ultimate sacrifice, honoring the crews of Apollo 1, Challenger and Columbia.


Choose your store:
U.S. - U.K. - E.U. - Worldwide

Women in Space
Women of Space: Cool Careers on the Final Frontier is for girls, young women, and anyone else interested in learning about exciting careers in space exploration. Includes CD-ROM.


Choose your store:
U.S. - U.K. - E.U. - Worldwide

Mars rover poster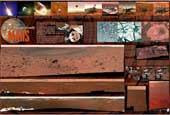 This new poster features some of the best pictures from NASA's amazing Mars Exploration Rovers Spirit and Opportunity.


Choose your store:
U.S.

Apollo 11 special patch

Special collectors' patch marking the 35th anniversary of the historic Apollo 11 moon landing is now available.


Choose your store:
U.S. - U.K. - E.U. - Worldwide

Inside Apollo mission control
An insider's view of how Apollo flight controllers operated and just what they faced when events were crucial.


Choose your store:
U.S.

The ultimate Apollo 11 DVD
This exceptional chronicle of the historic Apollo 11 lunar landing mission features new digital transfers of film and television coverage unmatched by any other.


Choose your store:
U.S. - U.K. - E.U. - Worldwide

Next ISS crew

Own a little piece of history with this official patch for the International Space Station's Expedition 11 crew. We'll ship yours today!


Choose your store:
U.S.

ERROR: Random File Unopenable
The random file, as specified in the $random_file perl variable was unopenable.

The file was not found on your file system. This means that it has either not been created or the path you have specified in $trrandom_file is incorrect.


John Glenn Mission Patch



Free shipping to U.S. addresses!



The historic first orbital flight by an American is marked by this commemorative patch for John Glenn and Friendship 7.


U.S. STORE


WORLDWIDE STORE



Final Shuttle Mission Patch



Free shipping to U.S. addresses!



The crew emblem for the final space shuttle mission is available in our store. Get this piece of history!


U.S. STORE


WORLDWIDE STORE



Celebrate the shuttle program


Free shipping to U.S. addresses!


This special commemorative patch marks the retirement of NASA's Space Shuttle Program. Available in our store!


U.S. STORE


WORLDWIDE STORE



Anniversary Shuttle Patch



Free shipping to U.S. addresses!


This embroidered patch commemorates the 30th anniversary of the Space Shuttle Program. The design features the space shuttle Columbia's historic maiden flight of April 12, 1981.


U.S. STORE


WORLDWIDE STORE



Mercury anniversary



Free shipping to U.S. addresses!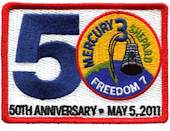 Celebrate the 50th anniversary of Alan Shephard's historic Mercury mission with this collectors' item, the official commemorative embroidered patch.


U.S. STORE


WORLDWIDE STORE



Fallen Heroes Patch Collection


The official patches from Apollo 1, the shuttle Challenger and Columbia crews are available in the store.


U.S. STORE


WORLDWIDE STORE



Hubble Posters


Stunning posters featuring images from the Hubble Space Telescope and world-renowned astrophotographer David Malin are now available from the Astronomy Now Store.


U.S. STORE


U.K. & WORLDWIDE STORE



Get e-mail updates
Sign up for our NewsAlert service and have the latest news in astronomy and space e-mailed direct to your desktop (privacy note: your e-mail address will not be used for any other purpose).