A new way to find distance of gamma-ray bursts
RICE UNIVERSITY NEWS RELEASE
Posted: January 12, 2002


Astronomers at Rice University in Houston have discovered that the rate at which a gamma-ray burst cools might be used to calculate the distance of that burst.

Their findings are being presented this week at the American Astronomical Society meeting in Washington, D.C. The researchers believe that this additional technique will enable scientists to learn more about the evolution of the early universe.

Gamma-ray bursts are transient, short flashes of gamma rays that occur randomly in the sky every day. The gamma rays themselves cannot be seen by human eyes, but astronomers' instruments in orbit around Earth can detect them. Since 1997, scientists have known that these bursts represent gigantic explosions likely associated with the death of massive stars at a distance of about 10 billion light years in the early part of the universe. By determining the distance of gamma-ray bursts, astronomers hope to trace the formation of massive stars and the structure and evolution of the early universe.

About 3,000 gamma-ray bursts have been recorded, mostly during the 1990s, but astronomers know the actual distance to only a very few bursts. In recent years, two methods have been proposed for indirectly calculating the distance from the available data. Edison Liang and Dan Kocevski at Rice University, collaborating with Brad Schaefer at The University of Texas at Austin, have come up with a third.

"It's well-known that gamma-ray bursts start at high energy and evolve to lower energies," said Liang, a professor of physics and astronomy at Rice. Gamma-ray spectrometers convey this shift in energy through changes in color, going from blue (gamma rays with high energy) to red (lower energy).

"We examined 16 gamma-ray bursts and found that the apparent rate at which the burst is cooling off appears to be directly related to the distance of the burst, provided that the rate is measured not in terms of time, but in terms of the total number of gamma rays emitted since the beginning of the pulse," Liang said.

But this technique works only on gamma-ray bursts that have separable pulses, or peaks, of intensity. Bursts that are "chaotic" have multiple peaks, or spikes, of energy. The combination of data from multiple overlapping gamma-ray pulses makes it difficult to estimate the true cooling rate of the highest peak, according to Kocevski, a graduate student at Rice. "You tend to underestimate the cooling rate when observing bursts with multiple peaks," he said.

Since the majority of gamma-ray bursts are of the chaotic variety, Liang and Kocevski are now trying to develop methods to separate the color of overlapping pulses from within the chaotic bursts to determine the true cooling rate. Using software the Rice group developed to measure the cooling of bursts, the researchers are hopeful that they will be able to apply their technique for calculating a gamma-ray burst's distance to chaotic bursts. This would expand the database of knowledge from which deductions about the formation of the early universe can be made and provide new insights into the physical mechanisms of these enigmatic explosions.

"It's very labor-intensive and tedious, but we have high hopes it will work eventually," Liang said.




ERROR: Random File Unopenable
The random file, as specified in the $random_file perl variable was unopenable.

The file was not found on your file system. This means that it has either not been created or the path you have specified in $trrandom_file is incorrect.


Apollo 11 special patch


Special collectors' patch marking the 35th anniversary of the historic Apollo 11 moon landing is now available.


Choose your store:
U.S. - U.K. - E.U. - Worldwide


Inside Apollo mission control

An insider's view of how Apollo flight controllers operated and just what they faced when events were crucial.


Choose your store:
U.S.


The ultimate Apollo 11 DVD

This exceptional chronicle of the historic Apollo 11 lunar landing mission features new digital transfers of film and television coverage unmatched by any other.


Choose your store:
U.S. - U.K. - E.U. - Worldwide


Next ISS crew


Own a little piece of history with this official patch for the International Space Station's Expedition 11 crew. We'll ship yours today!


Choose your store:
U.S.


Columbia Report

The official accident investigation report into the loss of the space shuttle Columbia and its crew of seven. Includes CD-ROM.


Choose your store:
U.S.


John Glenn Mission Patch



Free shipping to U.S. addresses!



The historic first orbital flight by an American is marked by this commemorative patch for John Glenn and Friendship 7.


U.S. STORE


WORLDWIDE STORE



Final Shuttle Mission Patch



Free shipping to U.S. addresses!



The crew emblem for the final space shuttle mission is available in our store. Get this piece of history!


U.S. STORE


WORLDWIDE STORE



Celebrate the shuttle program


Free shipping to U.S. addresses!


This special commemorative patch marks the retirement of NASA's Space Shuttle Program. Available in our store!


U.S. STORE


WORLDWIDE STORE



Anniversary Shuttle Patch



Free shipping to U.S. addresses!


This embroidered patch commemorates the 30th anniversary of the Space Shuttle Program. The design features the space shuttle Columbia's historic maiden flight of April 12, 1981.


U.S. STORE


WORLDWIDE STORE



Mercury anniversary



Free shipping to U.S. addresses!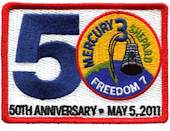 Celebrate the 50th anniversary of Alan Shephard's historic Mercury mission with this collectors' item, the official commemorative embroidered patch.


U.S. STORE


WORLDWIDE STORE



Fallen Heroes Patch Collection


The official patches from Apollo 1, the shuttle Challenger and Columbia crews are available in the store.


U.S. STORE


WORLDWIDE STORE




Get e-mail updates
Sign up for our NewsAlert service and have the latest news in astronomy and space e-mailed direct to your desktop (privacy note: your e-mail address will not be used for any other purpose).




Station Calendar

NEW! This beautiful 12" by 12" wall calendar features stunning images of the International Space Station and of the people, equipment, and space craft associated with it, as it takes shape day by day in orbit high above the Earth.


U.S. STORE


U.K. & WORLDWIDE STORE