QuikScat ocean wind craft sees a quiet day in Atlantic
NASA/JPL PHOTO RELEASE
Posted: December 4, 2000


This recent image shows the winds over the Atlantic Ocean measured by the Seawinds instrument on the QuickScat satellite. The satellite circles the globe once a day.

The line just above the equator is the Doldrums, where the trade winds from north and south meet and sailors encounter calms or shifting winds. High winds in the northern latitudes drive weather on the U.S. East Coast and in Europe. The counterclock-wise swirl in the southern Atlantic is a large high-pressure system.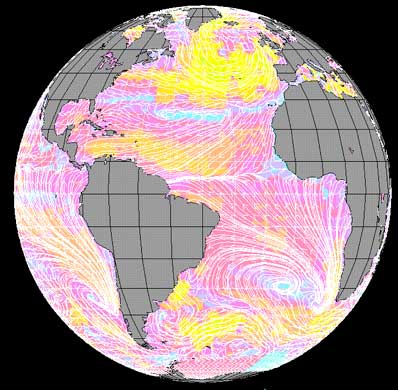 Seawinds data. Photo: NASA/JPL






Hubble Posters

Stunning posters featuring images from the Hubble Space Telescope and world-renowned astrophotographer David Malin are now available from the Astronomy Now Store.


U.S. STORE

U.K. & WORLDWIDE STORE

Baseball caps

NEW! The NASA "Meatball" logo appears on a series of stylish baseball caps available now from the Astronomy Now Store.


U.S. STORE

U.K. & WORLDWIDE STORE

The Infinite Journey

The triumphs and tragedies of the space program are recalled by those who were there in this glossy 240-page book from the Discovery Channel.



MORE - amazon.com
MORE - amazon.co.uk



Get e-mail updates
Sign up for our NewsAlert service and have the latest news in astronomy and space e-mailed direct to your desktop (privacy note: your e-mail address will not be used for any other purpose).



Station Calendar
NEW! This beautiful 12" by 12" wall calendar features stunning images of the International Space Station and of the people, equipment, and space craft associated with it, as it takes shape day by day in orbit high above the Earth.


U.S. STORE

U.K. & WORLDWIDE STORE