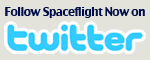 NewsAlert





Sign up for our NewsAlert service and have the latest news in astronomy and space e-mailed direct to your desktop.


Privacy note: your e-mail address will not be used for any other purpose.







The Delta 2-Heavy rocket
FACT SHEET
Posted: September 3, 2011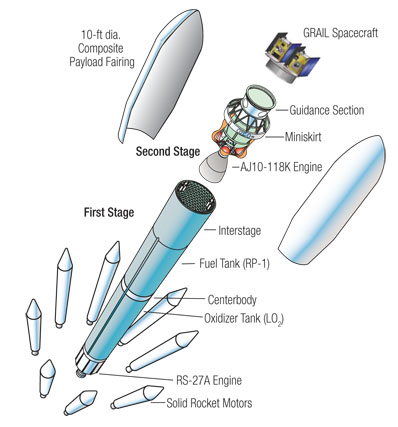 An illustration of the Delta 2 rocket for this launch. Credit: ULA



A United Launch Alliance Delta 2 7920-Heavy will be used to launch the GRAIL spacecraft for NASA.

The two-stage launch vehicle has four major assemblies: the first stage, including main engine and nine strap-on solid propellant rocket motors; interstage; second stage; and 10-foot diameter payload fairing. The Delta 2 is approximately 126 feet tall and eight feet wide.

Manufactured by Pratt & Whitney Rocketdyne, the RS-27A main engine operates on liquid oxygen and RP-1 (kerosene). The RS-27A has a sea-level thrust of 207,000 pounds. Each of the Alliant Techsystems solid strap-on motors has a sea-level thrust of 136,400 pounds. The main engine and six of solid rocket motors burn at liftoff.

An Aerojet AJ10-118K engine powers the second stage and burns Aerozine-50 fuel and nitrogen tetroxide oxidizer. Ignited at altitude, the engine has a vacuum-rated thrust of 9,645 pounds.

The United Launch Alliance Delta 2 family of expendable launch vehicles was derived from the Delta rockets built and launched since 1960. Delta's origins go back to the Thor intermediate-range ballistic missile, which was developed in the mid-1950s for the U.S. Air Force. The Thor, a single-stage, liquid-fueled rocket, was modified to become the Delta launch vehicle, which later evolved into the Delta 2.

Delta 2 rockets can be configured as two-or three-stage launch vehicles with a varying number of strap-on solid rocket boosters and two sizes of payload fairings, depending on mission requirements.




Final Shuttle Mission Patch

Free shipping to U.S. addresses!


The crew emblem for the final space shuttle mission is now available in our store. Get this piece of history!


U.S. STORE

WORLDWIDE STORE

STS-134 Patch

Free shipping to U.S. addresses!


The final planned flight of space shuttle Endeavour is symbolized in the official embroidered crew patch for STS-134. Available in our store!


U.S. STORE

WORLDWIDE STORE

Ares 1-X Patch

The official embroidered patch for the Ares 1-X rocket test flight, is available for purchase.


U.S. STORE

WORLDWIDE STORE

Apollo Collage

This beautiful one piece set features the Apollo program emblem surrounded by the individual mission logos.


U.S. STORE

WORLDWIDE STORE

Project Orion

The Orion crew exploration vehicle is NASA's first new human spacecraft developed since the space shuttle a quarter-century earlier. The capsule is one of the key elements of returning astronauts to the Moon.


U.S. STORE

Fallen Heroes Patch Collection

The official patches from Apollo 1, the shuttle Challenger and Columbia crews are available in the store.


U.S. STORE

WORLDWIDE STORE