Upgraded satellite en route to GPS constellation
BY JUSTIN RAY
SPACEFLIGHT NOW
Posted: December 21, 2003


With a flash of blinding light, a $45 million replacement craft began its thunderous trek toward the U.S. military's Global Positioning System constellation Sunday morning aboard a Boeing Delta 2 rocket.


| | |
| --- | --- |
| | The Delta 2 rocket lifts off Sunday with GPS 2R-10. Photo: Carleton Bailie/Boeing |
The 126-foot-tall booster departed its frigid Florida launch pad at 3:05 a.m. EST (0805 GMT). The mission was delayed 15 minutes after an alarm sounded, prompting engineers to review the situation before resetting the countdown clock for liftoff at the very end of the day's available launch window.

After a 68-minute ride atop the three-stage launcher, the GPS 2R-10 spacecraft was deployed into a temporary orbit around Earth.

"Our Delta team has done an outstanding job in supporting the customer, by providing absolute mission assurance," said Dan Collins, vice president and general manager, Delta Programs, for Boeing.

The satellite will fire an onboard solid-fueled motor later this week to reach its perch 11,000 miles above the planet. By mid-Janauary, the Lockheed Martin-made craft should be fully tested and ready to join the GPS network.

GPS satellites send continuous navigation signals that allow users around the world to find their position in latitude, longitude and altitude and determine time. The signals are so accurate that time can be figured to less than a millionth of a second, velocity to within a fraction of a mile per hour and location to within a few feet.

The constellation is relied upon heavily by U.S. military forces, helping guide aircraft, ships, troops and precision bombs.

"As recently as Operation Red Dawn when our Army's 4th Infantry Division pulled Saddam Hussein from his spider hole, GPS satellites have played a key role as an enabler of today's American and coalition war fighting capabilities," said Capt. Andy Wulfestieg, chief of GPS operations section at Air Force Space command.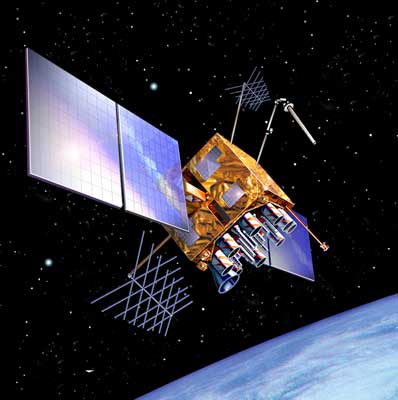 An artist's concept of a GPS Block 2R satellite orbiting Earth. Credit: Lockheed Martin



Citing a story recently told to him by an Army major, Col. Allan Ballenger, the Air Force's system program director for the NAVSTAR GPS Joint Program Office, said the navigation network helps the military "make life and death decisions each and every day."

"His job over in Afghanistan was leading the team sweeping for mine fields. In this particular example, they are able to go in and plot where bad places are and good places are."

This newest satellite is the first to feature an advanced antenna panel to increase power for GPS receivers. It replaces an old model spacecraft in the constellation that has surpassed its design life and suffers from a solar array drive problem, officials noted.

GPS 2R-10, also known as SVN-47, will fill the Plane E, Slot 2 position in the GPS network. It takes over for GPS 2A-10 launched on November 26, 1990.

This was the third launch in 2003 to sustain the GPS fleet, with four more planned next year. The first is expected in March.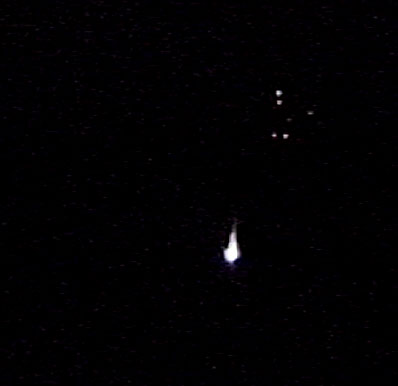 The six decarded ground-lit solid rocket boosters are visible from the Cape Press Site as the Delta 2 rocket streaks onward with the power of its main engine and air-lit boosters. Photo: Stephen Clark/Spaceflight Now SEE LAUNCH PHOTO GALLERY



There are eleven more 2R-series satellites waiting to fly, eight of which have been modernized with two new military signals and a second civil signal to improve capabilities for users. The first modernized craft is slated for launch at the end of 2004.

"The GPS 2R program is a great example of how teamwork and technology come together to provide a wide range of military and civilian uses for navigation and precision-timing applications," said Dave Podlesney, Lockheed Martin's GPS 2R program director. "We take great pride in achieving mission success for our Air Force customer and look forward to delivering another high performance spacecraft to our men and women in uniform, as well as for civil, scientific and commercial users around the globe."

The GPS network features 24 primary satellites split into six orbital planes with four spacecraft in each. Some planes also have additional satellites to enhance coverage and serve as backups. The orbiting system currently has 28 craft in service, the Air Force says.

"The health of the constellation is excellent. With the addition of GPS 2R-10, we will continue to provide tremendous navigation and targeting capabilities critical to our warfighters around the world," Col. Ballenger said.


Video coverage for subscribers only:


VIDEO: LIFTOFF AS SEEN FROM CAPE PRESS SITE QT


SUBSCRIBE NOW






Flight Data File
Vehicle: Delta 2 (7925-9.5)
Payload: GPS 2R-10
Launch date: Dec. 21, 2003
Launch window: 2:50-3:05 a.m. EST (0750-0805 GMT)
Launch site: SLC-17A, Cape Canaveral, Florida
Satellite broadcast: AMC 9, Transponder 4, C-band



Pre-launch briefing
Mission preview - Our story providing an overview of this launch.



Weather forecast - The latest forecast for launch day conditions.



Launch timeline - Chart with times and descriptions of events to occur during the launch.



Ground track - See the trajectory the rocket will follow during its flight.



Global Positioning System - Description of the U.S. Air Force's space-based navigation network.



Delta 2 rocket - Overview of the Delta 2 7925-model rocket used to launch GPS satellites.



SLC-17 - The launch complex where Delta rockets fly from Cape Canaveral.



Delta directory - See our coverage of previous Delta rocket flights.


Soviet Space
For the first time ever available in the West. Rocket & Space Corporation Energia: a complete pictorial history of the Soviet/Russian Space Program from 1946 to the present day all in full color. Available from our store.


Choose your store:
U.S. - U.K. - E.U. - Worldwide

Viking patch
This embroidered mission patch celebrates NASA's Viking Project which reached the Red Planet in 1976.


Choose your store:
U.S. - U.K. - E.U. - Worldwide

Apollo 7 DVD

For 11 days the crew of Apollo 7 fought colds while they put the Apollo spacecraft through a workout, establishing confidence in the machine what would lead directly to the bold decision to send Apollo 8 to the moon just 2 months later.


Choose your store:
U.S. - U.K. - E.U. - Worldwide

Gemini 12
Gemini 12: The NASA Mission Reports covers the voyage of James Lovell and Buzz Aldrin that capped the Gemini program's efforts to prove the technologies and techniques that would be needed for the Apollo Moon landings. Includes CD-ROM.


Choose your store:
U.S. - U.K. - E.U. - Worldwide

Apollo 12 tribute DVD set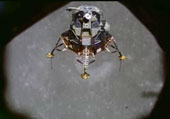 New! Featuring the jovial crew of Pete Conrad, Dick Gordon and Alan Bean, the Apollo 12 mission was struck by lightning shortly after liftoff but proceeded on the second successful exploration voyage to the lunar surface. This three-disc DVD brings the mission to life with extraordinary detail.


Choose your store:
U.S. - U.K. - E.U. - Worldwide

Fallen Heroes special patch

This special 12-inch embroidered patch commemorates the U.S. astronauts who made the ultimate sacrifice, honoring the crews of Apollo 1, Challenger and Columbia.


Choose your store:
U.S. - U.K. - E.U. - Worldwide

Women in Space
Women of Space: Cool Careers on the Final Frontier is for girls, young women, and anyone else interested in learning about exciting careers in space exploration. Includes CD-ROM.


Choose your store:
U.S. - U.K. - E.U. - Worldwide

Mars rover poster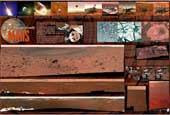 This new poster features some of the best pictures from NASA's amazing Mars Exploration Rovers Spirit and Opportunity.


Choose your store:
U.S.

Ferryflight Shuttle Patch

Free shipping to U.S. addresses!


"The Final Mission" - NASA emblem developed for the Shuttle Carrier Aircraft crew and their support teams to deliver the orbiters to their final destinations at museums.


U.S. STORE

WORLDWIDE STORE


John Glenn Mission Patch

Free shipping to U.S. addresses!


The historic first orbital flight by an American is marked by this commemorative patch for John Glenn and Friendship 7.


U.S. STORE

WORLDWIDE STORE

Final Shuttle Mission Patch

Free shipping to U.S. addresses!


The crew emblem for the final space shuttle mission is available in our store. Get this piece of history!


U.S. STORE

WORLDWIDE STORE

Celebrate the shuttle program
Free shipping to U.S. addresses!

This special commemorative patch marks the retirement of NASA's Space Shuttle Program. Available in our store!


U.S. STORE

WORLDWIDE STORE

Anniversary Shuttle Patch

Free shipping to U.S. addresses!

This embroidered patch commemorates the 30th anniversary of the Space Shuttle Program. The design features the space shuttle Columbia's historic maiden flight of April 12, 1981.


U.S. STORE

WORLDWIDE STORE

Mercury anniversary

Free shipping to U.S. addresses!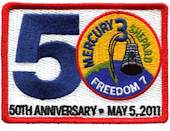 Celebrate the 50th anniversary of Alan Shephard's historic Mercury mission with this collectors' item, the official commemorative embroidered patch.


U.S. STORE

WORLDWIDE STORE

Fallen Heroes Patch Collection

The official patches from Apollo 1, the shuttle Challenger and Columbia crews are available in the store.


U.S. STORE

WORLDWIDE STORE


Get e-mail updates
Sign up for our NewsAlert service and have the latest news in astronomy and space e-mailed direct to your desktop (privacy note: your e-mail address will not be used for any other purpose).