The Delta 2 rocket
SPACEFLIGHT NOW/BOEING FACT SHEET
Posted: May 1, 2002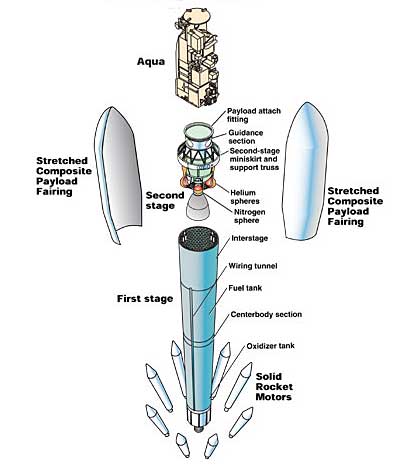 Illustration of the Delta 7920-10L rocket with Aqua spacecraft. Photo: Boeing



Boeing will use a Delta 2 7920-10L to launch the Aqua satellite for NASA.

Boeing manufactures Delta rockets in Huntington Beach, Calif., with final assembly in Pueblo, Colo. The 7920-10L two-stage launch vehicle has four major assemblies: the first stage, including main engine and nine strap-on solid propellant rocket motors; interstage; second stage and 10-foot diameter lengthened composite payload fairing.

Manufactured by Rocketdyne, a division of Boeing, the RS-27A main engine operates on liquid oxygen and RP-1 (kerosene). The RS-27A has a sea-level thrust of 200,000 pounds. Each of the nine Alliant Techsystems solid strap-on motors has a sea-level thrust of 100,270 pounds. The main engine and six of the nine solid rocket motors burn at liftoff, delivering total thrust of 789,420 pounds.

An Aerojet AJ10-118K engine powers the second stage and burns Aerozine-50 fuel and nitrogen tetroxide oxidizer. Ignited at altitude, the engine has a vacuum-rated thrust of 9,815 pounds.

The Boeing family of launch vehicles is derived from the Delta family of rockets built and launched since 1960. In that time 290 Deltas have been launched.

Delta 2 rockets can be configured as two- or three-stage vehicles depending on mission requirements. The latest version, the Delta 2 7925 model, can boost 3,965 pounds (1800 kg) to geosynchronous transfer orbit (GTO).

Today, Boeing has a growing list of commercial customers, including Hughes Space and Communications International, Inc., Space Systems/Loral, and Motorola.

To serve its commercial customers, Boeing has agreements with the U.S. Air Force and NASA for the use of two government-owned launch pads at Space Launch Complex 17, Cape Canaveral Air Station, Fla., and one pad at Space Launch Complex 2, Vandenberg Air Force Base, Calif.

Major subcontractors include: Alliant Techsystems, Magna, Utah, graphite epoxy motors for boost assist; Aerojet, Sacramento, Calif., second-stage engine; and L3 Communications Space & Navigation, Teterboro, N.J., Redundant Inertial Flight Control Assembly (RIFCA) provides course and attitude control.




Flight Data File
Vehicle: Delta 2 (7920-10L)
Payload: Aqua
Launch date: May 4, 2002
Launch time: 0954:58-1004:58 GMT (5:54:58-6:04:58 a.m. EDT)
Launch site: SLC-2W, Vandenberg AFB, Calif.
Satellite broadcast: GE-2, Transponder 9, C-band



Pre-launch briefing
Launch timeline - Chart with times and descriptions of events to occur during the launch.



Orbit trace - Maps showing the ground track for the launch.



Aqua - General overview of this NASA spacecraft.



Science goals - Aqua's science objectives and mission goals.



Satellite instruments - Description of each of the six instruments on Aqua.



SLC-2W - The launch pad where Delta rockets fly from Vandenberg.



Delta directory - See our coverage of preview Delta rocket flights.


Apollo 11 special patch

Special collectors' patch marking the 35th anniversary of the historic Apollo 11 moon landing is now available.


Choose your store:
U.S. - U.K. - E.U. - Worldwide

Inside Apollo mission control
An insider's view of how Apollo flight controllers operated and just what they faced when events were crucial.


Choose your store:
U.S.

The ultimate Apollo 11 DVD
This exceptional chronicle of the historic Apollo 11 lunar landing mission features new digital transfers of film and television coverage unmatched by any other.


Choose your store:
U.S. - U.K. - E.U. - Worldwide

Next ISS crew

Own a little piece of history with this official patch for the International Space Station's Expedition 11 crew. We'll ship yours today!


Choose your store:
U.S.

The Unbroken Chain
Guenter Wendt's autobiography, The Unbroken Chain, is a ground-shaking, fumes in your nostrils account of the glory days of manned spaceflight.


U.S. STORE

WORLDWIDE STORE

Apollo 12 tribute DVD set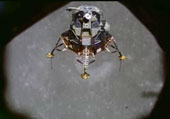 New! Featuring the jovial crew of Pete Conrad, Dick Gordon and Alan Bean, the Apollo 12 mission was struck by lightning shortly after liftoff but proceeded on the second successful exploration voyage to the lunar surface. This three-disc DVD brings the mission to life with extraordinary detail.


Choose your store:
U.S. - U.K. - E.U. - Worldwide

Fallen Heroes special patch

This special 12-inch embroidered patch commemorates the U.S. astronauts who made the ultimate sacrifice, honoring the crews of Apollo 1, Challenger and Columbia.


Choose your store:
U.S. - U.K. - E.U. - Worldwide

Women in Space
Women of Space: Cool Careers on the Final Frontier is for girls, young women, and anyone else interested in learning about exciting careers in space exploration. Includes CD-ROM.


Choose your store:
U.S. - U.K. - E.U. - Worldwide

Mars rover poster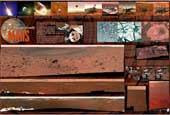 This new poster features some of the best pictures from NASA's amazing Mars Exploration Rovers Spirit and Opportunity.


Choose your store:
U.S.