Spaceflight Now +





Premium video content for our Spaceflight Now Plus subscribers.

Delta 4 launches GOES
The Boeing Delta 4 rocket launches from pad 37B at Cape Canaveral Air Force Station with the GOES-N spacecraft, beginning a new era in weather observing for the Americas.

Full coverage

Discovery goes to pad
As night fell over Kennedy Space Center on May 19, space shuttle Discovery reached launch pad 39B to complete the slow journey from the Vehicle Assembly Building. Discovery will be traveling much faster in a few weeks when it blasts off to the International Space Station.

Full coverage

STS-61B: Building structures in orbit
The November 1985 flight of space shuttle Atlantis began with a rare nighttime blastoff. The seven-member crew, including a Mexican payload specialist, spent a week in orbit deploying three communications satellites for Australia, Mexico and the U.S. And a pair of high-visibility spacewalks were performed to demonstrate techniques for building large structures in space. The crew narrates the highlights of STS-61B in this post-flight crew film presentation.

Small | Medium | Large

Become a subscriber
More video







Stargazing at Saturn
CASSINI PHOTO RELEASE
Posted: May 30, 2006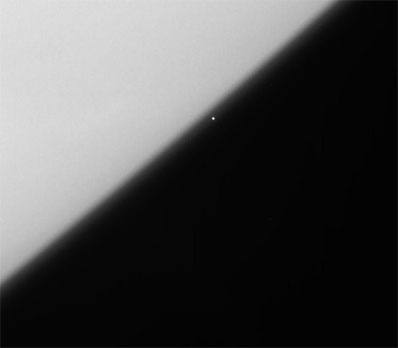 Credit: NASA/JPL/Space Science Institute
Download larger image version here



The brilliant supergiant star, Rigel, emerges from behind the haze of Saturn's upper atmosphere in this Cassini view.

Rigel in is one of the 10 brightest stars in Earth's sky and forms the left foot (sometimes referred to as the left knee) of the familiar constellation Orion.

Imaging scientists use views like these to probe the vertical structure of haze in Saturn's upper atmosphere. The dimming of the star at each altitude in the atmosphere yields information on the density of the haze at that location.

The image was taken in visible green light with the Cassini spacecraft narrow-angle camera at a distance of approximately 663,000 kilometers (412,000 miles) from Saturn. Image scale is 4 kilometers (2 miles) per pixel.

The Cassini-Huygens mission is a cooperative project of NASA, the European Space Agency and the Italian Space Agency. The Jet Propulsion Laboratory, a division of the California Institute of Technology in Pasadena, manages the mission for NASA's Science Mission Directorate, Washington, D.C. The Cassini orbiter and its two onboard cameras were designed, developed and assembled at JPL. The imaging operations center is based at the Space Science Institute in Boulder, Colo.



ERROR: Random File Unopenable
The random file, as specified in the $random_file perl variable was unopenable.

The file was not found on your file system. This means that it has either not been created or the path you have specified in $trrandom_file is incorrect.


Final Shuttle Mission Patch



Free shipping to U.S. addresses!



The crew emblem for the final space shuttle mission is now available in our store. Get this piece of history!


U.S. STORE


WORLDWIDE STORE



STS-134 Patch



Free shipping to U.S. addresses!



The final planned flight of space shuttle Endeavour is symbolized in the official embroidered crew patch for STS-134. Available in our store!


U.S. STORE


WORLDWIDE STORE



Ares 1-X Patch


The official embroidered patch for the Ares 1-X rocket test flight, is available for purchase.


U.S. STORE


WORLDWIDE STORE



Apollo Collage


This beautiful one piece set features the Apollo program emblem surrounded by the individual mission logos.


U.S. STORE


WORLDWIDE STORE



Project Orion


The Orion crew exploration vehicle is NASA's first new human spacecraft developed since the space shuttle a quarter-century earlier. The capsule is one of the key elements of returning astronauts to the Moon.


U.S. STORE



Fallen Heroes Patch Collection


The official patches from Apollo 1, the shuttle Challenger and Columbia crews are available in the store.


U.S. STORE


WORLDWIDE STORE