Spaceflight Now +





Premium video content for our Spaceflight Now Plus subscribers.

Supply ship docking
The 18th Progress resupply ship launched to the International Space Station is guided to docking with the Zvezda service module's aft port via manual control from commander Sergei Krikalev. A problem thwarted plans for an automated linkup.

Play video:
Short | Extended version

Shuttle collection
As excitement builds for the first space shuttle launch in over two years, this comprehensive video selection captures the major pre-flight events for Discovery and her seven astronauts.
See selection

Volcano on Titan?
Dr. Bonnie Buratti, team member of the Cassini visual and infrared mapping spectrometer, discusses a possible volcano discovered on Saturn's moon Titan. (2min 12sec file)
Play video

Hurricane research
NASA's space-based research into how hurricanes form and move is explained in this narrated movie from the agency. (8min 02sec file)
Play video

Shuttle oversight
The co-chairs and other members of the Stafford-Covey Return to Flight Task Group, which is overseeing NASA's space shuttle program, hold a news conference in Houston on June 8.

Play video:
Presentation | Questions

Voyager adventures
This animation shows the Voyager spacecraft heading into the solar system's final frontier and the edge of interstellar space. (1min 24sec file)
Play video

Become a subscriber
More video







Moon not quite round
CASSINI PHOTO RELEASE
Posted: July 6, 2005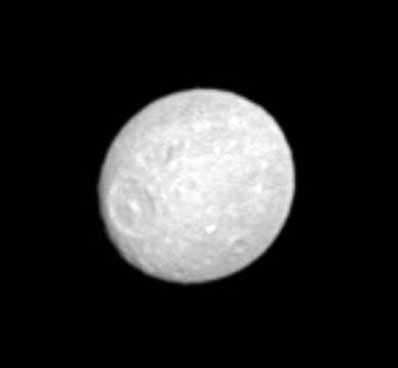 Credit: NASA/JPL/Space Science Institute
Download larger image version here



Saturn's moon Mimas, whose low density suggests that it is primarily composed of ice, has a flattened or oblate shape reminiscent of Saturn's. The moon's equatorial dimension is nearly 10 percent larger than the polar one due to the satellite's rapid rotation. Mimas is 397 kilometers (247 miles) across.

This view shows principally the leading hemisphere on Mimas. Mimas' largest crater, Herschel (130 kilometers, or 80 miles wide), is centered roughly on the equator and can be seen here. North on Mimas is toward upper left.

The moon's oblateness is exaggerated by Cassini's viewing angle here -- the Sun-Mimas-spacecraft, or phase, angle was 5 degrees leaving a sliver of the moon's disk in shadow on the northwest limb.

The image was taken in visible light with the Cassini spacecraft narrow-angle camera at a distance of approximately 916,000 kilometers (569,000 miles) from Mimas. Resolution in the original image was 5 kilometers (3 miles) per pixel. The image has been contrast-enhanced and magnified by a factor of two to aid visibility.

The Cassini-Huygens mission is a cooperative project of NASA, the European Space Agency and the Italian Space Agency. The Jet Propulsion Laboratory, a division of the California Institute of Technology in Pasadena, manages the mission for NASA's Science Mission Directorate, Washington, D.C. The Cassini orbiter and its two onboard cameras were designed, developed and assembled at JPL. The imaging team is based at the Space Science Institute, Boulder, Colo.



Ares 1-X Patch
The official embroidered patch for the Ares 1-X rocket test flight, is available for purchase.


U.S. STORE

WORLDWIDE STORE

Apollo Collage
This beautiful one piece set features the Apollo program emblem surrounded by the individual mission logos.


U.S. STORE

Expedition 21
The official embroidered patch for the International Space Station Expedition 21 crew is now available from our stores.


U.S. STORE

WORLDWIDE STORE

Hubble Patch
The official embroidered patch for mission STS-125, the space shuttle's last planned service call to the Hubble Space Telescope, is available for purchase.


U.S. STORE

WORLDWIDE STORE