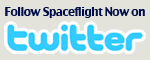 Military weather satellite mounted atop Atlas rocket
BY SPACEFLIGHT NOW
Posted: March 19, 2014


A new global weather observatory for the U.S. military was hoisted aboard its Atlas 5 rocket booster in California on Wednesday, two weeks before it is shot into space to track the world's storms.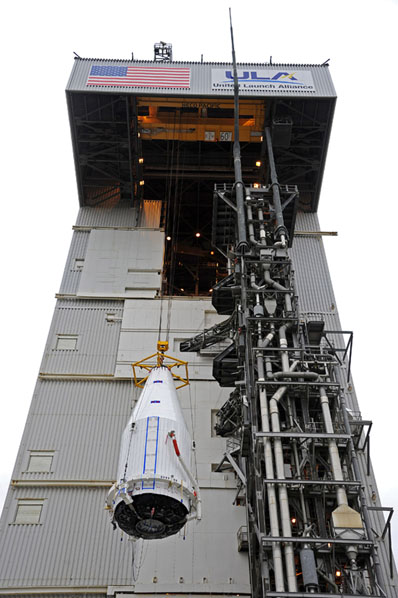 File photo of payload lift at Vandenberg. Credit: ULA



It is known as the Defense Meteorological Satellite Program Flight 19 and it's scheduled to launch April 3 at 7:46 a.m. local time (10:46 am. EDT; 1446 GMT) from Vandenberg Air Force Base in California.

"We will extend a half century of Defense Meteorological Satellite Program unique weather monitoring capabilities," said Gen. William Shelton, commander of Air Force Space Command.

Equipped with a suite of instruments, the spacecraft paints a picture of clouds and the atmosphere across the globe for military meteorologists to generate weather forecasts.

"DMSP satellites provide the only high-resolution, strike quality, guaranteed meteorological data to the DOD," said Lt. Col. Dan Daniels, commander of the 50th Operations Group Detachment 1 at Schriever Air Force Base in Colorado.

"It's one of the most critical, cross-cutting capabilities needed to ensure mission success across the spectrum of DOD operations."

In preparation to launch DSMP 19, the encapsulated payload was driven to Space Launch Complex 3-East this morning for hoisting up into the gantry and mounting to the United Launch Alliance Atlas 5 rocket.

Final tip-to-tail electrical testing of the integrated payload and launch vehicle will follow this week before final readiness reviews are conducted.

The launch countdown will begin just after midnight local time on April 3.

It will be the 45th Atlas launch and the 16th for the Air Force. It is ULA's 81st launch overall and fourth of 15 this year.








Final Shuttle Mission Patch

Free shipping to U.S. addresses!


The crew emblem for the final space shuttle mission is now available in our store. Get this piece of history!


U.S. STORE

WORLDWIDE STORE

STS-134 Patch

Free shipping to U.S. addresses!


The final planned flight of space shuttle Endeavour is symbolized in the official embroidered crew patch for STS-134. Available in our store!


U.S. STORE

WORLDWIDE STORE

Ares 1-X Patch

The official embroidered patch for the Ares 1-X rocket test flight, is available for purchase.


U.S. STORE

WORLDWIDE STORE

Apollo Collage

This beautiful one piece set features the Apollo program emblem surrounded by the individual mission logos.


U.S. STORE

WORLDWIDE STORE

Project Orion

The Orion crew exploration vehicle is NASA's first new human spacecraft developed since the space shuttle a quarter-century earlier. The capsule is one of the key elements of returning astronauts to the Moon.


U.S. STORE

Fallen Heroes Patch Collection

The official patches from Apollo 1, the shuttle Challenger and Columbia crews are available in the store.


U.S. STORE

WORLDWIDE STORE