NewsAlert





Sign up for our NewsAlert service and have the latest news in astronomy and space e-mailed direct to your desktop.


Privacy note: your e-mail address will not be used for any other purpose.






WGS fact sheet
AIR FORCE FACT SHEET
Wideband Global SATCOM (WGS) provides flexible, high-capacity communications for the Nation's warfighters through operationalization of the Wideband Global SATCOM and associated control systems. WGS will provide a quantum leap in communications bandwidth for marines, soldiers, sailors and airmen.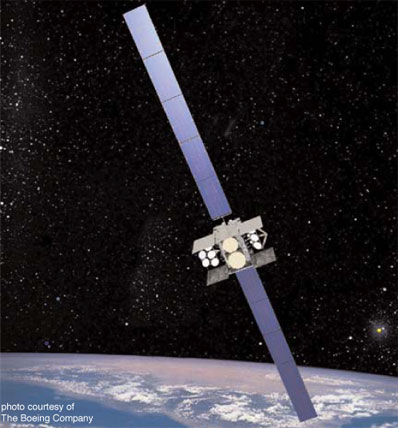 Illustration shows a WGS satellite in space. Credit: Boeing



WGS is a multi-Service program that leverages commercial methods and technological advances in the satellite industry to design, build, launch and support a constellation of highly capable military communications satellites.

Upon its first launch into geosynchronous orbit in 2007, WGS Space Vehicle (SV) 1 will be the Department of Defense's highest capacity communications satellite. A constellation of five satellites will provide service in both the X and Ka-band frequency spectrums. WGS will supplant X-band communications now provided by the Defense Satellite Communications System (DSCS) and one-way Ka-band service provided by the Global Broadcast Service (GBS). Additionally, WGS will provide a new two-way Ka-band service.

These digitally channelized and transponded satellites provide a quantum leap in communications capacity, connectivity and flexibility for U.S. military forces while seamlessly integrating with existing and programmed X- and Ka-band terminals.

Background

WGS will provide essential communications services for Combatant Commanders to command and control their tactical forces. Tactical forces will rely on WGS to provide high-capacity connectivity into the terrestrial portion of the Defense Information Systems Network (DISN).

The first three WGS satellites will be launched in 2007 and 2008. Both the Delta 4 and Atlas 5 Evolved Expendable Launch Vehicles (EELV) will be used. Satellites 4 and 5 are anticipated for launch in 2011 and 2012.

The Wideband Global SATCOM system is composed of three principal segments: Space Segment (satellites), Control Segment (operators) and Terminal Segment (users). The MILSATCOM Systems Wing (MCSW) is responsible for development, acquisition fielding and sustainment of the WGS Program.

General Characteristics:



Primary Function: High-capacity military communications satellite
Primary Contractor: Boeing Satellite Development Center
Satellite Bus: Boeing 702
Weight: Approximately 13,000 lbs at launch, 7,600 lbs on-orbit
Orbit Altitude: 22,300 miles
Payload: Transponded, cross-banded-X and Ka-band communications suite
Antennas: 8 beam, transmit and receive X-band Phased arrays and 10 Ka-band Gimbaled Dish Antennas, 1 X-band Earth coverage
Capability: 39 125-MHz Channels via digital channelizer/router
Number of Terminals Supported: 92
Launch Vehicle: Delta 4 and Atlas 5 EELVs
Inventory: 5 on contract
Unit Cost: Approximately $350 million
(Current as of August 2007)



John Glenn Mission Patch

Free shipping to U.S. addresses!


The historic first orbital flight by an American is marked by this commemorative patch for John Glenn and Friendship 7.


U.S. STORE

WORLDWIDE STORE

Final Shuttle Mission Patch

Free shipping to U.S. addresses!


The crew emblem for the final space shuttle mission is available in our store. Get this piece of history!


U.S. STORE

WORLDWIDE STORE

Celebrate the shuttle program
Free shipping to U.S. addresses!

This special commemorative patch marks the retirement of NASA's Space Shuttle Program. Available in our store!


U.S. STORE

WORLDWIDE STORE

Anniversary Shuttle Patch

Free shipping to U.S. addresses!

This embroidered patch commemorates the 30th anniversary of the Space Shuttle Program. The design features the space shuttle Columbia's historic maiden flight of April 12, 1981.


U.S. STORE

WORLDWIDE STORE

Mercury anniversary

Free shipping to U.S. addresses!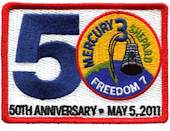 Celebrate the 50th anniversary of Alan Shephard's historic Mercury mission with this collectors' item, the official commemorative embroidered patch.


U.S. STORE

WORLDWIDE STORE

Fallen Heroes Patch Collection

The official patches from Apollo 1, the shuttle Challenger and Columbia crews are available in the store.


U.S. STORE

WORLDWIDE STORE