Launch hazard area
U.S. AIR FORCE ADVISORY
Posted: May 11, 2003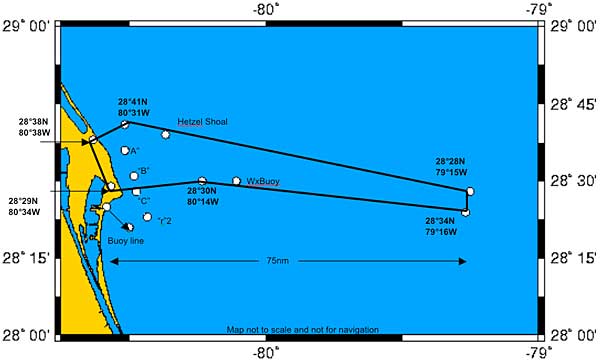 Credit: U.S. Air Force



The attached map shows the Eastern Range Launch Hazard Area for the launch of the Atlas 5/Hellas Sat, which is scheduled for Monday, May 12.

For their safety, mariners are asked to remain clear of the LHA approximately two hours before the launch window and 90 minutes after. The launch window is 3:35 to 7:30 p.m., Monday. The LHA extends approximately 150 miles east of Port Canaveral.

In addition to the mariners' warning, Cape Canaveral AFS is also issuing an airspace special use Notice to Airmen (NOTAM) which will be activated on Monday from 4 to 7:30 p.m. Restricted airspace areas include:
Restricted Areas: R-2932, R-2933, R-2934 as depicted on Jacksonville Sectional Aeronautical Chart.


Warning Areas: W-497A, W-497B, W-158 as depicted on Jacksonville Sectional Aeronautical Chart.
Space Operations Area: Kennedy Space Center FAR 91.143 Operations Area as depicted on Jacksonville Sectional Aeronautical Chart.
NOTAMs closing the airspace will be sent by Miami Air Route Traffic Control Center. Aviators are requested to remain clear of these areas for the entire closure period. Flights into the launch area can cause cancellation/delay of the launch and may lead to loss of pilots license or other disciplinary action by the Federal Aviation Administration.
** PERSONS ENTERING AN ACTIVE LAUNCH HAZARD AREA SHOULD BE AWARE THAT CIVIL AND CRIMINAL PENALTIES ARE AUTHORIZED TO PUNISH VIOLATORS. IN ACCORDANCE WITH TITLE 33, UNITED STATES CODE, SECTION 1232, THE MAXIMUM PENALTY IS SIX YEARS CONFINEMENT AND A $250,000 FINE **
MISSION STATUS CENTER

INDEX | PLUS | NEWS ARCHIVE | LAUNCH SCHEDULE
ASTRONOMY NOW | STORE


ADVERTISE
© 2014 Spaceflight Now Inc.