Spaceflight Now +





Premium video content for our Spaceflight Now Plus subscribers.

Farewell to Complex 36
Following the 145th and final Atlas rocket liftoff from Cape Canaveral's Complex 36, officials "toast" the historic two-pad site and its blockhouse. Then the spotlights illuminating the pads are turned off as the complex "goes dark." (10min 50sec file)

Play video:
Dial-up | Broadband

Download audio:
For iPod

Final Atlas 3 launched
The last Lockheed Martin Atlas 3 rocket launches from Complex 36 at Cape Canaveral Air Force Station at 2:41 a.m. EST carrying a classified spy satellite cargo for the U.S. National Reconnaissance Office. This movie follows the mission through ignition of Centaur. (5min 30sec file)
Play video

Atlas 3 onboard
A camera mounted on the Centaur upper stage captured this dramatic footage of the spent first stage separation, deployment of the RL10 engine nozzle extension, the powerplant igniting and the rocket's nose cone falling away during launch.
Play video

Launch of Atlas 5
The Lockheed Martin Atlas 5 rocket launches in December from Cape Canaveral carrying the AMERICOM 16 communications spacecraft. (6min 22sec file)
Play video

Press site view
The sunrise launch of Atlas 5 is shown in this view from the Kennedy Space Center press site at Complex 39. (QuickTime file)
Play video

Rocket rollout
Riding on its mobile launching platform, the Atlas 5 rocket is rolled from its assembly building to the launch pad at Complex 41 just hours before the scheduled liftoff time carrying AMC 16. (4min 41sec file)
Play video

Atlas 5 news briefing
Mission officials hold the pre-launch news conference in Cape Canaveral on Thursday, Dec. 16 to preview the flight of Atlas 5 with AMC 16. (40min 41sec file)
Play video

AMC 16 launch preview
Preview the launch of Lockheed Martin's Atlas 5 rocket carrying the AMERICOM 16 communications spacecraft with this narrated animation package. (2min 52sec file)
Play video

The AMC 16 spacecraft
This narrated movie provides an overview of the Lockheed Martin-built AMC 16 spacecraft for operator SES AMERICOM. (3min 30sec file)
Play video

Last Atlas 2AS rocket
Lockheed Martin's last Atlas 2AS rocket blasts off from Cape Canaveral carrying a classified National Reconnaissance Office spacecraft on August 31. (3min 59sec file)
Play video

Salute to pad 36A
The Atlas launch team in the Complex 36 Blockhouse celebrate the history of pad 36A in a post-launch toast. The Atlas 2AS rocket flight was the last to launch from the pad, which entered service in 1962. (2min 09sec file)
Play video

Mission success
The classified NRO payload is deployed from the Centaur upper stage to successfully complete the launch. (1min 56sec file)
Play video

Become a subscriber
More video





NewsAlert





Sign up for our NewsAlert service and have the latest news in astronomy and space e-mailed direct to your desktop.


Privacy note: your e-mail address will not be used for any other purpose.







Atlas rocket workers say goodbye to Complex 36
BY JUSTIN RAY
SPACEFLIGHT NOW
Posted: February 3, 2005


After heart-felt speeches and toasts to say goodbye to the launch site that Atlas-Centaur rockets have called their Cape Canaveral home since the 1960s, the spotlights shining on Complex 36 were turned off in a ceremony following's Thursday's liftoff.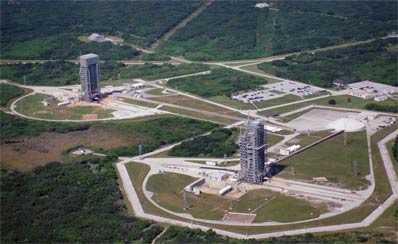 Complex 36 has seen its final Atlas rocket launch. Photo: Pat Corkery/Lockheed Martin



The spy satellite deployment mission marked the 75th consecutive successful Atlas rocket launch in more than a decade, including all six Atlas 3 flights. But despite that achievement, there was a distinct sense of sadness across the Atlas program because this was ending of four decades of flights from Complex 36.

"Complex 36 is one of America's oldest continuously operating launch sites and the last of the U.S. launch sites to use a traditional blockhouse to control the launch," Jim Sponnick, Lockheed Martin's vice president for the Atlas programs, said in a post-launch ceremony from the Cape's Atlas Spaceflight Operations Center.

"It is very fitting that we pay tribute to a place that has served America and mankind so well and honor the men and woman who have given so much of themselves with the missions launched from Complex 36 to make the Atlas program what it is today."

Atlas launch conductor Ed Christiansen, still seated at his console in the blockhouse where he orchestrated the countdown, offered an emotional "toast" to the two-pad site.

"We're here in the blockhouse this morning having just launched the last Atlas 3," Christiansen said. "Last year we said farewell to Complex 36A, and this year is 36B and the blockhouse. The blockhouse is where we directly control both pads...further, it houses our ground computer system.

"Over the past several months we've all felt some sadness over the closing of our pad. However, we feel a great sense of pride, as the historical events from here are many. Some of the biggest triumphs and some of the most spectacular failures occurred under the control of these consoles.

"In the 60s, it was a real challenge to make a cryogenic rocket engine work. But the rocketeers of the time made it happen. Those are the giants that made us what we are today.


| | |
| --- | --- |
| | Christiansen raises his glass to salute Complex 36. Photo from ILS TV |
"Atlas-Centaur has launched many important payloads for our NASA, Air Force, NRO, Navy and commercial customers. The Surveyor spacecraft paved the way for lunar landings by Apollo. Throughout the 1960s and early 1970s, virtually every interplanetary mission launched by the United States was launched on an Atlas-Centaur from Complex 36. Further, many satellites vital to our security and world's communications have left from here under the control of these consoles.

"So after 43 years and 145 Atlas-Centaur launches, we retire this blockhouse and move to the highly automated world of the Atlas 5. It is with heavy hearts that we again raise our glass over these consoles as a salute to the proud heritage of Space Launch Complex 36."

Pad 36A, which saw the first of its 69 launches in 1962, hosted its last liftoff in August 2004. Thursday's flight from pad 36B was the 76th since opening 1965. The final launches from both pads, by coincidence, carried National Reconnaissance Office payloads.

"Five months and a few days ago we launched a national security payload for the National Reconnaissance Office off the last Atlas 2AS. Tonight we launched another national security payload off the last 3B from Complex 36," said Col. Chip Zakrzewski, director of the NRO's Office of Space Launch.

"Although only a few will know the capability that has been put on orbit in these two missions, all those who cherish and strive for freedom will realize the benefits. To the Lockheed Martin team, to the whole Atlas team, farewell to the Atlas 3B and farewell to Complex 36."

Lockheed Martin evolved its Atlas 2 rockets into the Atlas 3 by introducing the powerful Russian-made RD-180 first stage engine that would become the cornerstone of the advanced Atlas 5. There were just six Atlas 3 rockets flown over the past four-and-a-half years as the vehicle accomplished its planned short life as a proving tool during the transition from the heritage systems to the next generation Atlas 5.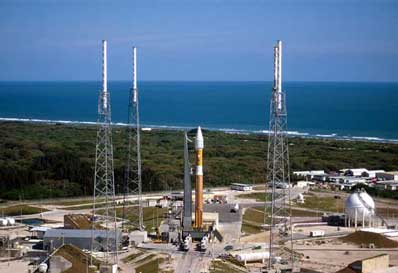 The Atlas 5 rocket uses Complex 41 at the Cape. Photo: Lockheed Martin



"The Atlas program has always been about evolution. This has been a model program in how to develop a successful launch vehicle. The Atlas 2 family has a fantastic history. Atlas 3 was developed to bridge the technical and operational differences between Atlas 2AS and Atlas 5," said Mark Albrecht, president of Atlas marketing firm International Launch Services.

"Now the transition to Atlas 5 is complete and the only remaining development will focus on requirements unique to our U.S. government customers."

Atlas 5, which has the future of the Atlas program riding on it, is operated from Complex 41 at the northern edge of Cape Canaveral Air Force Station. The new vehicle family has completed four successful launches to date.

"As we close Complex 36 this morning, we look forward to a very long and a very successful future with Atlas 5," Sponnick said in his Complex 36 remembrance speech.

Lockheed Martin will safe and secure the complex, remove equipment and finish its work there by summer. The start-up company SpaceX hopes to lease the site from the Air Force for launches of its new Falcon 1 and Falcon 5 rockets starting no sooner than 2007. The mobile service and umbilical towers will be taken down.


| | |
| --- | --- |
| | An Atlas rocket launches with the Cape Canaveral lighthouse in the foreground. Photo: Lockheed Martin |
"This was the birthplace of the Centaur, with its liquid hydrogen-powered RL10 engines," said Sponnick. "This is also where America launched her first spacecraft to land softly on the moon. This site sent spacecraft to Venus, Mars, Jupiter, Saturn, Mercury and beyond the solar system. This is where the commercial Atlas program was born in the late 1980s, and this is where the first American rocket with a Russian booster engine was launched. The last of the Atlas 3's, which we launched this morning, represents the start of a truly notable and historic partnership that brings together the best rocket technologies from two former Cold War adversaries and participants in the race to the moon.

"But for many of us this is a very bittersweet day. Many of you have spent your entire careers working at Complex 36. Others of us can remember how we made our first trips here when we were fresh out of college to learn the space business. We've found friendships and made many happy memories here.

"Looking at it from another point of view, Complex 36 has given us more memories than any of us ever expected. There have been many times when the Atlas program was going to launch its last vehicle. In fact, when Centaur was developed it had just one mission -- to launch a series of Surveyor spacecraft as a precursor to landing a man on the moon. The Atlas program was scheduled to end after AC-15.

"Despite the many times the Atlas program was nearing its end, this launch complex has written one of the longest and most historic chapters in aerospace history."


| | |
| --- | --- |
| | Complex 36 goes dark. Photos from ILS TV |
The ceremony culminated with a symbolic "turning off the lights" illuminating Complex 36.

"I, too, would like to salute today's team and recognize the giants whose shoulders we do stand on for the great legacy of accomplishments. Our team is focused on expanding that legacy, daring to do the difficult and always stay steadfast to success one mission at a time," said Michael Gass, Lockheed Martin vice president and general manager for Space Transportation.

"Ladies and gentlemen, as the lights go out on Complex 36 this morning, the sun will be rising soon with a new day dawning at Complex 41 and on the West Coast at SLC-3 East, our next era. We'll now proceed with a ceremonial closing of Complex 36 and the four decades of aerospace history that have been written here."

The next launch from Complex 41 is scheduled for March 10 when an Atlas 5 rocket will carry a mobile communications satellite into space for Inmarsat. Liftoff will be possible between 4:40 and 4:51 p.m. EST that day. The rocket has been assembled inside its vertical hangar and is awaiting attachment of three strap-on solid-fuel boosters, Atlas launch director Adrian Laffitte said. The commercial spacecraft is due to arrive at the Cape this weekend from its European manufacturing plant.

On the West Coast, meanwhile, construction crews are finishing work to overhaul the SLC-3 East pad at California's Vandenberg Air Force Base for future Atlas 5 launches there. The first mission is anticipated no sooner than April 2006 to loft another classified payload for the NRO.


Video coverage for subscribers only:


VIDEO: FINAL ATLAS 3 ROCKET BLASTS OFF QT


VIDEO: DRAMATIC ONBOARD CAMERA VIEW OF STAGING QT


VIDEO: FAREWELL CEREMONY TO COMPLEX 36 DIAL-UP | BROADBAND


AUDIO: FAREWELL CEREMONY TO COMPLEX 36 FOR IPOD


SUBSCRIBE NOW





Apollo 12 tribute DVD set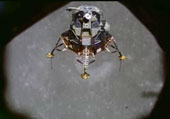 New! Featuring the jovial crew of Pete Conrad, Dick Gordon and Alan Bean, the Apollo 12 mission was struck by lightning shortly after liftoff but proceeded on the second successful exploration voyage to the lunar surface. This three-disc DVD brings the mission to life with extraordinary detail.


Choose your store:
U.S. - U.K. - E.U. - Worldwide

Fallen Heroes special patch

This special 12-inch embroidered patch commemorates the U.S. astronauts who made the ultimate sacrifice, honoring the crews of Apollo 1, Challenger and Columbia.


Choose your store:
U.S. - U.K. - E.U. - Worldwide

Women in Space
Women of Space: Cool Careers on the Final Frontier is for girls, young women, and anyone else interested in learning about exciting careers in space exploration. Includes CD-ROM.


Choose your store:
U.S. - U.K. - E.U. - Worldwide

Mars rover poster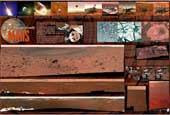 This new poster features some of the best pictures from NASA's amazing Mars Exploration Rovers Spirit and Opportunity.


Choose your store:
U.S.

New Station
Crew Patch

Free shipping to U.S. addresses!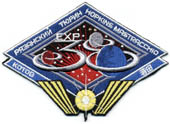 The Expedition 38 embroidered crew patch for the International Space Station is now available in our store!


U.S. STORE

WORLDWIDE STORE


Final Shuttle Mission Patch

Free shipping to U.S. addresses!


The crew emblem for the final space shuttle mission is now available in our store. Get this piece of history!


U.S. STORE

WORLDWIDE STORE

STS-134 Patch

Free shipping to U.S. addresses!


The final planned flight of space shuttle Endeavour is symbolized in the official embroidered crew patch for STS-134. Available in our store!


U.S. STORE

WORLDWIDE STORE

Ares 1-X Patch

The official embroidered patch for the Ares 1-X rocket test flight, is available for purchase.


U.S. STORE

WORLDWIDE STORE

Apollo Collage

This beautiful one piece set features the Apollo program emblem surrounded by the individual mission logos.


U.S. STORE

WORLDWIDE STORE

Project Orion

The Orion crew exploration vehicle is NASA's first new human spacecraft developed since the space shuttle a quarter-century earlier. The capsule is one of the key elements of returning astronauts to the Moon.


U.S. STORE

Fallen Heroes Patch Collection

The official patches from Apollo 1, the shuttle Challenger and Columbia crews are available in the store.


U.S. STORE

WORLDWIDE STORE

Apollo 11 special patch

Special collectors' patch marking the 35th anniversary of the historic Apollo 11 moon landing is now available.


Choose your store:
U.S. - U.K. - E.U. - Worldwide

Inside Apollo mission control
An insider's view of how Apollo flight controllers operated and just what they faced when events were crucial.


Choose your store:
U.S.

The ultimate Apollo 11 DVD
This exceptional chronicle of the historic Apollo 11 lunar landing mission features new digital transfers of film and television coverage unmatched by any other.


Choose your store:
U.S. - U.K. - E.U. - Worldwide

Next ISS crew

Own a little piece of history with this official patch for the International Space Station's Expedition 11 crew. We'll ship yours today!


Choose your store:
U.S.